Bookmarks
How Learning Works: 7 Research-Based Principles for Smart Teaching
by Susan A. Ambrose, Michael W. Bridges, Michele DiPietro, Marsha C. Lovett and Marie K. Norman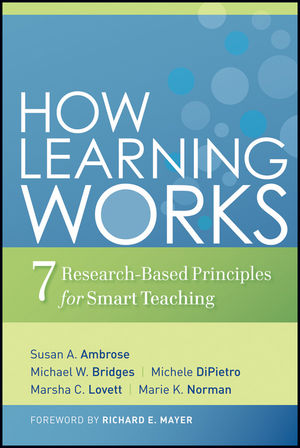 Too often when searching for texts that support good teaching there are two distinct groups: those books that present research on learning and those that focus on practical classroom strategies. How Learning Works closes the divide. On the one hand, it provides research from a variety of different perspectives and includes research from cognitive, developmental and social psychology as well as from educational research, anthropology, demographics and organizational behavior. But on the other hand, this research underpins a set of principles that support good teaching. Read more.
---
"Come To Class!" Classroom Exchange Program
September 29 - October 10
"Come to Class! Classroom Exchange Program," will take place Monday, September 29 through Friday, October 10. This year 22 faculty members whose disciplines range from English to Music and from Physics to Film, are opening their classroom for visitation. This unique opportunity will give faculty a window into what is being done in other departments and will perhaps allow them to learn some new approaches to teaching.
Registration will be open through September 26th.
Workshop Follow-Up
October 9
4:00 p.m. - 5:00 p.m.
Breidenbaugh Hall, 112

Last spring's "Cracking the Codes" workshop challenged participants to consider their own prejudices and to reflect on an appropriate path to greater diversity, equity, and inclusion here at Gettysburg College. Time did not allow for discussion of practical strategies to implement such a goal, but instead, the workshop served as a first step in a much longer process. Chief Diversity Officer Jeanne Arnold will lead a conversation about initial steps the College campus can take to make the community more diverse and inclusive. Her suggestions will be based on information she has gathered from various sources thus far, but she will also open the discussion for additional observations and input.
For those interested in viewing the video used for the workshop, "Cracking the Codes: They System if Racial Inequity", it is available in Musselman Library.