Prof. Marta Robertson wins the Judy Tsou Award from the American Musicological Society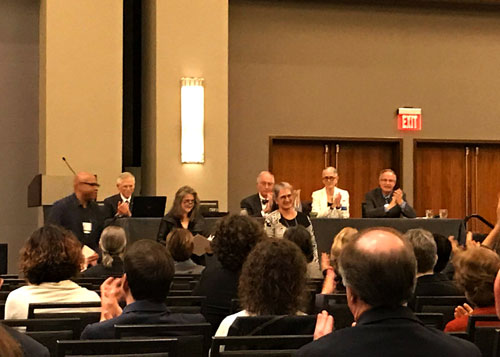 Prof. Marta Robertson of Sunderman Conservatory of Music won the inaugural Judy Tsou Award for Critical Race Studies at the 2018 annual meeting of the American Musicological Society. Each year, the Tsou Award honors an "outstanding musicological work in the field of critical race and/or critical ethnic studies."
The award was conferred for her essay "Ballad for Incarcerated Americans: Second Generation Japanese American Musicking in World War II Camps," which was published in the Journal of the Society for American Music in August 2017. Robertson's essay explores how musicians and dancers being held in Japanese American internment camps in the American southwest, many of whom were U.S. citizens, used composition and performance to express both their Japanese heritage and the patriotic "homefront" principles of World War II-era American music.
At the awards ceremony the committee chair, Prof. Mark Burford of Reed College, read: "Weaving together a variety of sources and intertwining histories, the article takes the discussion of race beyond the black/white binary through compelling scholarship that is methodologically conversant with oral history, sound studies, ecomusicology, and historical ethnography."
The American Musicological Society was founded in 1934 to advance "research in the various fields of music as a branch of learning and scholarship." Currently, there are 3,000 individual members and 800 institutional subscribers on the rolls of the society.