Two out of three alums use the Gettysburg network as part of their job search. But at Gettysburg, students also start building their personal career network before they graduate, often through internships and externships provided by alumni, parents, and friends of the College.
This past summer, Janssen Research & Development, a pharmaceutical company of Johnson and Johnson, hired 9 interns from Gettysburg—a record number—to conduct paid summer research as part of an ongoing partnership with the Center for Career Development and Biology department:
Rachael Powers '17
Amanda Finck '17
Emily Garrigan '18
Madison Caldwell '18
Joseph Artemiou '19
Hunter Markle '18
Morgan McManus '18
Nicole Crofton '18
Emily Evans '18
"What we hope is to provide a hands-on experience in the lab," said Vice President and Head of Oncology Diagnostics Nicholas Dracopoli P'14. "We really expect [interns] to get in the lab and do things they've never done before. They learn to figure things out for themselves and see what it's like to work in a R&D lab in a global pharmaceutical company."
Several Gettysburg interns have gone on to receive full time offers from Janssen after they graduate. For example, Casey Butrico '16 worked as an assistant oncology scientist at Janssen before recently starting a doctorate program at Vanderbilt University. She helped onboard this summer's group of interns.
Dracopoli complimented the leadership of Biology Prof. Jennifer Powell, who has helped foster Janssen's relationship with the College. In 2011, Janssen hired a couple of interns, and now approximately 25 students in total have completed the program. Dracopoli, whose research focuses on oncology and genomics, is a Gettysburg parent who has been a guest speaker in Gettysburg science classes. He met Powell on campus.
"What began as a conversation over coffee [with Dracopoli] in the Commons has evolved into a symbiotic partnership between Gettysburg and Janssen Pharmaceuticals," said Powell. "Gettysburg students have an amazing opportunity to be immersed in the cutting-edge research and development at a leading pharmaceutical company. Our students are not simply shadowing scientists at Janssen or washing lab glassware; they are taking an active role in the development of novel diagnostic tools and therapies."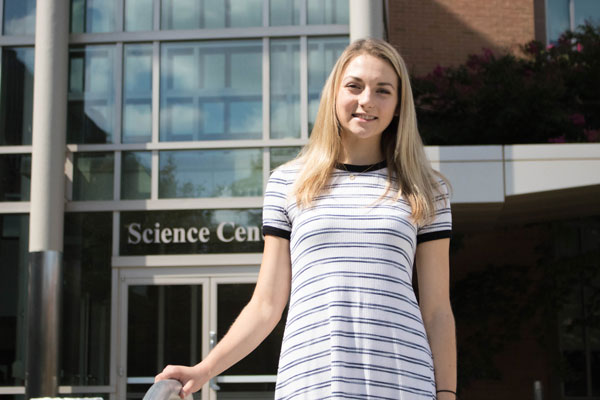 Every intern at Janssen is paired with a mentor and works on an individual research project they present, at the culmination of the program. This past summer, Madison Caldwell '18, a health science major and biology and chemistry minor, worked with a mentor in molecular pathology, performing immunohistochemistry (IHC). Her individual project focused on the optimization of a multiplex fluorescent assay, a new process still in development for research and diagnostic purposes, she said.
"Janssen was a head first dive into research for me, which I had not previously been too interested in because I want to pursue veterinary medicine," said Caldwell. "Now, I have come to appreciate the power and significance of pharmaceutical research and have a newfound passion. I am currently continuing my own research under Dr. Noreen at Gettysburg and am now considering a Ph.D./D.V.M. dual degree program."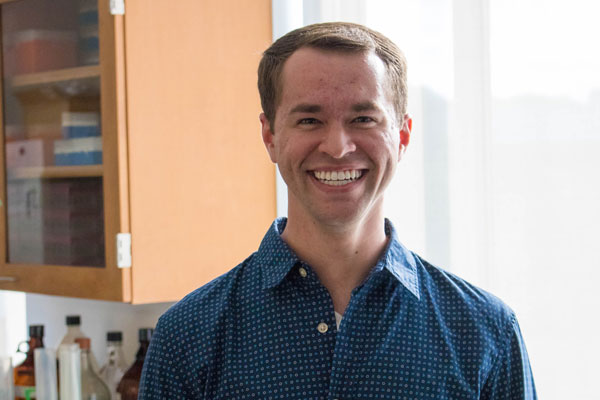 Hunter Markle '18 worked on a project involving developing a flow cytometry-based assay to learn more about how one of Janssen's therapeutics was working to kill tumor cells.
"Over the summer, I used a lot of the techniques learned in my [Gettysburg] labs, like tissue culture and sterile technique, and they provided me with a strong background to learn more," he said.
Before completing the internship, Markle said he didn't have a strong interest in research. "I was planning on becoming a physician and wasn't too attracted to the pharmaceutical side of medicine," he said. "I still know that I want to be a physician—I am applying to medical schools—but this internship sparked my interest in research and in oncology. I am really excited to continue to contribute to research while I am in medical school, and I know that my experience at Janssen has given me skills that will help me be successful."
To this point, Powell added: "Janssen scientists have enjoyed the satisfaction—that Gettysburg faculty know so well!—of mentoring bright, hard-working Gettysburg students just starting their scientific careers."
Learn more about how Gettysburg helps students make career connections.
Contact Jen Powell for additional questions about Gettysburg's partnership with Janssen.
Posted: Tue, 19 Sep 2017
Read more news