From left, Samantha Betterly '12, Joanne Fahoury Betterly '80, and Christine Betterly '15 outside Pennsylvania Hall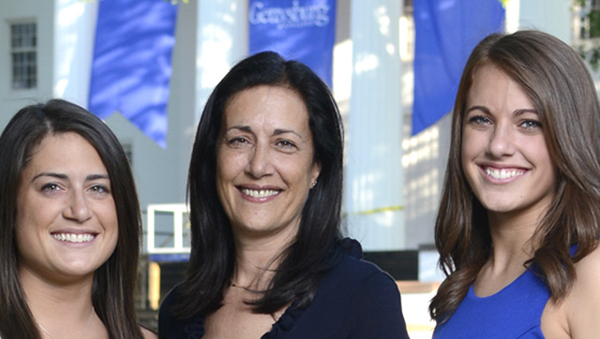 A new scholarship fund helps transform tragedy into hope and reflects a family's deep ties to Gettysburg College.
The Timothy D. Betterly '81 Memorial Scholarship Fund honors an alumnus who was lost on Sept. 11, 2001, while working as a bond broker for Cantor Fitzgerald in the World Trade Center.
Tim, known to friends as "Sprout," graduated from Gettysburg College in 1981 with a major in business. As a student, he played football, ran track, and was a member of the Tau Kappa Epsilon fraternity.
"Gettysburg College has always held a special place for our family because it was where Tim and I met," said his wife, Joanne Fahoury Betterly '80.
The family's Gettysburg College legacy continues today: their daughter Samantha graduated in May, and their daughter Christine is a member of Gettysburg's Class of 2015. "Our daughters grew up listening to the stories of our wonderful experiences at Gettysburg College, so it was only natural that when it was time for them to apply to college, Gettysburg was at the top of the list," Joanne said.
"Tim was very committed to his family and friends, and through his generosity and compassion and dedication to helping others, he made a profound impact on the lives of many," Joanne said. "To celebrate the principles by which Tim lived, our family has established the Timothy D. Betterly '81 Memorial Scholarship Fund at Gettysburg College to assist others in attaining their goal of a college education at the institution that is dear to our family's hearts."
The scholarship fund upholds Gettysburg College's commitment to making a powerful liberal arts education affordable and accessible to the widest possible range of excellent students. Scholarships matter; they are a top priority of Gettysburg College.
For information about contributing to the Timothy D. Betterly '81 Memorial Scholarship Fund or establishing your own lasting legacy at the College, visit the Office of Major and Planned Giving.
Founded in 1832, Gettysburg College is a highly selective four-year residential college of liberal arts and sciences with a strong academic tradition. Alumni include Rhodes Scholars, a Nobel laureate, and other distinguished scholars. The college, which enrolls 2,600 undergraduate students, is located on a 200-acre campus adjacent to the Gettysburg National Military Park in Pennsylvania.
Contact: Associate Director of Editorial Services Jim Hale
Posted: Fri, 7 Sep 2012
Read more news