How an English degree prepared Arielle Distasio '12 for the Department of Justice
When Arielle Distasio '12 first came to Gettysburg, her life plan was pretty simple. Major in English, minor in education studies, and become a high school English teacher.
That was still the plan when she graduated with a degree in English and a teaching certification, even though she applied for a position with the government. She figured worse come to worse, she could get a few years of experience in another field to enrich her teaching before pursuing her passion for education.
But after five years of working with the U.S. Department of Justice, Distasio is loving her work and has no immediate plans to change fields.
In fact, she regularly returns to campus to recruit other students into her field and volunteers with the Center for Career Development as a career connector.
"On the face of it, you wouldn't think that my background would apply to my current position, but it has been incredibly helpful in my work," Distasio said.
"There's no set major or course of study for the field that I'm in. Everyone has to learn and adapt quickly, communicate effectively, and solve problems creatively. Those are all skills I learned at Gettysburg."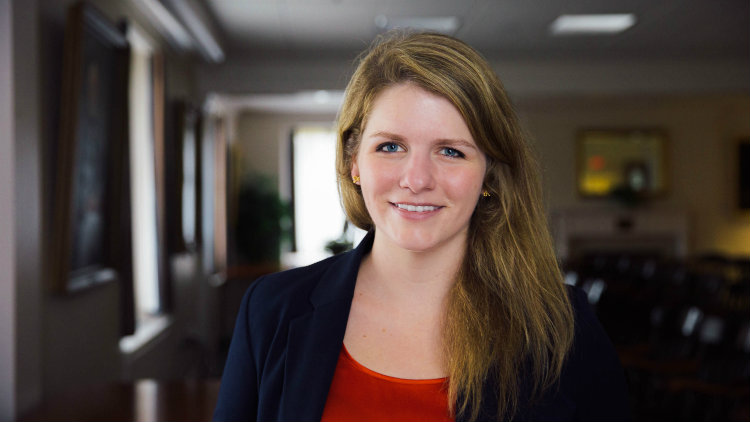 Distasio lives and works in Washington, D.C. as a management and program analyst for the U.S. Department of Justice. There, she works on an internal consulting team to bridge the gap between the numbers her division runs and the executives who need to understand those numbers in order to make decisions. She recently took on responsibility of supervising that team, which she felt better prepared for thanks to the leadership experiences she was able to have at Gettysburg.
"My division functions as a business efficiency shop. We need to be able to communicate a lot of dense information and make recommendations based on that information to people who don't have a background in it," Distasio said. "It helps to know how to communicate and to be aware of how everyone learns differently."
She came into the role through the Department of Justice's University Hire program, which reviews applications of thousands of university and college graduates for entry level positions throughout their organization. It was a program she applied to after attending a lecture from an alumna who currently worked there.
"I really enjoyed hearing about how her career had progressed within the organization, and all of the opportunities that exist within the government that I never would have thought of," Distasio said.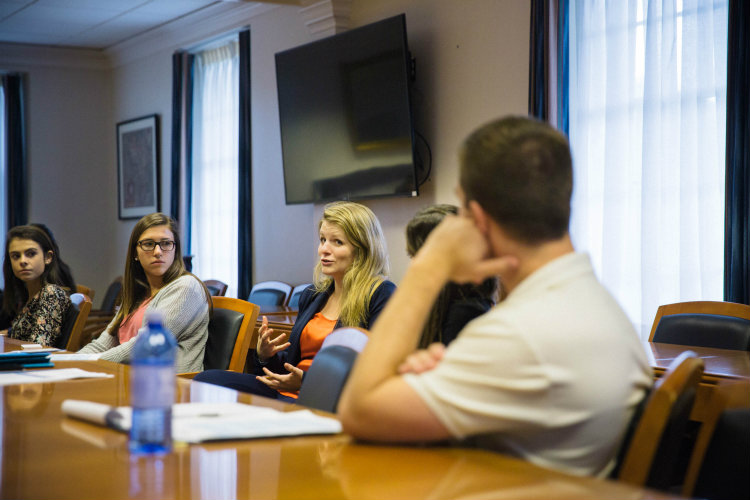 It's also why Distasio continues to stay involved with the College, from joining the Burgians of the Last Decade (BOLD) Council to serving as an Admissions volunteer for the College's Key Alumni Resource Effort (KARE) and Center for Career Development career connector.
"I credit the College's alumni connections for my career—I never would have thought to apply here if it weren't for that talk I attended," Distasio said. "I want to help make sure students are aware of all of the opportunities they have, so I give back and volunteer as much as I can."
Since her graduation, Distasio has earned her Masters in Public Relations and Corporate Communications from Georgetown University and is enjoying the impact of the work she does.
"I've really gotten hooked on the work that the organization does and the impact we get to have on the country," Distasio said. "The work is new and exciting every day, and I love the growth that I've been able to have here. I'm constantly looking to grow and explore, and the organization has really allowed me to do that."
Founded in 1832, Gettysburg College is a highly selective four-year residential college of liberal arts and sciences with a strong academic tradition. Alumni include Rhodes Scholars, a Nobel laureate, and other distinguished scholars. The college enrolls 2,600 undergraduate students and is located on a 200-acre campus adjacent to the Gettysburg National Military Park in Pennsylvania.
Contact: Kasey Varner '14, assistant director of communications, 717.337.6806
Posted: Fri, 14 Jul 2017

Next on your reading list
President Janet Morgan Riggs '77 to speak at 2018 Dedication Day ceremony
---
---
The diversity of The Gettysburg Network
---
Share this story: