It's 1:03: What are you doing right now?
We asked professors to share.
Gettysburg professors are more than teachers that assign papers and grade exams—they are students in their own right, curious about the world we share and what we can do to make it a better place. From conducting research with undergraduate students to working on their own books and scholarly publications, from prepping for class time to scheduling meetings, the role of a Gettysburg College professor is one that often extends far beyond the classroom.
To get a better understanding of what the job entails, we checked in with a few of these professors at the same time on one day.
9 professors. 1:03 p.m. Here's where they were:
---
Who:
Prof. Darren Glass, Associate Professor of Mathematics
Where he is:
Directing the first-year seminar program
Prof. Glass works with faculty in disciplines as diverse as Physics and Religious Studies to help them develop and enhance new seminars. Additionally, he works with colleagues across campus to implement programming that will help students transition to college and to integrate their academic and residential lives.
"Both of these administrative roles have been opportunities to think more broadly about what is at the heart of a Gettysburg College education, and they have given me a chance to learn more about the great work that my colleagues do," said Glass. "Gettysburg students get to take advantage of many interesting opportunities, and through the strategic planning process we are hoping to help the college find new ways to build on these and to publicize them to the world."
---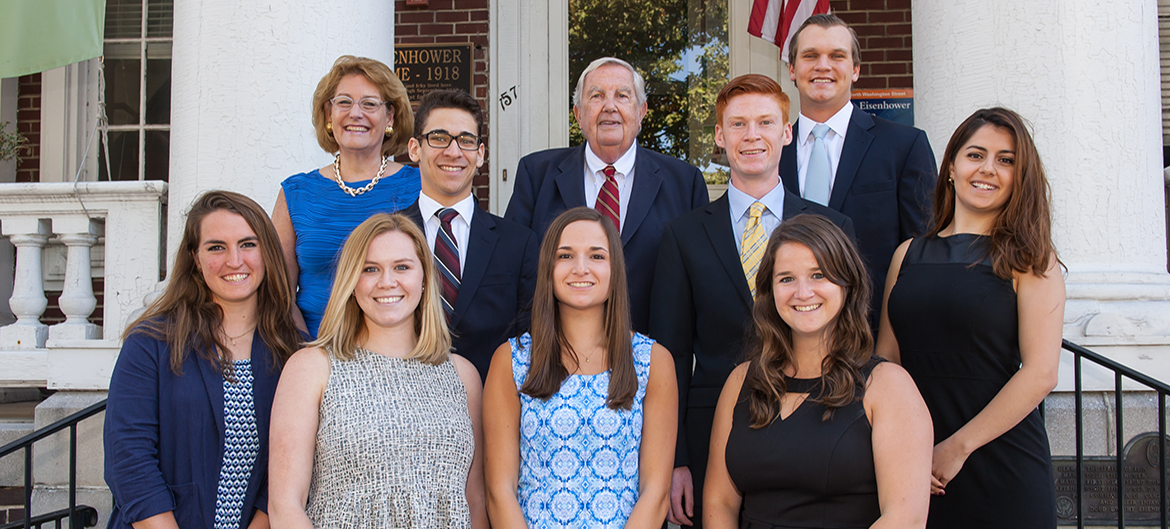 Who:
Prof. Shirley Anne Warshaw, Professor of Political Science and Harold G. Evans Chair of Eisenhower Leadership Studies
Where she is:
Advising the Fielding Fellows and Undergraduate Fellows from The Eisenhower Institute at Gettysburg College as they prepare presentations to the U.S. State Department.
"They have approached [the projects] with great professionalism, excitement, enthusiasm, and—more importantly—a great sense of collaborative research," said Warshaw.
---
Who:
Prof. Paula Olinger, Associate Professor of Spanish
Where she is:
Coordinating El Centro, an after school program for underserved children and families in Gettysburg.
"The children I have worked with over the years at El Centro are the bravest little heroes in the whole world," said Olinger. "They maintain a hopeful and happy attitude in the midst of enormous challenges. They lift my spirits and give me great hope for the future of our country."
---
Who:
Prof. Timothy Shannon, Chair and Professor of History
Where he is:
With his senior capstone class, History 426: Pennsylvania's Indians, at the Pennsylvania State Archives and State Museum.
Prof. Shannon asks his students to go where the primary resources are.
"The seminar really encourages them to think creatively. So much of their history major has been reading what other historians have written, but their senior seminar is asking them to now do the work themselves," said Shannon. "The students identify a topic, amass the bibliography, they write the paper and they critique it amongst themselves. It really operates like a graduate school class."
---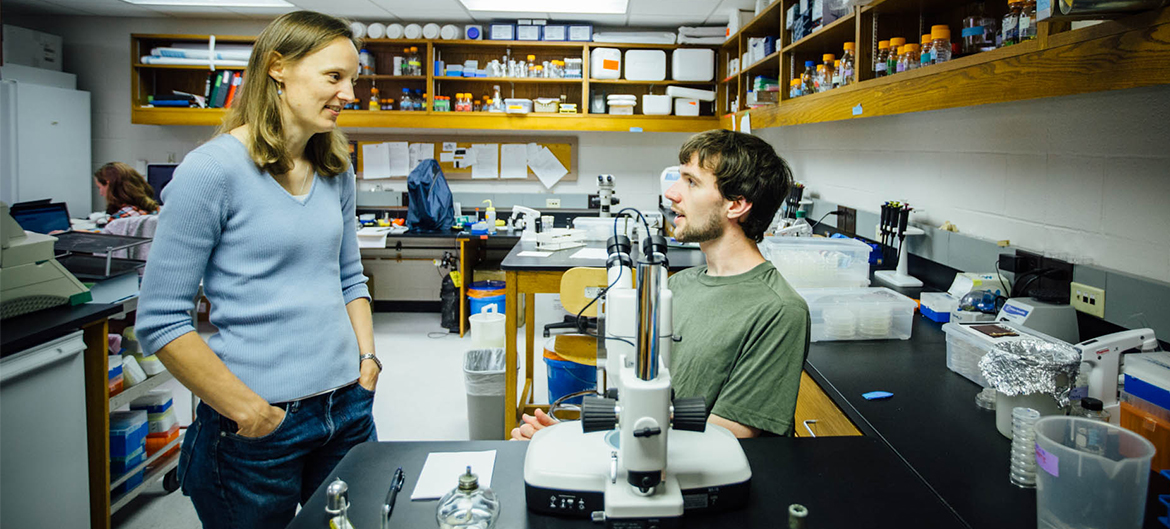 Who:
Prof. Jennifer Powell, Professor of Biology
Where she is:
Checking in with a member of her student laboratory team, who is designing an experiment to test a gene.
"[It's important] that students take responsibility for their own experiences," said Powell. "The first couple of times [they do an experiment], they screw up spectacularly, but that's how you learn. I build in that flexibility to make sure they have time to make those colossal mistakes. They always rise to the occasion."
---
Who:
Prof. Sahana Mukherjee, Assistant Professor of Psychology
Where she is:
Planning a study with several Psychology students as part of the Mind and Culture Research group and working on independent research projects.
"We are hoping to collect data in big cities and smaller, more rural towns in the U.S. and in Canada. Our goal is to not only consider the regional variations in national identity, but also to understand how psychologies tendencies—experience of national identity—is historically constructed and embedded in everyday practices," said Mukherjee. "Finally, we also want to examine the implications of different understandings of national identity for international engagement."
---
Who:
Prof. Scott Hancock, Associate Professor of History
Where he is:
Leading a Spring Break Immersion Project in León, Nicaragua
"I decided to go on the trip because the theme of the trip and the specific recent history of Nicaragua was intellectually intriguing, because I love going to places I have not been before, and, selfishly, because it was a chance to improve my Spanish," said Hancock. "We learned a great deal about how a system of education succeeded despite significant obstacles due to widespread commitment by both government and citizens; and we were exposed to a different, and in my opinion more effective, model of how development organizations can work in countries like Nicaragua."
---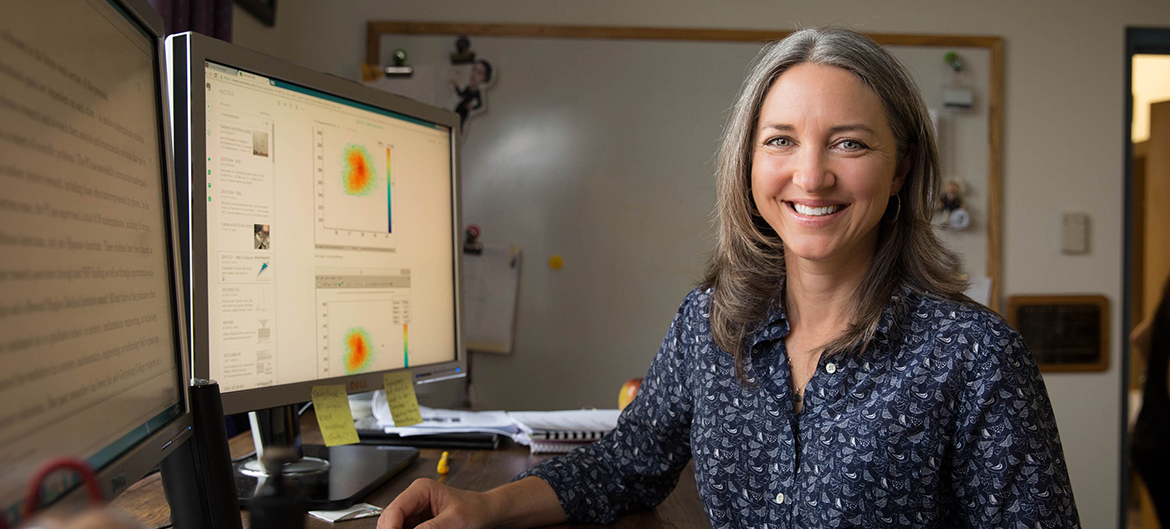 Who:
Prof. Sharon Stephenson, Chair and Sahm Prof. of Physics
Where she is:
Giving feedback on a student's piece of writing for her First Year Seminar, Why Suzy Won't Take Science and Dan Won't Play With Dolls, and then working on one of her own creative nonfiction pieces.
"I started putting my work out there and embracing rejection, which is the hallmark of writers, I've found," said Stephenson. "But that's good for me, too, because it helps me connect more with the struggles students have. I've become a novice again. I think it's helpful for faculty members to remind themselves what it's like to be intellectually vulnerable."
---
Who:
Prof. Felicia Else, Associate Professor of Art History
Where she is:
On a departmental trip to New York City with Art History and Studio Art majors.
"To give my students further connections to real world experiences, I invite alumni to campus to speak about the many possibilities for work in the arts after graduation, ranging from education and marketing in major museums to art therapy programs," said Else. "The Department of Art and Art History also takes the seniors on an annual trip to New York City where we host a networking dinner with alums and professionals in the field as well as visit gallery owners and museums."
Founded in 1832, Gettysburg College is a highly selective four-year residential college of liberal arts and sciences with a strong academic tradition. Alumni include Rhodes Scholars, a Nobel laureate, and other distinguished scholars. The college enrolls 2,600 undergraduate students and is located on a 200-acre campus adjacent to the Gettysburg National Military Park in Pennsylvania.
Posted: Mon, 20 Mar 2017

Next on your reading list
In his words: Ben Pontz '20 and the "essence of experiential learning"
---
The antidote for ignorance: A liberal arts education?
---
Econ majors to learn from Chris Matthaei '01 gift, innovative software
---
Share this story: