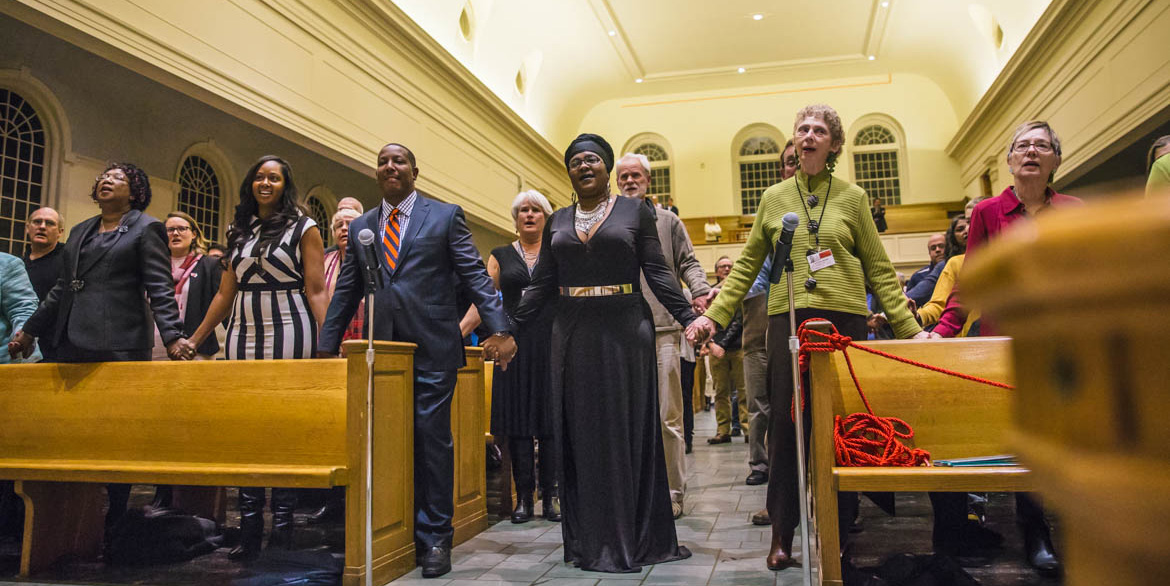 Troy Datcher '90: "When you see injustice, do something about it"
In advance of providing the keynote remarks at the 37th annual celebration of Dr. Martin Luther King, Jr., on January 23, Troy Datcher '90 met with a small group of students over lunch—many of them campus leaders involved in work with the Office of Multicultural Engagement and organizations like the Black Student Union and Latin American Students' Association.
The seniors in the room naturally had career-related questions for Datcher, who is the Vice President of Sales and Sports Marketing at The Clorox Company. "What are major red flags on a resume?" Farouk Oni '17 asked. (Datcher: misspellings, achievements that don't demonstrate leadership, gaps in experience.) From Khemilla Kedarnath '18: "What activities were you involved in?" (Datcher: President of the Black Student Union, a Student Senate leader, DJ of a show on the WZBT station, manager of The Dive, which was a nightclub before it was a good place to get a salad.)
Over dessert, the conversation moved to a deeper discussion about diversity at Gettysburg and, beyond that, the challenges that come with doing work that matters. Complimenting the vision of the Board of Trustees, of which he is a member, the Diversity and Inclusion office, and College leadership, Datcher said, "We use the phrase 'Do Great Work' at Gettysburg, and there's great work to be done here [on campus]."
Naima Scott '17, who works in the Women's Center, asked how to have productive conversations with her peers about equity and inclusion. Datcher emphasized the importance of timely communication, using an example from the business world. Windows of aperture, he said, are the periods of time when people are ready to hear your message. For example, we hear hundreds of commercials every week about cars. We only really notice them when we are ready to buy a car. The same concept applies to advocacy work.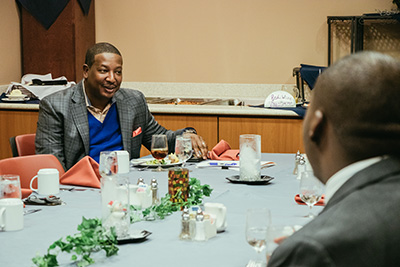 "People only hear when they are ready to listen," Datcher said. "So you need to keep talking until people are ready to listen. It's hard work. [Martin Luther King Jr.] knew how hard it was and accepted it. He never wavered from his plan."
Datcher urged the students around the table to lead and to find strength in knowing that the most important work happens at the core of challenging situations, not at the core of problems with obvious solutions.
"I would ask you, 'what environment is perfect?' Keep leading, and don't isolate yourself."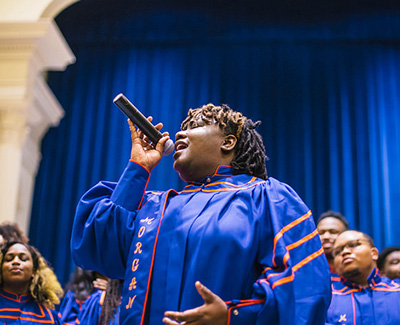 Morgan State performed several pieces, including "Glory," the theme song from the 2014 film Selma, about the Selma to Montgomery marches.
Echoing this conversation in his keynote remarks at the MLK celebration, Datcher spoke about the importance of speaking up and taking action. After presentations of the annual Living the Dream Award and Adams County Career Aid Project (ACCAP) Appreciation Award, and emotional performances by the renowned Morgan State University Choir and The Chamber Chorale of the Gettysburg Children's Choir led by Prof. Brent Talbot, the energy in Christ Chapel was humming.
"We forget when we see something wrong, it's our job to speak up. Injustice anywhere is a threat to justice everywhere," Datcher said, quoting Dr. King. "As we celebrate this man, we have to pay it forward. There is no magic wand to solve our problems, but the good news is we can do this together."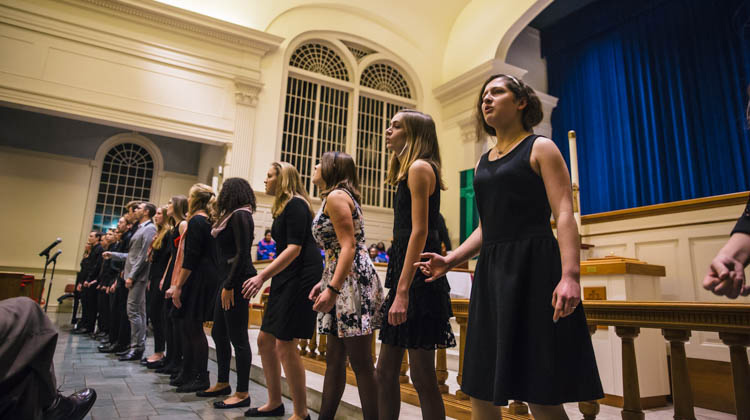 The Chamber Chorale's performance of "All Good People" brought the crowd to its feet. The song was written in remembrance of the tragic shooting at the Mother Emanuel AME Church in Charleston, S.C., on June 17, 2015.
The charge Datcher gave those in attendance was three-fold: have faith, and as Dr. King instructed, take the first step without seeing the rest of the staircase; talk to people who will challenge the way you think; and walk in other people's shoes.
"I'll tell you why I'm fascinated with [Dr. King]," he said. "He was an ordinary man. He wasn't rich. He did not have millions of Instagram followers. The biggest thing going in his favor was a thing called faith…and it led to a conversation about a dream. He dreamed about more than himself. He dreamed for the world."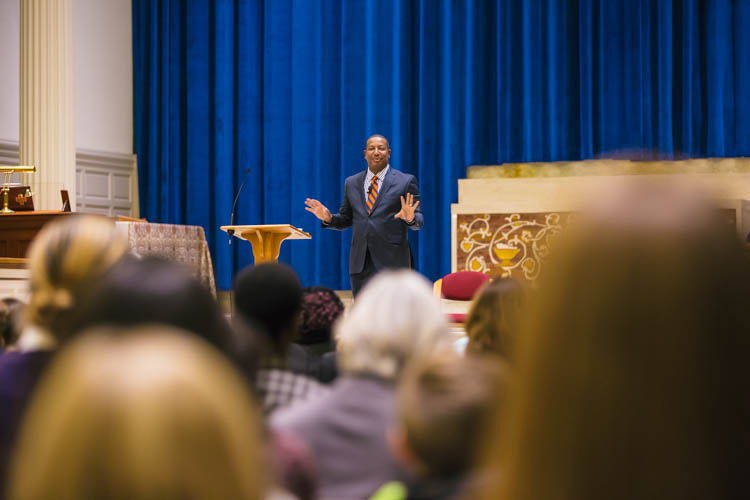 Datcher asked everyone to learn from Dr. King's example and take action the next time they saw something that needed changing—a homeless person in need of food, a fellow student being bullied—and to document that action by sending a tweet using the #dogreatworkMLK2017.
"One year from now, we're going to count how many good things we did. We're going to count, and then do it again," said Datcher. "Remember, when you see injustice, do something about it."
At the event, Datcher and his wife, Shannon Datcher, announced a $1,000 donation in support of ACCAP. The annual celebration is hosted by the College in partnership with SCCAP's Adams County Career Aid Project and The Martin Luther King, Jr. Celebration committee.
Read coverage of the event in The Gettysburg Times.
View the photo gallery on Flickr

Watch Troy Datcher discuss the importance of diversity in business as part of a live discussion with Joe Lynch '85:
Founded in 1832, Gettysburg College is a highly selective four-year residential college of liberal arts and sciences with a strong academic tradition. Alumni include Rhodes Scholars, a Nobel laureate, and other distinguished scholars. The college enrolls 2,600 undergraduate students and is located on a 200-acre campus adjacent to the Gettysburg National Military Park in Pennsylvania.
Contact: Carina Sitkus, senior assistant director of communications, 717.337.6803
Photos by Miranda Harple and Charlotte Scheper '17
Posted: Wed, 25 Jan 2017

Next on your reading list
Economics majors find career success across industries
---
Enhancing our campus, fostering new learning
---
Unexpected connections lead Elise Sondheim '15 to Under Armour
---
Share this story: