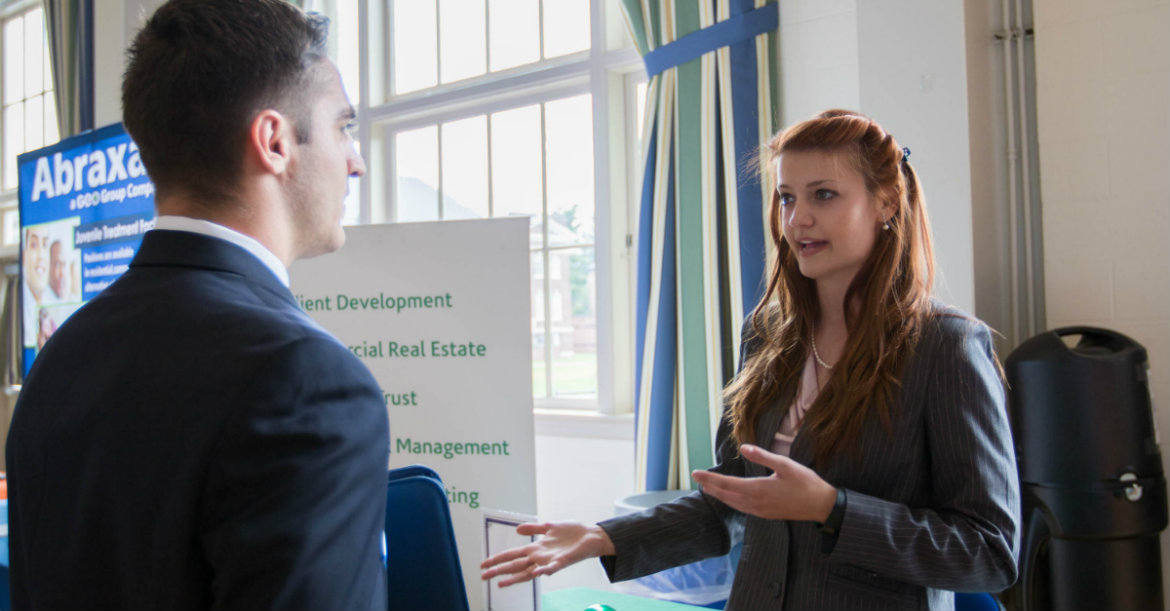 Career connections come full circle: Rachel Fry '15 recruits on campus
Rachel Fry '15 was shocked when she was elected president of her sorority, Tri Sigma, during her junior year at Gettysburg College. The history and economics double major and business minor may not have recognized her potential to thrive in a leadership position, but those around her sure did.
She didn't expect it, but that opportunity to lead was more than the culmination of her skills and experience to date—it would later help shape her career, too.
Fry's journey stems back to her first year, when she signed up for the Garthwait Leadership Center's (GLC) immersive, week-long Leadership Institute. This enabled her to pursue a variety of opportunities throughout her time at the College—including the GLC's leadership certificate during her sophomore year.
"The leadership certificate was so applicable because it's all about being given an opportunity, taking advantage of it, gaining the knowledge and skills, and then being able to translate it when it comes time to help other people on the same path."
By her junior year, Fry was able to thrive as Tri Sigma chapter president and as a leadership coach for the GLC, in part because she found the importance of being accessible to others.
Leadership in the workplace
This outlook followed Fry for the rest of her college career and into her work life. Following graduation, Fry began working at M&T Bank in their Management Development Program, a yearlong fast-track leadership program that was a great stepping stone from the work she's done in the past.
"In many ways, my job is like the [GLC] leadership certificate, and now that I'm out of the program, I'm given the opportunity to help other people who are just starting out."
Now a branch manager, Fry has been able to apply her background in economics and business to banking. She has also learned how to put the effective communications skills she learned through her history classes to good use in her work with customers and co-workers.
On a day-to-day basis, Fry now has the strengths to help others who work in the branch to succeed.
"Every day, I help customers who come in, try to create financial plans for them, and accomplish their dreams."
Supporting the network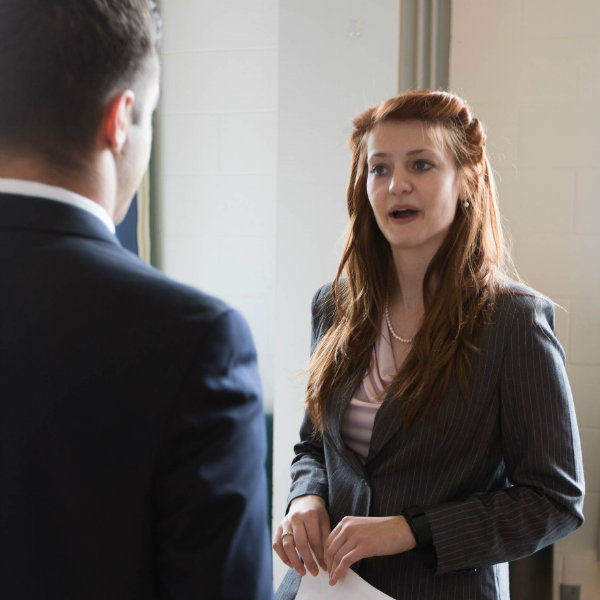 As a young alum, Fry returns to the College for the Center for Career Development's job & internship fair—the very place where she was connected to her job a few years back. Recruiting students for the same program that she works for brought up memories of her own senior year and the uncertainties she felt as she tried to finalize her post-graduation plans.
"I loved finding a job in my company, because it helped me realize there are people outside of Gettysburg who care just as much about you and want to help you succeed. I want to show that to my fellow Gettysburgians and keep the tradition going."
Some of the qualities she is looking for in a potential recruit?
Innovative thinkers with fresh perspectives and the courage to act. She's confident that she can find that here on campus, too.
"Through the GLC, the Eisenhower Institute, or even different campus jobs, you're constantly motivated to push the envelope of your thinking, instead of doing only what's expected of you," Fry said. "It's one of the most important things I learned during my time at Gettysburg, and it's something that a lot of place are looking for in a potential employee, too."
While these experiences have influenced her own professional development and view of leadership, she's also realized that it is about more than a position or sense of power.
"Leadership is a skill you have to work at—it isn't something that you're born with," Fry said. "You don't always have to be the person in the front. It's more your demeanor, how you react to a situation, and if you're able to help everyone get through better than how they started."
Founded in 1832, Gettysburg College is a highly selective four-year residential college of liberal arts and sciences with a strong academic tradition. Alumni include Rhodes Scholars, a Nobel laureate, and other distinguished scholars. The college enrolls 2,600 undergraduate students and is located on a 200-acre campus adjacent to the Gettysburg National Military Park in Pennsylvania.
Article by: Nicole Farina '18, communications intern
Photos by: Mary Beth Bielicki '18, photography intern
Contact: Kasey Varner, assistant director of communications and marketing, 717.337.6806
Posted: Wed, 18 Jan 2017

Next on your reading list
Discovering her resilience: World traveler to future Marine
---
Want to have an impact? These members of the Class of 2018 show us how.
---
---
Share this story: