Eisenhower Institute receives $250,000 gift to enhance Fielding Center for Presidential Leadership Study
At the end of March, The Eisenhower Institute at Gettysburg College hosted a celebration of its Fielding Center for Presidential Leadership Study at the Ronald Reagan Presidential Library in Simi Valley, California. The event honored the Center's founder, Fred F. Fielding '61, who served as White House Counsel to President Reagan and President George W. Bush. Over 200 friends, supporters, alumni, staff, students, and parents were in attendance.
Fielding gave brief remarks during the speaking program, held underneath the wing of Air Force One. Reflecting on his career, Fielding commented on his numerous personal, professional, and public service opportunities.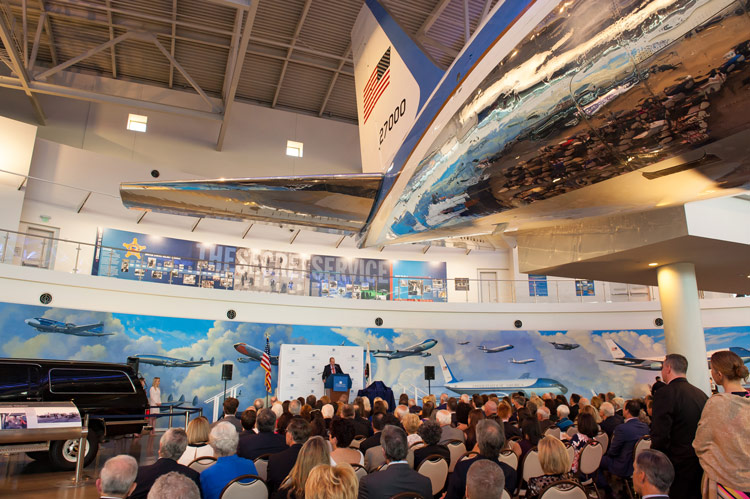 "Now Gettysburg College and the Eisenhower Institute have provided another such special moment in my life," he said, "not only this event tonight, but the creation of this exciting Fielding Center for the study of the elements of leadership in our nation's governance and—most importantly—to teach and encourage the values of government service and civic engagement. For this, I am honored and most grateful."
Following Fielding's remarks came the announcement of a $250,000 gift to establish the Price-Eisenhower Civic Engagement Initiative in support of enhancing programs of the Fielding Center, now going into its third year. The gift was made from the estate of Doug Price, who served as a special assistant to President Dwight D. Eisenhower. His nephew, Jonathan Price, made the surprise announcement.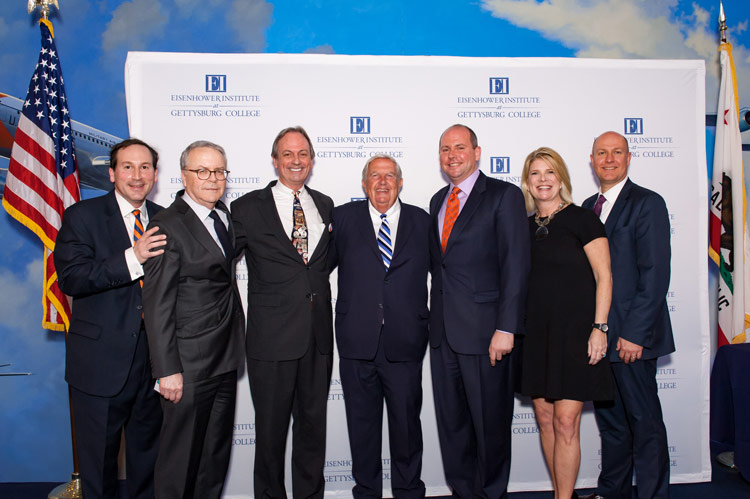 "Doug cherished his time working with President Eisenhower, during his time in Washington as well as after Eisenhower retired, up to his death in 1969, and thereafter with his involvement within the Eisenhower Institute," said Jonathan Price after the event. "The family thought this would be a fitting way to honor Doug's service—allowing more young people the opportunity to engage in all the great opportunities existing within The Fielding Center."
In addition, if the Institute raises $250,000 from gifts made to the Fielding Center, the Price Family will match all of those gifts up to $250,000, placing $750,000 total into this endowed fund.
"This very generous gift will allow us to honor President Eisenhower's living legacy and continue the work and values of his administration," said Jeffrey Blavatt '88, executive director of the Eisenhower Institute. "In addition, it will meet a very important need—and that is emphasizing the importance of civic engagement, not only for our students, but in the world today."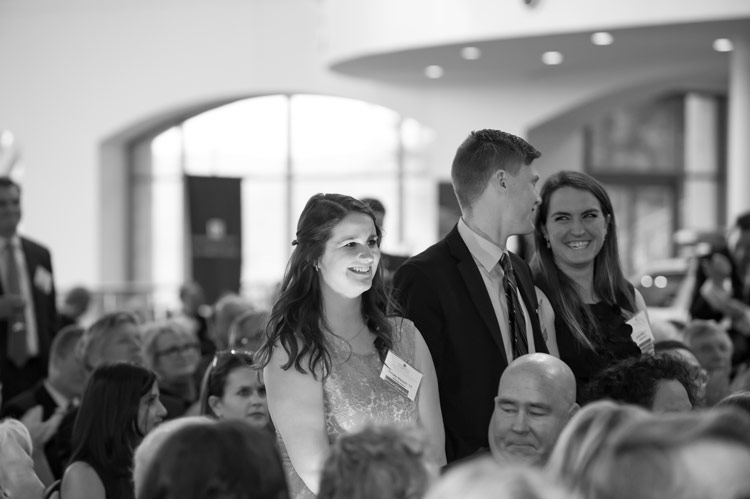 A cornerstone of the Fielding Center is its Fielding Fellowship, which offers a select group of Gettysburg College seniors an opportunity to investigate presidential leadership through the lens of the executive branch, legislative affairs, and foreign policy. Founded in 2015, the program emphasizes the value of civic engagement and governmental service.
In addition to Mr. Fielding's mentorship, the Center is led by Washington professionals and experts at the Eisenhower Institute:
Carl Cannon, EI Scholar in Residence, the Washington Bureau Chief of RealClearPolitics, and Executive Editor of RealClear Media Group
Kasey Pipes, Norris Fellow, communications and policy advisor, former speechwriter for President George W. Bush and California Governor Arnold Schwarzenegger, and chief author of the Republican Party platform in 2004.
Richard Norton Smith, Noted presidential historian
Shirley Anne Warshaw, Harold G. Evans Chair of Eisenhower Leadership Studies, professor of political science at Gettysburg College, expert on the study of presidential leadership
While in California, the Fielding Fellows and another group of students from the Eisenhower Institute, the Undergraduate Fellows, attended meetings with experts on the presidency, including Lou Cannon, who wrote the authoritative biography of President Reagan, and the leadership teams of The Ronald Reagan Presidential Library and The Ronald Reagan Presidential Foundation.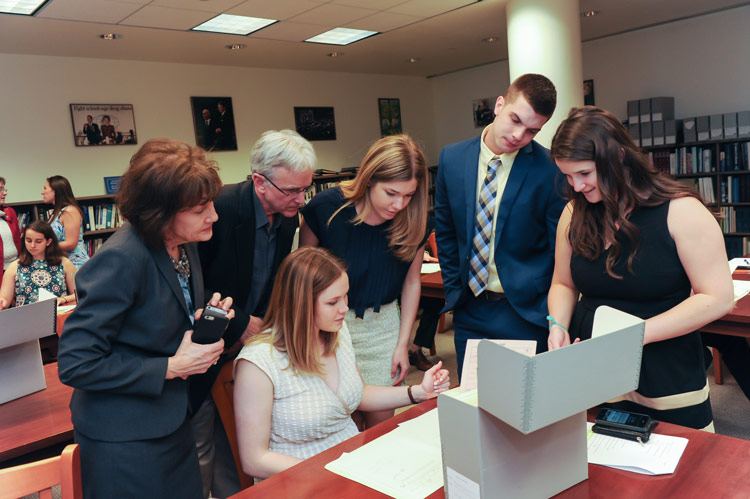 A special activity? Completing The Situation Room Experience in what had been the actual situation room before it was renovated in 2006. This level of access and first-hand learning experience is a defining feature of the Fielding Fellowship and the Fielding Center.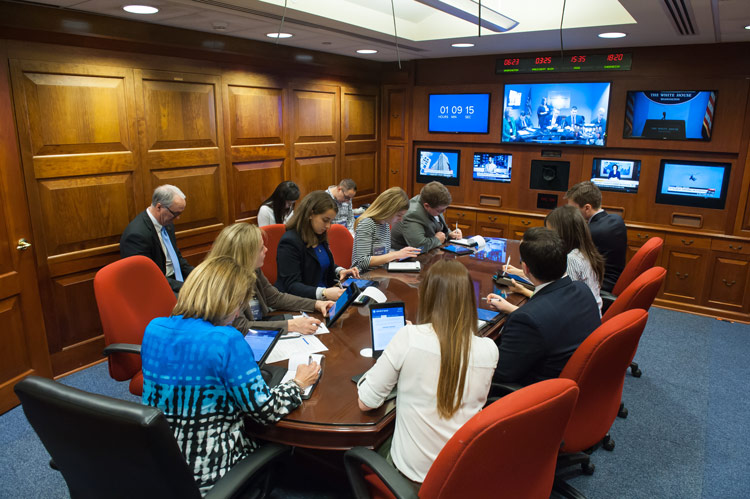 Another integral element is rigorous research. Under the guidance of Warshaw, this year the Fellows completed a project that culminated in making formal recommendations to the U.S. State Department on foreign anti-corruption practices.
As one more example of the opportunities the program provides, last year, the fellows traveled to the George W. Bush Presidential Library with Mr. Fielding.
"Serving as a Fielding Fellow has been one of the most defining experiences of my college career," said Jason Spiegel '17, a political science major, a philosophy minor, and a Kermit Finstad Scholar at The Sunderman Conservatory of Music.
"We were honored to work directly with Mr. Fielding in our study of presidential leadership, and privileged to access his wealth of personal experience and knowledge in the field. In traveling to both the Reagan and George W. Bush Presidential Libraries with Mr. Fielding, we learned not just the stories history tells of these men and their legacies, but Mr. Fielding's personal stories and experiences. That kind of experience is unique and invaluable."
To learn more about the Fielding Center and the matching opportunity, visit the Eisenhower Institute's website.
Engaged Learning
Provide high-impact learning opportunities within and beyond the classroom.
Founded in 1832, Gettysburg College is a highly selective four-year residential college of liberal arts and sciences with a strong academic tradition. Alumni include Rhodes Scholars, a Nobel laureate, and other distinguished scholars. The college enrolls 2,600 undergraduate students and is located on a 200-acre campus adjacent to the Gettysburg National Military Park in Pennsylvania.
Photos by Guill Photography
Contact: Carina Sitkus, senior assistant director of communications, 717.337.6803
Posted: Thu, 27 Apr 2017

Next on your reading list
Gettysburg celebrates Jersey-style
---
Have you heard about the Cross-Disciplinary Science Institute at Gettysburg?
---
Kenny Knickerbocker '07, on making a difference on the island of Sumba
---
Share this story: