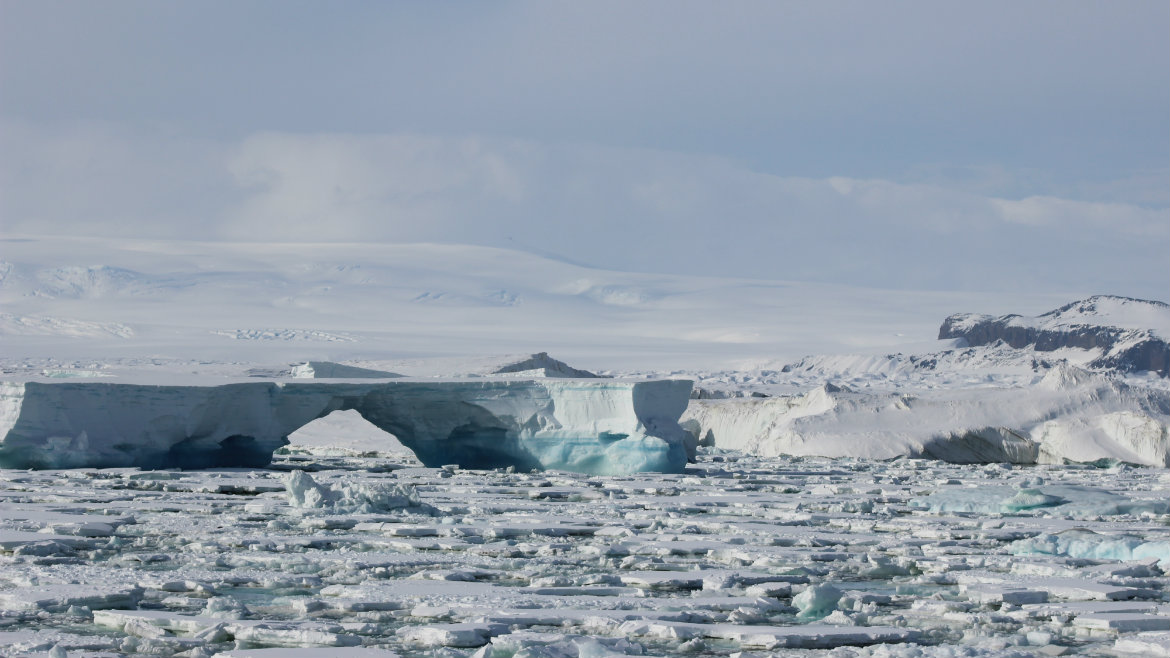 It's a small world: Two alums conduct research on this rarely visited continent
In any given year, at any given time, there are fewer than 5,000 people in Antarctica (fewer, as you can imagine, in winter).
In 2017, Gettysburgians accounted for 2 of the 5,000. Just short of bumping into one another, two environmental studies alums traveled to Antarctica for separate research projects—Julie (Markus) Parno '09 as part of work with the Cold Regions Research and Engineering Laboratory (CRREL), a United States Army Corps of Engineers lab, and Danielle Bates Haulsee '10 as part of an international expedition to the Nansen Ice Sheet, adjacent to Mount Nansen. Parno arrived in April, just a few weeks after Haulsee left.
Scientists use the area to study climate change. Below, read why Haulsee and Parno traveled to Antarctica and learn about their experience conducting research on a continent few people have the opportunity to visit.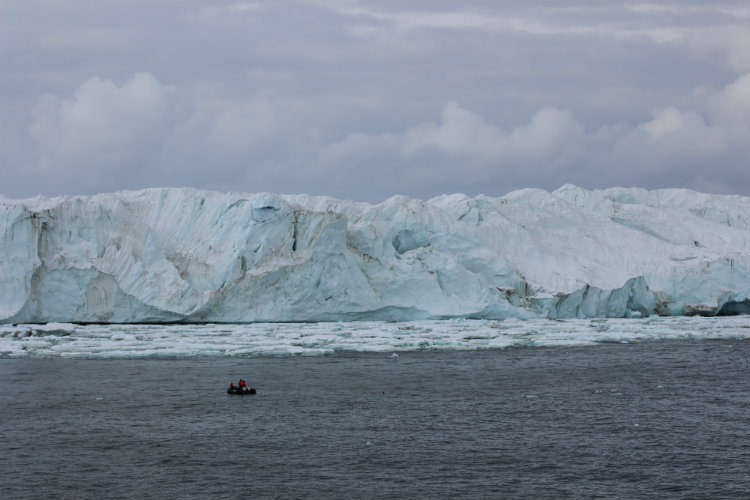 Danielle Bates Haulsee '10
Haulsee recently completed her Ph.D. in oceanography at the University of Delaware. As a postdoc, she's studying Atlantic sturgeon, a threatened fish species, but she spent much of her early career researching sharks and large animal movements in the ocean.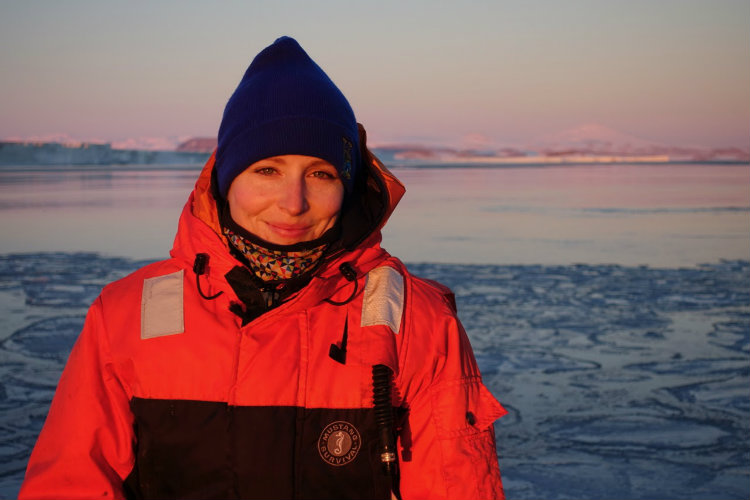 Having the opportunity to visit Antarctica was outside the realm of her usual research. "I kind of lucked into this project," she said. Haulsee's lab at the university hosted a workshop on underwater robot technology. There, she met Alexander Forrest, an engineering professor from University of California, Davis. He was planning to take a robotics team to the Western Ross Sea and Terra Nova Bay as part of an international 6-week expedition to study the Nansen Ice Shelf, from which two Manhattan-sized icebergs broke off last year.
Forrest was looking for someone with experience operating a robot called a glider. Haulsee volunteered. Scientists use robots like the Storm Petrel glider to collect data so they can better predict and understand events such as ice masses breaking off. Ice shelves are melting and breaking, but it is still unclear what is driving these changes, and if they are a cause for concern, said Haulsee. "So researchers on the ship were trying to understand how oceanographic properties could be leading to that," she said. "One of the big tasks was mapping the ocean floor where the ice had broken off to see what the ocean bottom looked like after it broke off."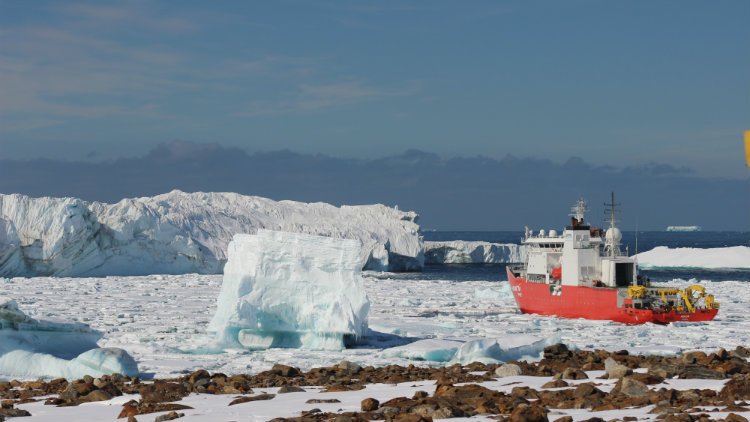 "At Gettysburg, I had taken Prof. Sarah Principato's class on glaciers, so it was cool remembering what she taught us about glaciers and melting, but I never imagined I would get to see them up close," said Haulsee. "In pictures, chunks of ice look like static, unmoving features, but they are constantly changing. These huge icebergs the size of buildings flip over seemingly at random, turning over completely so you can see the bottoms of them, and they would be a different shape or a different color blue. I felt lucky to be there and hope the science we were doing helps us better understand one of the most harsh, but awesome, places on our planet."
Julie Markus Parno '09
Environmental Studies Major, Spanish minor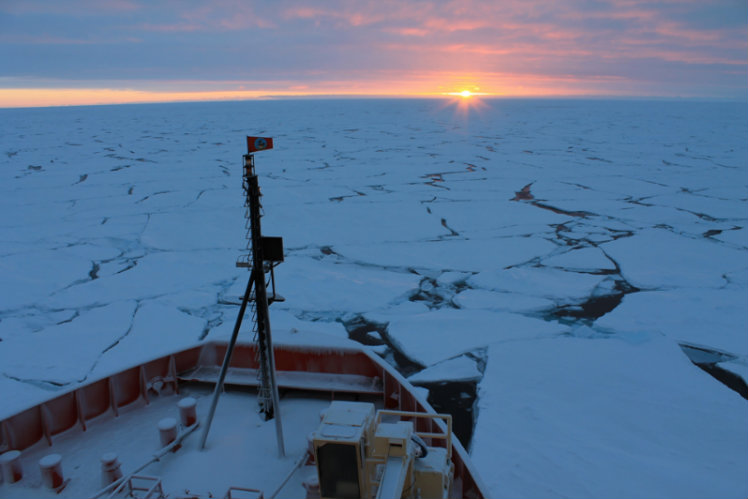 Parno, a recipient of the prestigious Goldwater Scholarship, earned a master's degree in geology from The Ohio State University and also worked at the National Park Service after graduating from Gettysburg. She is interested in polar and alpine research, mostly focusing on snow and ice physics.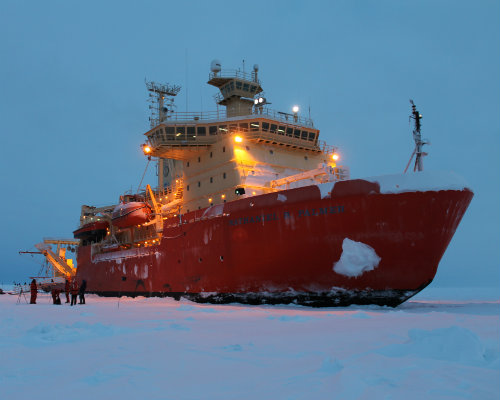 Like Haulsee, the opportunity to conduct research in Antarctica happened somewhat by chance. The National Science Foundation requested someone from the Cold Regions Research and Engineering Laboratory join a 62-day research cruise to collect data on sea ice properties including ice thickness, ice type, ice floe size, ice concentration, and snow depth.
"The ice in Antarctica is behaving very differently from the ice in the Arctic," said Parno. "The Arctic is seeing a decrease while the Ross Sea in Antarctica is seeing an increase in sea ice in recent years." Sea ice is ice that's formed from sea water. An ice shelf like the one Haulsee studied is formed from fresh water as a result of snow compacting to form ice over time.
"From satellites we can estimate some ice properties, like extent and concentration, but we can't measure everything remotely," said Parno. "And so one of the objectives of the cruise was to go down in autumn and early winter season when the ice is growing and take in situ air, ice, and ocean measurements to help determine why changes are occurring."
Parno became interested in glaciology after, like Haulsee, she took a class taught by Prof. Principato.
"Her Earth Systems Science class touches on all sorts of different fields in the physical sciences," Parno said. "It was really what introduced me to the study of ice in the polar regions. I also became interested in geospatial research through Prof. [Rutherford] Platt's geographic information system classes. My master's degree and previous positions involved GPS data collection, analysis of spatial data, and mapping, all of which drew on the knowledge gained in those GIS classes."
Because Antarctica is a difficult place to travel to, Parno said one goal of the cruise was improving researchers' ability to analyze the ice using satellite imagery and modeling. They can compare data collected on the ground with data collected using satellite imagery.
"I am so proud of Julie and Danielle," said Principato. "They have both accomplished so much early in their careers as scientists, and the interdisciplinary environmental studies major prepared them well. When I heard that they were each going to Antarctica, I just could not believe it! Amazing opportunities for two fantastic environmental studies alums!"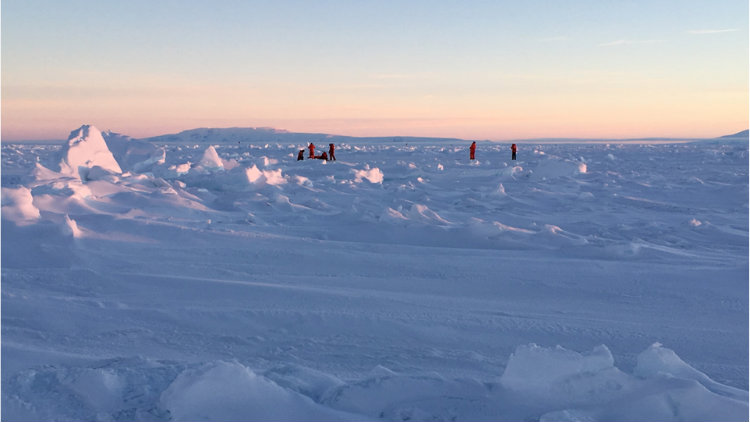 Founded in 1832, Gettysburg College is a highly selective four-year residential college of liberal arts and sciences with a strong academic tradition. Alumni include Rhodes Scholars, a Nobel laureate, and other distinguished scholars. The college enrolls 2,600 undergraduate students and is located on a 200-acre campus adjacent to the Gettysburg National Military Park in Pennsylvania.
Contact: Carina Sitkus, senior assistant director of communications, 717.337.6803
Posted: Mon, 17 Jul 2017

Next on your reading list
---
Tyler Mitchell '20 creates potentially revolutionary medical device in Gettysburg Innovation Lab
---
Emily Vega '19: Building community, bridging divides
---
Share this story: