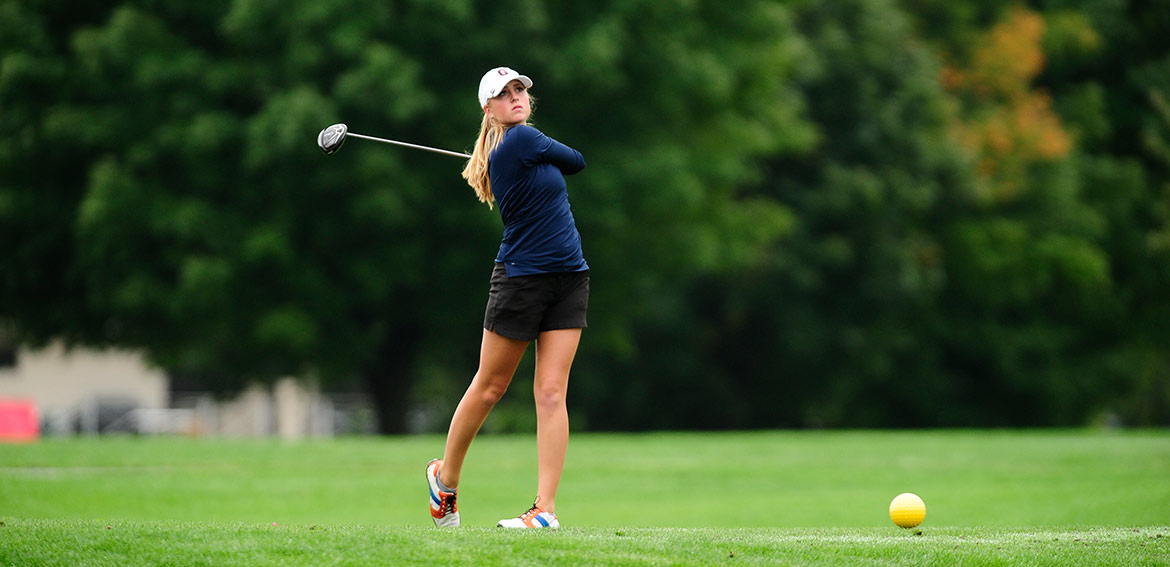 Sarah Hansen '17, top golfer, in the Navy now
Sarah Hansen '17 honed her problem-solving abilities as a physics major and member of the women's golf team over the last four years at Gettysburg College. Those skills played a pivotal role in her quest to join the United States Navy following graduation.
"In physics, the first thing you do to solve a problem is list off all your variables, so what you know and what you don't know," noted Hansen. "When I am approaching a golf shot, I do my laser and I determine what my distance is, what's my lie, what's around the green, and where I want to go. My next step is to solve the problem."
Golf, like physics, is full of variables such as wind, distance, club length, pin distance, etc. Hansen's inclination for problem solving shaped her into one of the premier competitors in the region. With Hansen leading the way, the Bullets captured four-straight Centennial titles and advanced to the NCAA Division III Championship each year. The team rose to the challenge with their senior leader this year, winning a dozen events and setting a new conference scoring record with 335.5 strokes per round. Gettysburg claimed individual medalist accolades 11 times in 16 events with Hansen leading the way with four titles of her own.
Watch the video to hear Hansen's personal leadership story, which she shared at the Gettysburg College Leadership Certificate Showcase.
After four years at Gettysburg College, Hansen decided to forego getting a PhD in physics or going into the work force right away. Instead, she applied to the Navy's Nuclear Propulsion Office Candidate Program. The four-year commitment eventually puts Hansen on board a nuclear-powered, 100,000-ton aircraft carrier.
But before all that could happen, she had to go through the interview process with the admiral in charge of the program. Hansen's resume was impressive academically: summa cum laude, Phi Beta Kappa, recipient of the Dr. George R. Miller and Dr. Richard T. Mara Senior Prize in Physics and so on; but how would she perform under pressure?
The answer to that question came with the same kind of fortitude displayed on the golf course. The admiral asked the soon-to-be Gettysburg grad how many years were in a score, a fairly common historical reference term for time, and one made famous by Abraham Lincoln's Gettysburg Address. For a physics major whose senior project focused on electrostatic nucleosome core particles, however, a score wasn't a typical part of the daily jargon.
Instead of folding under the gaze of a high-ranking naval officer, Hansen used her powers of deduction to get to the answer. She knew when Lincoln's famous speech on the Gettysburg Battlefield took place and that it referred to the signing of the Declaration of Independence 87 years before. With that knowledge in hand she quickly came up with the answer: 20 years.
"I never would have been able to think on my feet if I hadn't had a liberal arts institution background," recalled Hansen.
Hansen's future in the Navy started shortly after graduation. She spent 12 weeks in Officer Candidate School and graduated on Oct. 6. Now she awaits her next assignment which will place her at sea for a year on a smaller ship, such as a destroyer. After that, Hansen will go through more training with nuclear reactors before stepping on the deck of one of the largest ocean-going vessels in the world.
"I've had a great experience at Gettysburg," said Hansen. "I like to tell students coming in that you can really make it your own experience. There's a different Gettysburg experience for every single person."
Founded in 1832, Gettysburg College is a highly selective four-year residential college of liberal arts and sciences with a strong academic tradition. Alumni include Rhodes Scholars, a Nobel laureate, and other distinguished scholars. The college enrolls 2,600 undergraduate students and is located on a 200-acre campus adjacent to the Gettysburg National Military Park in Pennsylvania.
Posted: Wed, 18 Oct 2017

Next on your reading list
Winnie Wang '18: Committed to the fight against homelessness in San Francisco
---
President Janet Morgan Riggs '77 to speak at 2018 Dedication Day ceremony
---
Tyler Mitchell '20 creates potentially revolutionary medical device in Gettysburg Innovation Lab
---
Share this story: