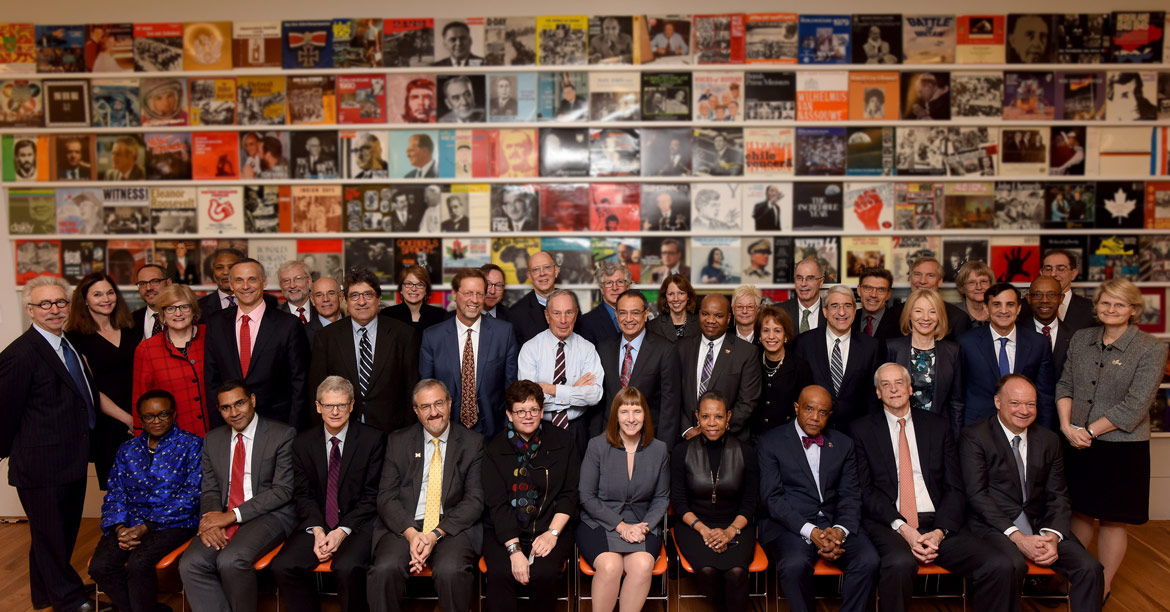 American Talent Initiative brings together 68 of nation's most respected colleges and universities committed to attracting, enrolling, and graduating more high-achieving, lower-income students.
Gettysburg College joins national effort to expand access and opportunity
Gettysburg College joined 67 of the nation's most respected colleges and universities in an alliance to substantially expand the number of talented low- and moderate-income students at America's undergraduate institutions with the highest graduation rates. This growing alliance, called the American Talent Initiative (ATI), supported by Bloomberg Philanthropies, brings together a diverse set of public and private institutions united in this common goal. ATI members will enhance their own efforts to recruit, enroll, and support lower-income students, learn from each other, and contribute to research that will help other colleges and universities expand opportunity.
"We are excited to join the American Talent Initiative. At Gettysburg, we are determined to continue to make our education accessible to all students who have the potential to make the most of it, regardless of their socioeconomic circumstances," said Gettysburg College President Janet Morgan Riggs '77.

Gettysburg's history has long focused on issues of diversity, social justice, and equality, beginning with its founding in 1832 by anti-slavery theologian Samuel Simon Schmucker. Joining the ATI is another step in Gettysburg's institutional commitment to a diverse and inclusive learning environment. Gettysburg College was at the forefront of creating relationships with community-based organizations, as the CollegeBound Initiative's first college partner and through a 16-year partnership with Philadelphia Futures. Gettysburg's connections to community-based organizations now reach throughout the country. Since 2009, the number of domestic students of color and international students at Gettysburg College has grown from 11 percent of the student body to 21 percent.
Launched in December 2016, the ATI was founded with a national goal of educating 50,000 additional high-achieving, lower-income students at 270 participating colleges and universities. Based on the most recent federal data available, there are approximately 430,000 lower-income students enrolled at these 270 institutions. ATI's goal is to increase and sustain the total number of lower-income students attending these top-performing colleges to about 480,000. To reach this ambitious goal, ATI aims to add more top-performing colleges to its membership in the coming months and years.

Gettysburg College recognizes that America's top-performing colleges have an important role to play in this effort. Research shows that when high-achieving, lower-income students attend these institutions, they graduate at higher rates, and access to those institutions provides them with a much greater chance of attaining leadership positions and opportunity throughout their lives. Yet in each graduating high school class, there are at least 12,500 lower-income young people with outstanding academic credentials who do not enroll at institutions where they have the greatest likelihood of graduating.
These students have earned the opportunity these schools offer, but for a variety of reasons—including a lack of information about their options, confusion about costs, and inadequate financial aid offers—many of them simply lack access. The American Talent Initiative seeks to ensure that these "missing" students have a path to attend and thrive at the institutions with the highest-graduation rates and best track records for post-graduate success.
Founded in 1832, Gettysburg College is a highly selective four-year residential college of liberal arts and sciences with a strong academic tradition. Alumni include Rhodes Scholars, a Nobel laureate, and other distinguished scholars. The college enrolls 2,600 undergraduate students and is located on a 200-acre campus adjacent to the Gettysburg National Military Park in Pennsylvania.
Contact: Kasey Varner, assistant director of communications, 717.337.6806
Posted: Tue, 25 Apr 2017

Next on your reading list
In his words: Ben Pontz '20 and the "essence of experiential learning"
---
The antidote for ignorance: A liberal arts education?
---
Econ majors to learn from Chris Matthaei '01 gift, innovative software
---
Share this story: