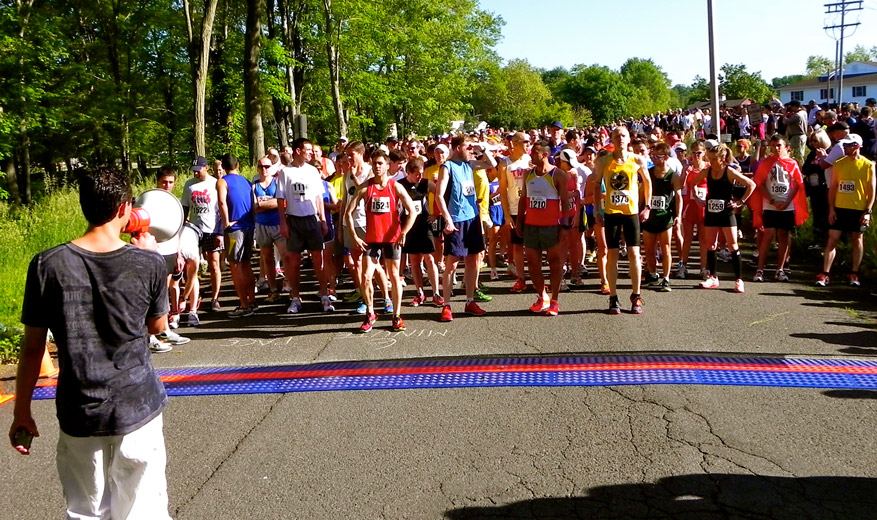 Alum saves the world one race at a time (sans cape and mask)
Faster than a speeding bullet. More powerful than a locomotive. Able to raise thousands of dollars in a single bound...it's not Superman, but Chris Russo '02.
Russo is the co-founder of Superhero Events, a company that holds racing events in New Jersey and donates proceeds to charity. Superhero Events' flagship race, the Superhero Half Marathon, originally benefited the Christopher and Dana Reeve Foundation, which specializes in spinal cord research.
The half marathon took on the superhero title to honor Christopher Reeve's iconic role as Superman, but quickly evolved into a theme race, with participants running in capes, masks, tights, and other superhero garb.
When Russo and business partner and fellow runner Heather McDermott founded the company in 2010, Superhero Events became the perfect fusion of interests that were fostered during Russo's time at Gettysburg College.
His coursework as an Organization and Management Studies (OMS) major and economics minor developed Russo's entrepreneurial spirit. Russo found support for these interests in his roommate…twin brother Mike '02, also an OMS major.
A longtime athlete and runner, Russo has a love of athletics that was evident in his success as a high jumper and sprinter on the Bullets Track & Field team (in fact, Russo holds the 5th spot on the College's Indoor Track & Field high jump record list).
The College's commitment to service also impacted him, and he found that passion through his work with organizations on campus such as the Alpha Tau Omega fraternity.
Eight years after graduating, Russo took these interests and experiences – honed during his time on campus and beyond – and turned them into a successful business venture that aims to do some good in the world.
"Gettysburg College taught me that if I have an idea in my head and I'm passionate about that idea, I should go for it," said Russo. "That's the philosophy I followed when we planned our first race back in 2010."
Russo says that his Gettysburg education not only prepared him well to start a new venture, but also gave him the tools to maintain his business successfully.
"In my role, I wear many hats. I take care of logistics such as working with local officials, manage finances including accounting, emcee our events, and handle a million other details. My liberal arts education prepared me well for the different roles I fill every day," Russo said.
Superhero Events aims to get more people involved in running by presenting races in northern New Jersey that bring charisma and excitement to the sport. They do this while giving back to the community and local and national charities. In addition to the Superhero Half Marathon, they offer other themed races such as the Pre-Game 4 miler, Oktoberfest 10k, Super Santa 5k and more. Watch Russo and McDermott discuss Superhero Events on FOX Business.
Russo admits that his own favorite superhero has wavered between Superman and Batman over the years, and though he doesn't wear a mask or cape (at least not most days), it's clear that like the Man of Steel and Caped Crusader, Russo is working hard to change the world around him for the better.
Founded in 1832, Gettysburg College is a highly selective four-year residential college of liberal arts and sciences with a strong academic tradition. Alumni include Rhodes Scholars, a Nobel laureate, and other distinguished scholars. The college enrolls 2,600 undergraduate students and is located on a 200-acre campus adjacent to the Gettysburg National Military Park in Pennsylvania.
Contact: Nikki Rhoads, senior assistant director of communications, 717.337.6803
Posted: Mon, 9 Jun 2014

Next on your reading list
Economics majors find career success across industries
---
Enhancing our campus, fostering new learning
---
Unexpected connections lead Elise Sondheim '15 to Under Armour
---
Share this story: