How well do you know the Gettysburg ABCs?
Classes are starting up again soon, and we couldn't be more excited to welcome our students, both new and old, back to campus.
So while we're reviewing our reading, writing, and 'rithmatic in preparation to go "back to school," we thought we'd go over the ABCs—the ABCs of Gettysburg, that is!
Alma Mater
What better way to kick off the alphabet than with something uniquely Gettysburg—the alma mater. Written in 1922 by Paul Gilbert, Class of 1922, and F.E. Reinartz, Class of 1924, the alma mater describes a band of "good fellows" who came together to "sing in the twilight hours," whose thoughts and words praise "the glorious Orange and Blue."
All first-year students serenade President Janet Morgan Riggs '77 with this song during Twilight Hour, held in January. Don't worry if you don't know it yet—you'll have time to practice!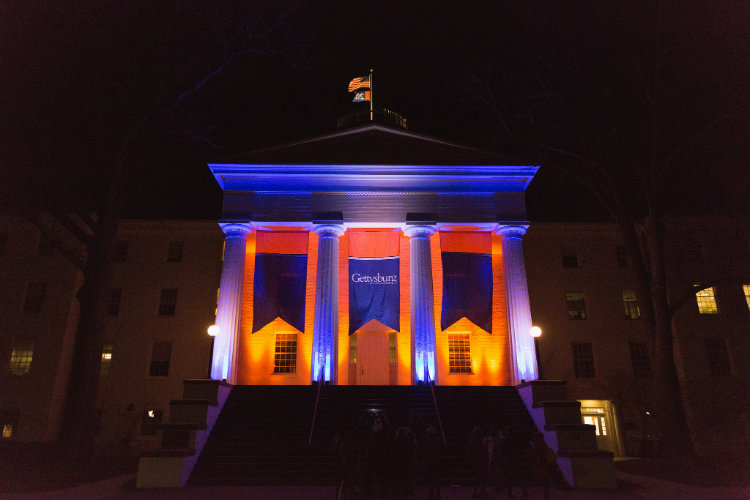 BOLD
An acronym for 'Burgians of the Last Decade, BOLD is an organization that advocates for and caters to our youngest alumni. From providing networking events and career webinars, to BOLD-specific events, this group makes sure our young alumni find ways to stay connected with the College. Alumni can apply for positions on the BOLD Council, having influence over activities and events while also representing their classmates to the College.
Center for Career Development
Students come to Gettysburg College for an education that will open doors to their futures. There is no better place to start that than the Center for Career Development. From externships and internships, to job shadowing, networking dinners, and immersion trips, this office will provide you with the career exploration and individualized counseling you will need to develop your career plan and build your professional network.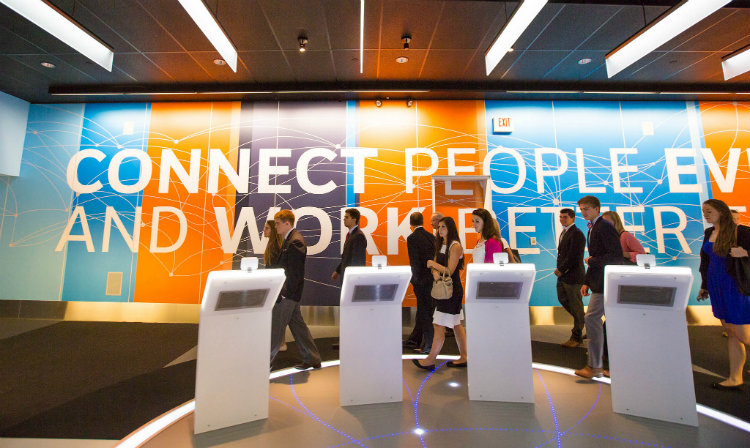 Dog Days
A student favorite, dog days takes place on Mondays and Wednesdays for the first two weeks of classes. Campus faculty, administrators, and staff are encouraged to bring their furry friends for students to play with and show some love. It's also a great chance to meet the "dogtor," Counseling Services' very own therapy animal, and the College's ONLY dog-employee.
Everything Eisenhower
Here at Gettysburg, we still like Ike—as in, 34th president of the United States Dwight D. Eisenhower. A long-time resident of Gettysburg and former trustee of the College, Eisenhower left his mark on both the town and the College.
In fact, the Eisenhower National Historic Site is not far from campus, the Eisenhower House, now the Admissions Office, is where the five-star general wrote his memoirs, and the Eisenhower Institute at Gettysburg College, located in the home once shared by Ike and Mamie, honors his presidential legacy by promoting nonpartisan discourse and critical analysis of issues of long-term importance through competitive fellowships, access to renowned experts, and symposia.
Eisenhower is a big deal here, and if you want it, you'll have plenty of opportunities to engage in his legacy before you graduate!
First-Years
Something unique you'll notice about Gettysburg—you're not freshmen, you're first-year students. As such, every event aimed at the first-year class is named after it, like the First-Year Walk, the First-Year Reading, and First-Year Seminars.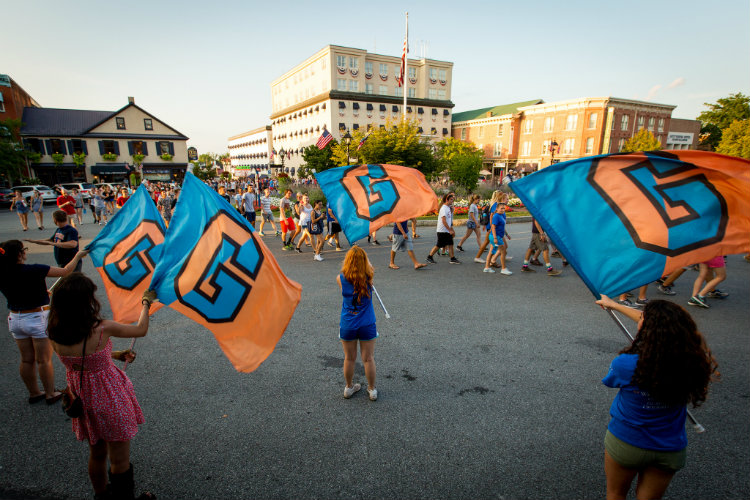 Garthwait Leadership Center
If you're interested in building and refining your leadership skills, look no further than the Garthwait Leadership Center (GLC), Gettysburg College's intellectual and experiential hub for leadership development. Through the Leadership Certificate program to the Emerging Leaders Retreat, there are plenty of opportunities for incoming and returning students alike to engage with the GLC.
Historic Location
You can't come to Gettysburg without feeling a connection to the events that happened here over 150 years ago. It inspires you. It makes you question what it means to be an engaged citizen, and challenges you to complete the unfinished work of your own great task, as Abraham Lincoln so eloquently called for in his Gettysburg Address.
From the Civil War Institute and their CWI Fellowship and Pohanka Fellowship, to the Civil War Era Studies Department and the courses they offer, our students have endless opportunities to take advantage of our historic location through their academics.
And with the battlefields just a few steps away from campus, it always makes for a nice place to take a run, bike ride, or walk.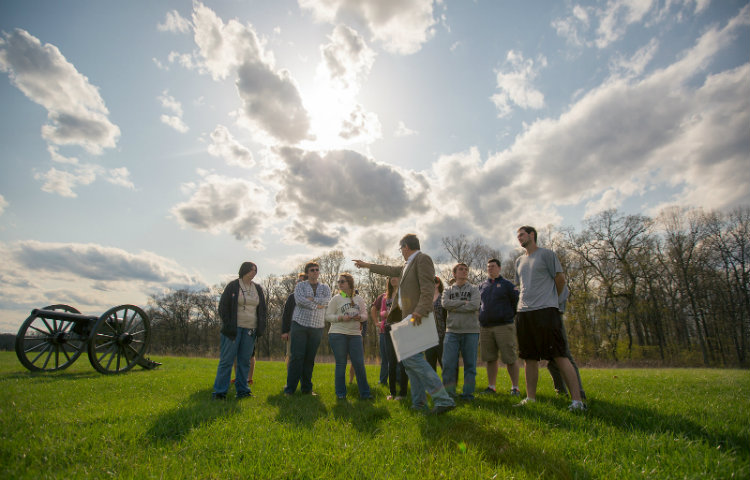 Intramurals
Did you know that at least 90% of students engage in some type of recreational programming offered through Campus Recreation? Its more than just intramurals and pick-up games with your friends, too—Campus Rec also covers club sports, fitness classes, and late-night programming!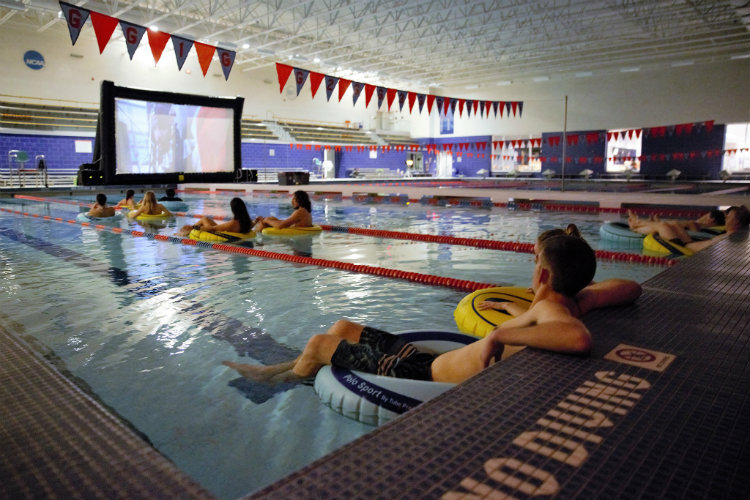 Jaeger Center
You'll love the Jaeger Center for Athletics, Recreation, and Fitness. The 55,000 square-foot facility offers a wide selection of ways to stay active and healthy, including weekly classes in the multipurpose room, a bouldering wall, a climbing wall, and, of course, the Dive, a healthy on-campus dining option.
Kline Theater
Located in what was once Brua Chapel, Kline Theatre was built in a 1983 renovation. Today, the 235-seat playhouse holds a variety of events, including student-run plays, lectures, and other productions.
Library
No matter what you do during your four years here, you will likely spend a good portion of that time in the Musselman Library. After all, the Princeton Review has named us a top 20 college whose students study the most!
Open 24/7 with a midnight coffee cart for late-night studying, the library has so much more to offer than rows upon rows of books and collaborative spaces for group projects. You can find the library's Special Collections and College Archives on the fourth floor, which houses regularly rotating, student-, faculty-, and administration-curated exhibits, in addition to a cornucopia of are books, manuscripts, maps, art works, and more.
Music
Thanks to our Sunderman Conservatory of Music, any student with a musical interest can find an opportunity to pursue it, whether it's through serious academic study or performance in one of several ensembles.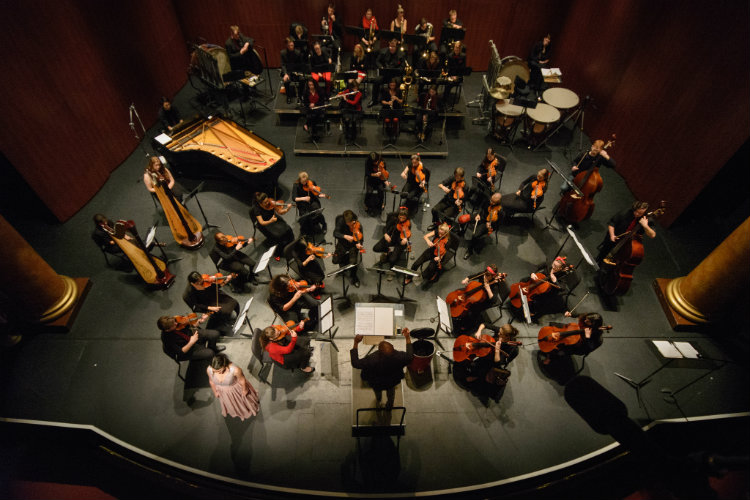 Network, network, network!
As most people will tell you, who you know is just as important as what you know when it comes time to finding your first job. Thanks to Gettysburg's active and global alumni network (which has been ranked xxd in the nation by The Princeton Review!), you'll have plenty of opportunities for career exploration when you are a student, and lots of help after you graduate.
Our alums have provided over 8,000 opportunities for career exploration over the last six years, and 2 out of 3 members of the most recent graduating class have used the alumni network in their job search.
Outdoor adventures with GRAB
The Gettysburg Recreation Adventure Board (GRAB) facilitates wilderness, challenge course and leadership programs—from overnight backpacking excursions to day-long hikes, kayaking trips, and ropes course workshops.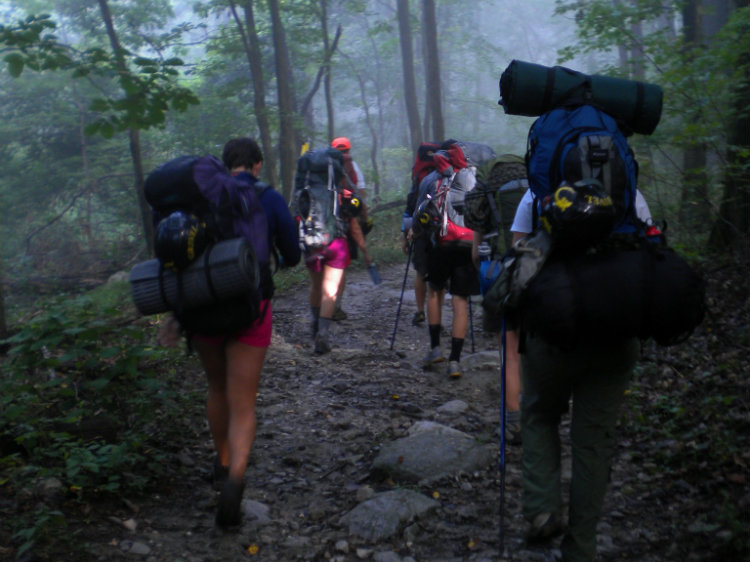 Public Service
Looking for opportunities to connect with the local community and have a meaningful impact? Most of our students do, and the Center for Public Service (CPS) helps them do it. CPS engages students, community members, faculty and staff to facilitate partnerships, education, critical thinking, and informed action. From connecting students with local volunteer opportunities to providing immersion projects, summer fellowships, and engaging in social justice dialogue, students can find plenty of ways to get involved.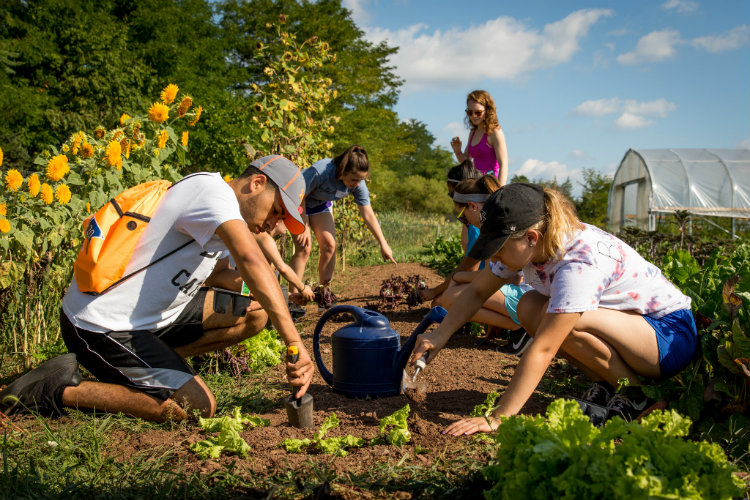 Quarry
One of many scenic spots on campus, the Quarry (also known as Quarry Pond and Quarry Lake, depending on who you ask . . . ) is located behind the West Building and the Quarry Suites on the northwest side of campus. It's where students can also find the Quarry Pavilion and the ropes courses run by GRAB.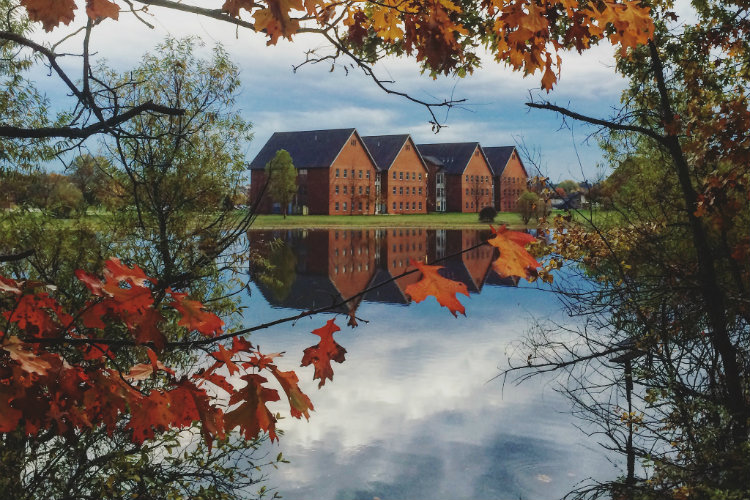 Research
Hands-on, in-depth research is an important aspect of a Gettysburg education. 55% of our students work under the guidance of a faculty mentor outside of the classroom by the time that they graduate.
Learn more about opportunities to conduct research at Gettysburg through our research videos on Youtube.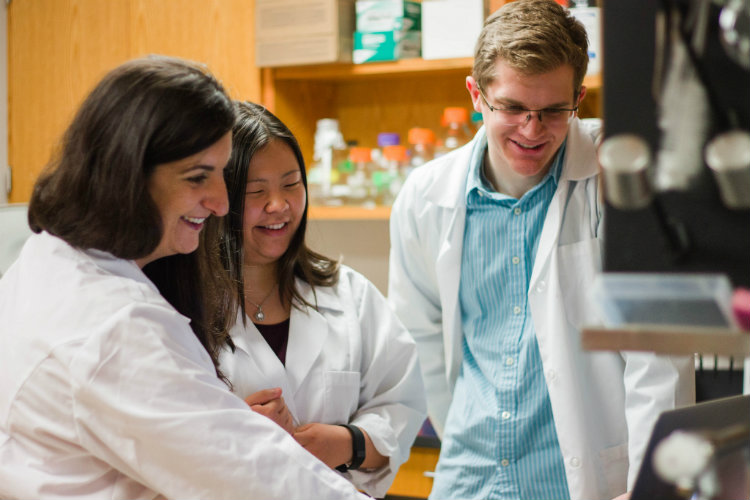 Servo
There is nothing that holds a fonder spot in the heart (and stomach!) of a Gettysburgian than Servo. As the most popular place to eat and a hub of campus social activity, Servo provides breakfast, lunch, and dinner to our campus community, as well as light fare in between meals. Sunday brunches are a popular meal, with Servo cookies the best treat you'll find on campus. And of course, no meal is better than Servo's annual Thanksgiving dinner.
Traditions
Speaking of Servo Thanksgiving, Gettysburg has several timeless traditions that bind our current students and alumni together across class years. Starting with the First-Year Walk during Orientation, during which students recreate the walk made by the campus community in 1863 to hear Lincoln's Gettysburg Address, to Springfest—a three-day outside event at the end of the spring semester which brings concerts, food, and novelty items to the campus—there are plenty of ways for students to engage in the College's unique history and celebrate its traditions.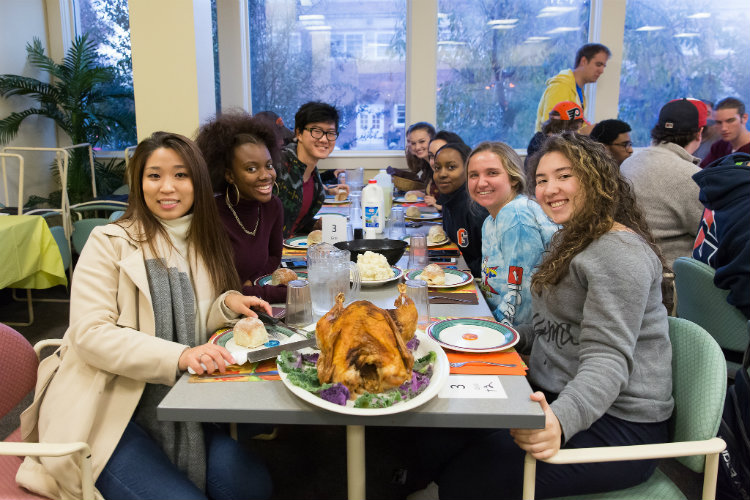 Proximity to urban centers
Gettysburg sits at the crossroads of many major routes, so we aren't far from several urban centers in the region. Washington, D.C. is just a 90 minutes car ride away. Other nearby cities? Baltimore, Maryland, Harrisburg and Philadelphia, Pennsylvania, and New York City. Students regularly take advantage of our location, from class field trips to day-long trips sponsored by the Campus Activities Board and other groups on campus.
Vivid Sunsets
There's something about a Gettysburg sunset. The way the vivid oranges and blue paint the evening sky and cast the campus in a golden glow—just check out Instagram or keep your eyes on the sky and you'll see what we mean.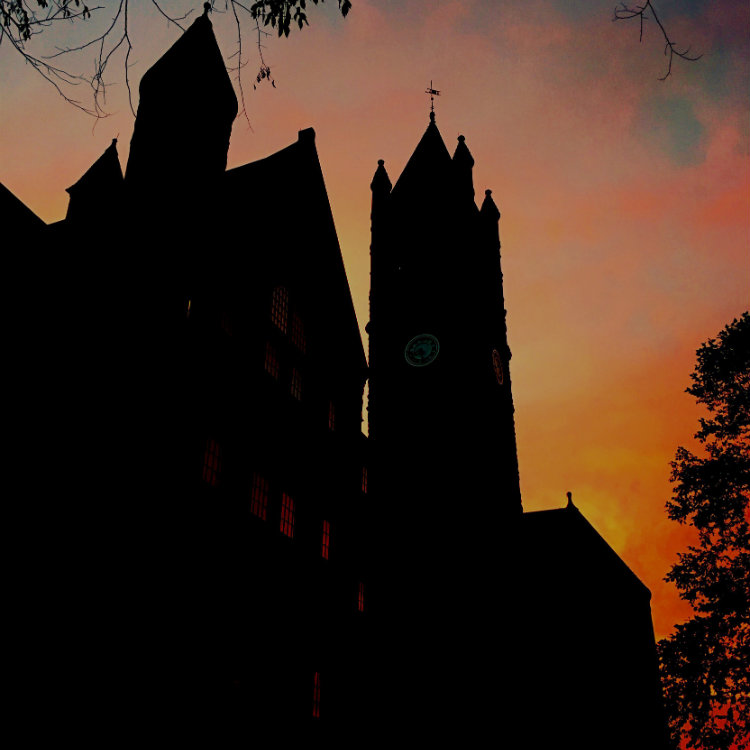 World-wide education
A global perspective is important now more than ever, which is why the College supports its students to pursue their education all over the world. The International Education Exchange has ranked us second in the nation and first in Pennsylvania for mid-length study abroad experiences. Schedule an appointment with the Center for Global Education today to see how easy it can be. It's never too early to start planning for a semester abroad!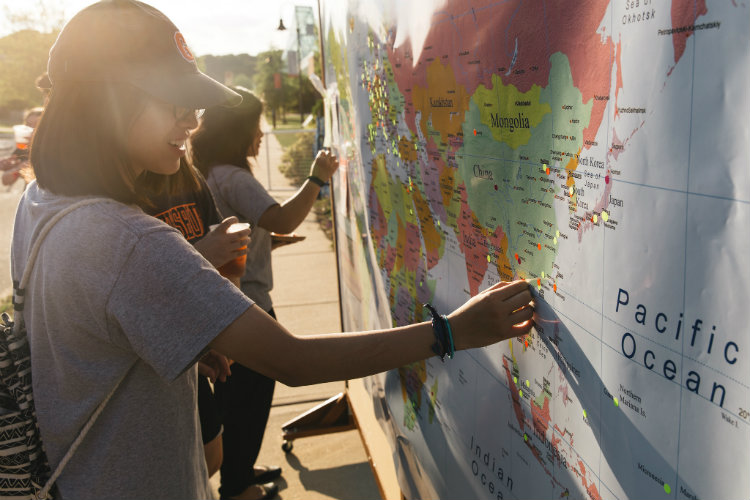 X-SIG
The Cross-Disciplinary Science Institute at Gettysburg College (X-SIG) has long been a way for students to engage in faculty-sponsored scientific research over the summer, and this summer saw its largest class of students to date—63 students staying on campus, researching everything from perfectionism and personality disorders with Psychology Prof. Kathy Berenson to aquatic toxicology with Biology Prof. Peter Fong. A few students were even able to travel to Iceland with Prof. Sarah Principato as part of their research on ice flow conditions during the Last Glacial Maximum—around 20,000 years ago.
Check out the X-SIG blog to learn more about the students' research projects and their results.
Yikes!
With so many opportunities at the College, four years pass more quickly than you'd think. While it may seem like you just moved in yesterday (or, perhaps you did…), graduation is just around the corner. Fortunately, every experience, from your first day to your last, will help prepare you to land a great job and lead a great life. Need reassurance? Check out the outcomes of alumni who have come before you. There's no greater testament to a Gettysburg education than the accomplishments of our network, including those of both our alumni and our students.
Zip cars
Don't have a car on campus but still want to get around? The College has plenty of options! From the Freedom Transit Trolleys that are free to students and have routes around town, to the College-provided shuttle service that goes to and from airports and train stations throughout the region, there are plenty of ways for students to get around. Need something more direct? Try zip cars, a car rental service located on campus.
Learn more about local and regional transportation.
Keep up with more of the Gettysburg lingo. Check out the Gettysburg dictionary, and see how fluent you are in Gettysburgian.
Founded in 1832, Gettysburg College is a highly selective four-year residential college of liberal arts and sciences with a strong academic tradition. Alumni include Rhodes Scholars, a Nobel laureate, and other distinguished scholars. The college enrolls 2,600 undergraduate students and is located on a 200-acre campus adjacent to the Gettysburg National Military Park in Pennsylvania.
Contact: Kasey Varner '14, assistant director of communications, 717.337.6806
Posted: Thu, 24 Aug 2017

Next on your reading list
In his words: Ben Pontz '20 and the "essence of experiential learning"
---
The antidote for ignorance: A liberal arts education?
---
Econ majors to learn from Chris Matthaei '01 gift, innovative software
---
Share this story: