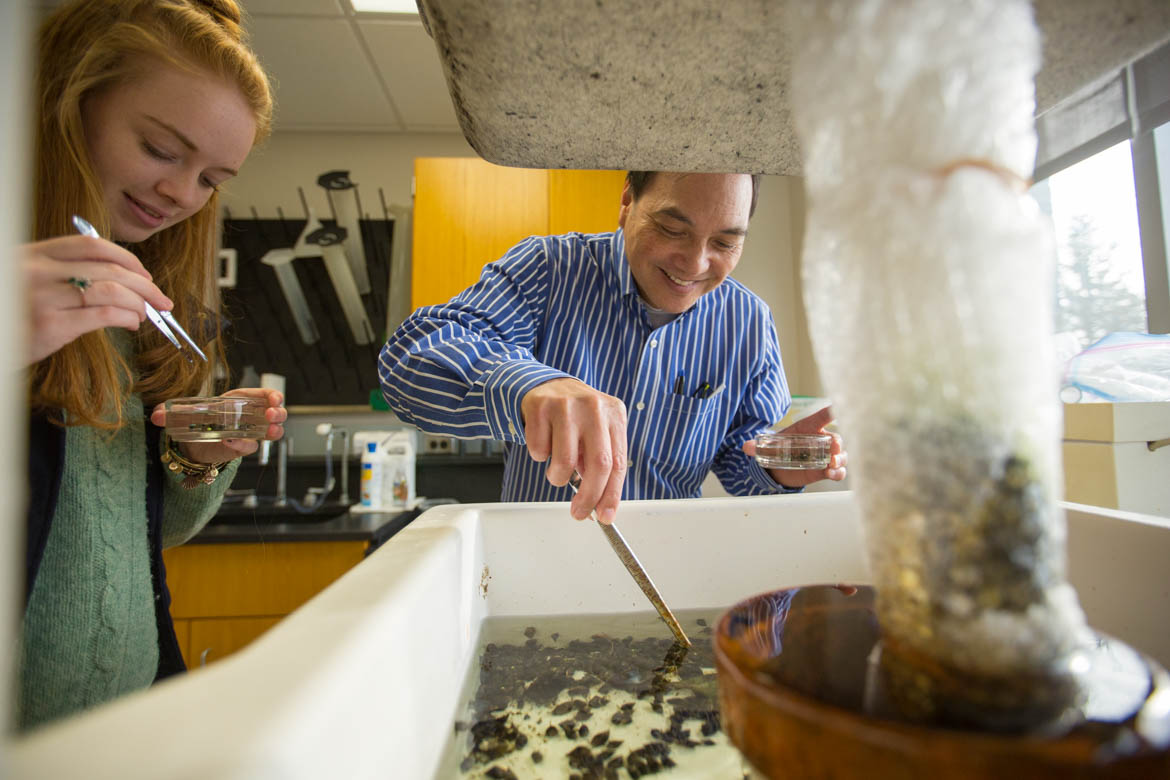 First-year student, turned research scientist
Olivia Lambert '19 and Prof. Peter Fong study aquatic pollution
As humans, we are polluting the aquatic environment every day—just by living.
From the caffeine in our morning coffee to the active drugs in our prescription medications—all of the chemicals in our commonplace products end up running off into the aquatic environment via wastewater.
What is of most interest to Biology Prof. Peter Fong is how these human chemicals are affecting aquatic organisms. In his research this past summer, Fong and his student research assistants, Olivia Lambert '19 and Julia Palmucci '18, made some influential discoveries about the impact of pharmaceutical chemicals on aquatic wildlife.
Fong's background as a trained aquatic biologist and his previous research on the adverse effects of prescription drugs on the environment were catalysts for the work he conducted with Lambert and Palmucci over the summer.
"My research passion is focused in fresh water, and I think that pollution is a pretty important environmental problem," said Fong. "I've been working specifically with antidepressants for over twenty years, and I have done a lot of research on the effects they have on aquatic wildlife."
Continuing this research, as part of the X-Sig program, Fong enlisted the support of Lambert and Palmucci to conduct an 8-week research project on the effects of common pharmaceuticals on fresh-water snails.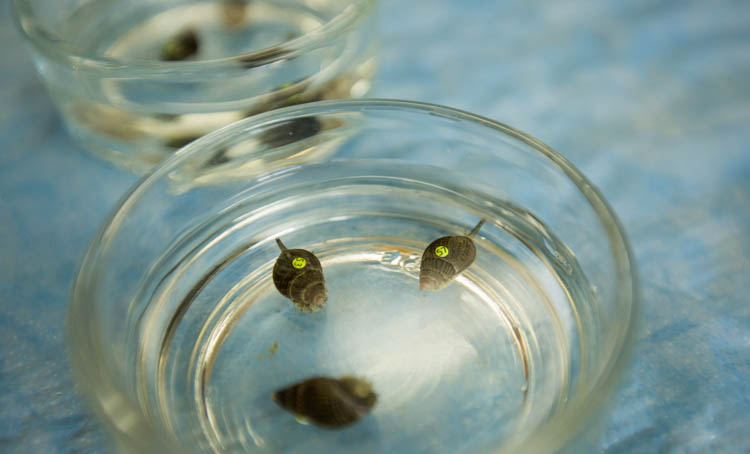 "This summer we were specifically studying antidepressants and their environmental influences within the aquatic ecosystem," Fong explained. "We've always known that pharmaceuticals have been in our water, but we were interested in learning about how they are impacting the plants and animals that live in aquatic habitats."
Lambert helped collect fresh-water snails and assisted Fong in studying their response to antidepressant drugs—and the findings were significant.
"We were testing the snails' ability to right themselves when they had been drugged with various antidepressants, which are common pollutants in fresh-water waste," said Lambert. "We found that there was a significant slowing down for the snails that were drugged, which is pretty interesting from a biological standpoint."
What's more, Fong wrote and published an article on the results yielded from the summer's research; making Lambert a co-author of a published biological science article in her first year at Gettysburg.
"Not a lot of first-year students have a publication, so it's really exciting that this research has been recognized," said Lambert.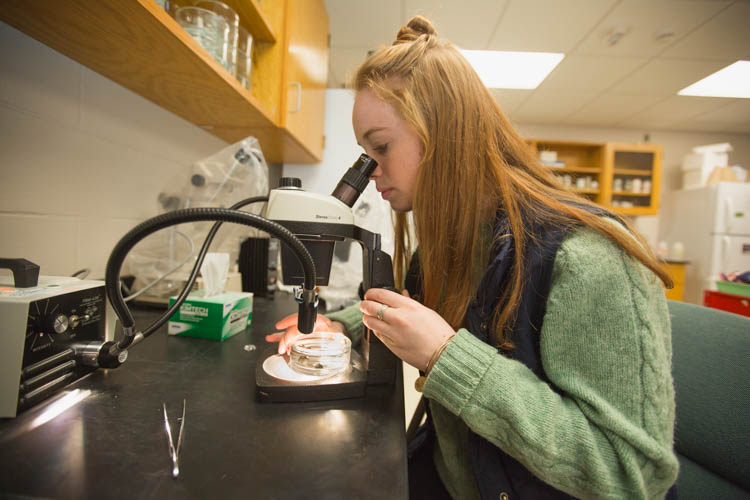 Coming to Gettysburg with a love of science, Lambert knew that she wanted to major in biology. Fong was Lambert's professor in her introductory biology courses as well as her faculty advisor, which allowed him to get to know her as a student and a scientist.
Lambert, as a first-year student, did not anticipate the opportunity to get hands-on lab experience immediately. However, Fong saw potential in Lambert as a curious student, eager to conduct research, and asked her to work as his lab assistant for the summer.
"Even though she is a first-year student, we want to give all of our students opportunities—and if it can happen early in their academic career, I think that's great," said Fong.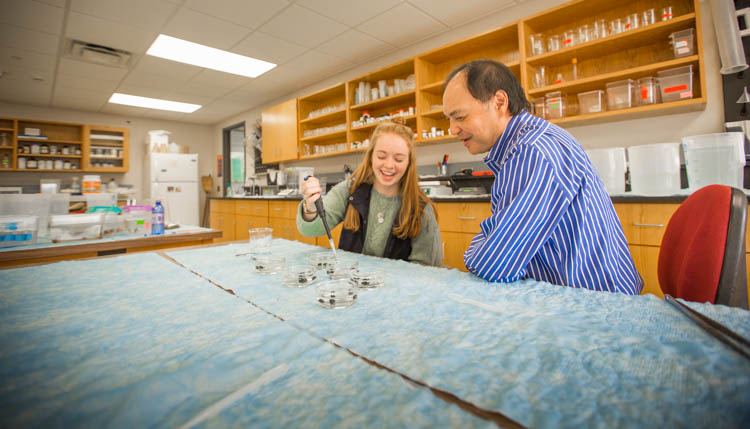 The research conducted by Fong, Lambert, and Palmucci was especially unique as it touches upon many other scientific fields of study, allowing for cross-disciplinary dialogue and understanding.
"Here at Gettysburg, I am able to have close ties with my friends and colleagues in other departments like chemistry and environmental studies," said Fong. "I love talking about my research with my colleagues, it's one of my favorite parts about working at a liberal arts college."
With the ability to research, publish, teach, and share his passion for biology—Fong finds an immense appreciation for the scientific opportunities awarded to him working at a liberal arts institution like Gettysburg.
Most exciting is his ability to bring talented and curious Gettysburg students into his lab to share in the scientific exploration.
"I love that I am able to share the fun of science with students like Olivia," said Fong. "Finding out cool things in the lab, having students be a part of that—that's the most fun part of my job."
Founded in 1832, Gettysburg College is a highly selective four-year residential college of liberal arts and sciences with a strong academic tradition. Alumni include Rhodes Scholars, a Nobel laureate, and other distinguished scholars. The college enrolls 2,600 undergraduate students and is located on a 200-acre campus adjacent to the Gettysburg National Military Park in Pennsylvania.
Article by Megan Decker '17, communications and marketing intern
Photos by Miranda Harple
Contact: Carina Sitkus, senior assistant director of communications, 717.337.6803
Posted: Fri, 14 Apr 2017

Next on your reading list
In his words: Ben Pontz '20 and the "essence of experiential learning"
---
The antidote for ignorance: A liberal arts education?
---
Discovering her resilience: World traveler to future Marine
---
Share this story: