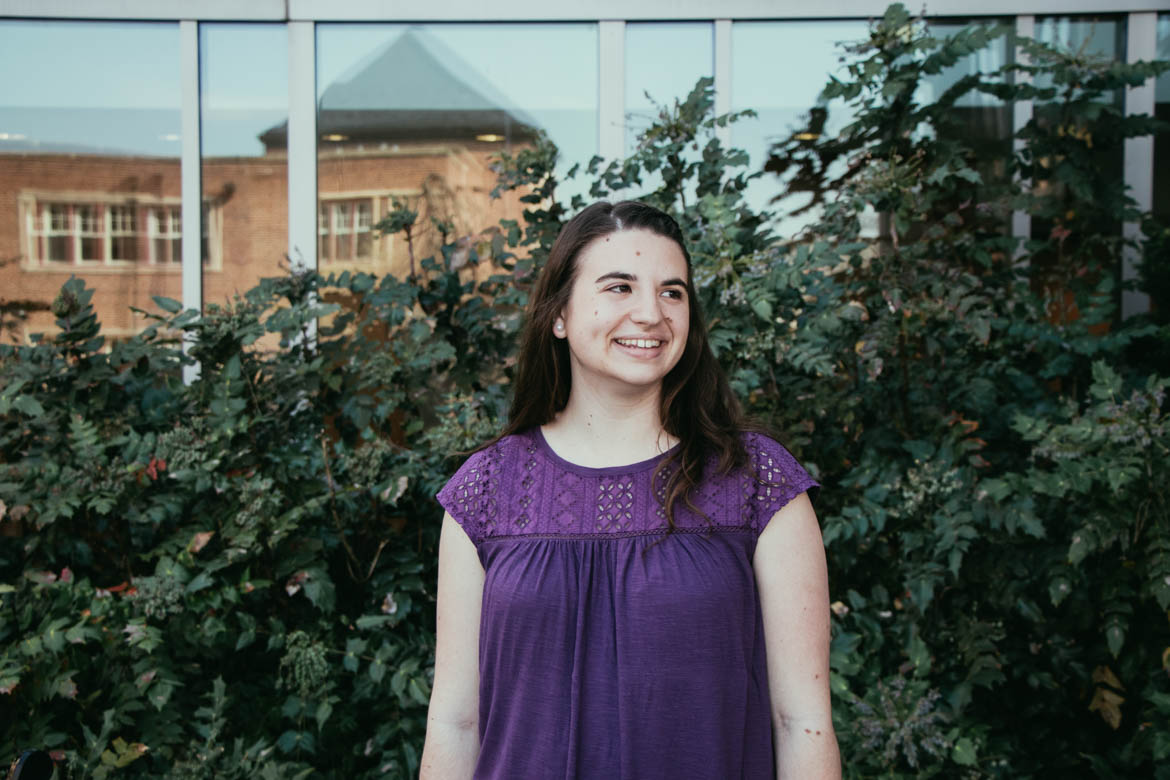 Amy Violante '17 finds her 'why' at Gburg, joins Pennsylvania College Advising Corps
Amy Violante '17 has always loved school. "I couldn't [pinpoint] why, it was just something I enjoyed," she said. "But the more I leaned into my studies at Gettysburg, that interest became more meaningful."
Violante, an eventual psychology major and Italian and educational studies double minor, took a First-Year Seminar, The World's Children, taught by Psychology Prof. Kathleen Cain. The class examines how children's lives differ across the world as a result of birth practices, family structure, and education. "I learned kids in different communities, countries, and parts of the world don't have access to the same [quality of] education," Violante said.
Having attended quality schools, this knowledge completely changed the way she reflected on her own experience of education. And through additional experiences at Gettysburg, Violante uncovered a more meaningful reason for pursuing a career in education—helping others secure access to the quality education she received.
Recently, Violante completed training as part of the Pennsylvania College Advising Corps (PCAC), a regional branch of the national Americorps program, to become a high school college adviser. The two-year program places recent college graduates as full-time advisers in underserved, rural high schools across the state. "Going to college opened so many doors and opportunities for me," said Violante. "Providing access to higher education so students can see what more is out there beyond their community is important."
Violante was placed in Franklin County, PA, at James Buchanan High School. She will be responsible for providing support to the guidance department and enhancing the resources available to students who require additional support, primarily focusing on low-income and first-generation families.
Through the program, Violante hopes to learn about different careers in the school environment. As a psychology major, she's thought about pursuing her master's in psychology. But first, "I'm most excited about just getting into school and working with students," she said.
The experiences that shaped Violante's education—and her view of education
As part of Cain's First-Year Seminar, Violante worked with classmates Kristina Chamberlin '17 and Alexandra Casella '17 to complete a semester-long research project on challenges facing children in Cambodia. "Amy chose to focus in particular on access to education in post-Khmer Rouge Cambodia," said Cain. Her final research paper discussed child labor in Cambodia and its impact on access to education, particularly for girls.
This project, Violante said, helped her view education through a social justice lens. "I had been interested in education since before coming to Gettysburg, and was thinking about different jobs I could have in the school setting without being a classroom teacher," said Violante.
"However, the First-Year Seminar shifted my perspective from seeing education as a field in which I could work with kids to realizing that all children do not have the same access to education, and with learning about how important education is, this different perspective made me more passionate about the topic."
In the fall of 2015, the Phi Beta Kappa member decided to study for a semester in Italy. The experience was fully immersive. Violante stayed with an Italian host family and took classes taught in Italian. There, she volunteered as an English tutor with an after school program for students from immigrant families living in Ferrara, Italy. "It was interesting for me to tutor in English because the students weren't even fluent in Italian at the time," she said. "It showed me how education intersects and is affected by other challenges that kids face—in that case, moving and being an immigrant in a new country."
Violante recalled building a relationship with one young woman from Albania, who reflected on her experiences struggling as a new student and learning the language in a new country. This spurred Violante to become more interested in immigration issues. When she returned to Gettysburg, she started volunteering with an afterschool program through the Center for Public Service, tutoring students from migrant families. At the same time, she started taking classes in the education department focused on strategies for teaching culturally and linguistically diverse students and successfully working with students from different backgrounds.
These experiences helped Violante see how education is affected by many different factors, and how these factors make an impact on students. Now, she takes that knowledge and context with her as she starts the school year and her career.
"Amy's decision to participate in the Pennsylvania College Advising Corps reflects her strong commitment to social justice for children and adolescents," said Cain. "I love the way she combines deep intellectual curiosity with hands-on efforts to improve the lives of young people. I know that the students at James Buchanan High School will benefit from her keen mind, her warmth and commitment, her strong listening skills, and her conscientious and creative work."
Interested in learning more about the Pennsylvania College Advising Corps? Meet with Greyson Norcross '14 on Thursday, November 16th from noon to 4 p.m. to learn more about the organization and find out how to apply.
Founded in 1832, Gettysburg College is a highly selective four-year residential college of liberal arts and sciences with a strong academic tradition. Alumni include Rhodes Scholars, a Nobel laureate, and other distinguished scholars. The college enrolls 2,600 undergraduate students and is located on a 200-acre campus adjacent to the Gettysburg National Military Park in Pennsylvania.
Contact: Carina Sitkus, senior assistant director of communications, 717.337.6803
Posted: Thu, 10 Aug 2017

Next on your reading list
Ben Tabor '13 on making connections at home and abroad
---
2019 Commencement speaker is author Jerry Spinelli '63
---
Winnie Wang '18: Committed to fighting homelessness in San Francisco
---
Share this story: