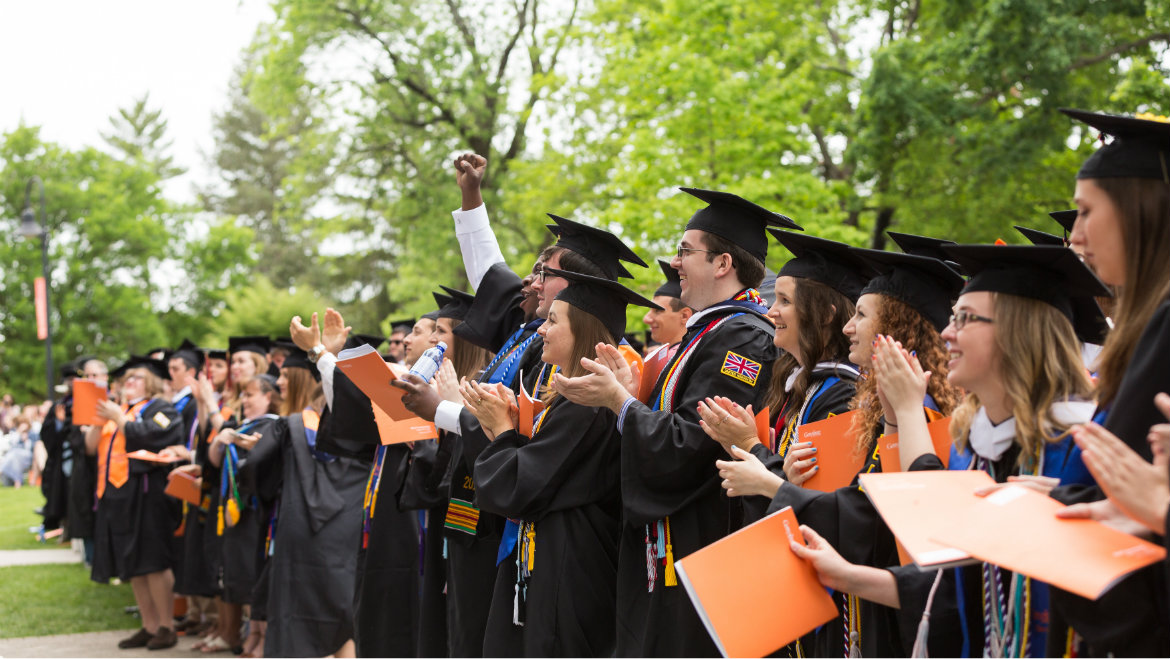 What's next for the Class of 2017?
Students come to Gettysburg for an education that will open doors to their future.
For the Class of 2017, that meant majoring in 41 different subjects and minoring in 36 different programs, conducting original research with faculty, holding leadership positions across campus, and completing internships across the country and around the world.
Read more about the accomplishments of the Class of 2017.
Now that their graduation is behind them, though, they are looking forward to their next steps—starting their first post-graduate jobs, continuing their education through graduate school, or spending time traveling and volunteering.
For many of the College's 577 graduates, those plans have already been lined up.
View the outcomes of recent graduates in the gallery below, or check them out on Flickr.
No matter what their post-graduation plans are, Executive Director of the Center for Career Development Kathy Williams said that all of our recent graduates should be prepared to use their network.
"We work with students to ensure that they have built their own professional network by the time that they graduate," Williams said. "Now is the time for our recent graduates to really take advantage of that network, and to continue to build upon it."
In fact, three out of four of our youngest alumni say they have taken advantage of the Gettysburg network after their graduation. The results speak for themselves. 98% of the Class of 2015 was either gainfully employed or enrolled in graduate school full-time one year after their graduation.
"That is what the Gettysburg network is all about," said Williams. "You have people all over the world who are available and willing to talk with you. They want to help. All you have to do is ask."
Learn more about our young alumni career success—watch the video below or view it on Youtube.
Founded in 1832, Gettysburg College is a highly selective four-year residential college of liberal arts and sciences with a strong academic tradition. Alumni include Rhodes Scholars, a Nobel laureate, and other distinguished scholars. The college enrolls 2,600 undergraduate students and is located on a 200-acre campus adjacent to the Gettysburg National Military Park in Pennsylvania.
Contact: Kasey Varner '14, assistant director of communications, 717.337.6806
Posted: Tue, 23 May 2017

Next on your reading list
What can you do with an English degree?
---
Of memos and networking: Connections to D.C.
---
Pohanka internships offer alumni connections and career success at national parks
---
Share this story: