Prosecuting crimes against humanity
Elizabeth Topolosky '14 pursues a career in international law
Elizabeth Topolosky '14 grew up hearing her grandfather tell stories about his service during World War II. Even 45 years later, his memory of that experience, specifically of how his unit liberated a concentration camp, affected him deeply.
"The more I learned about my family's many connections to man-made trauma events, the more I wanted to explore how and why this happens and what to do to help survivors pick up the pieces. As I grew older and met more survivors from more atrocities, that curiosity—that drive—grew stronger," said Topolosky.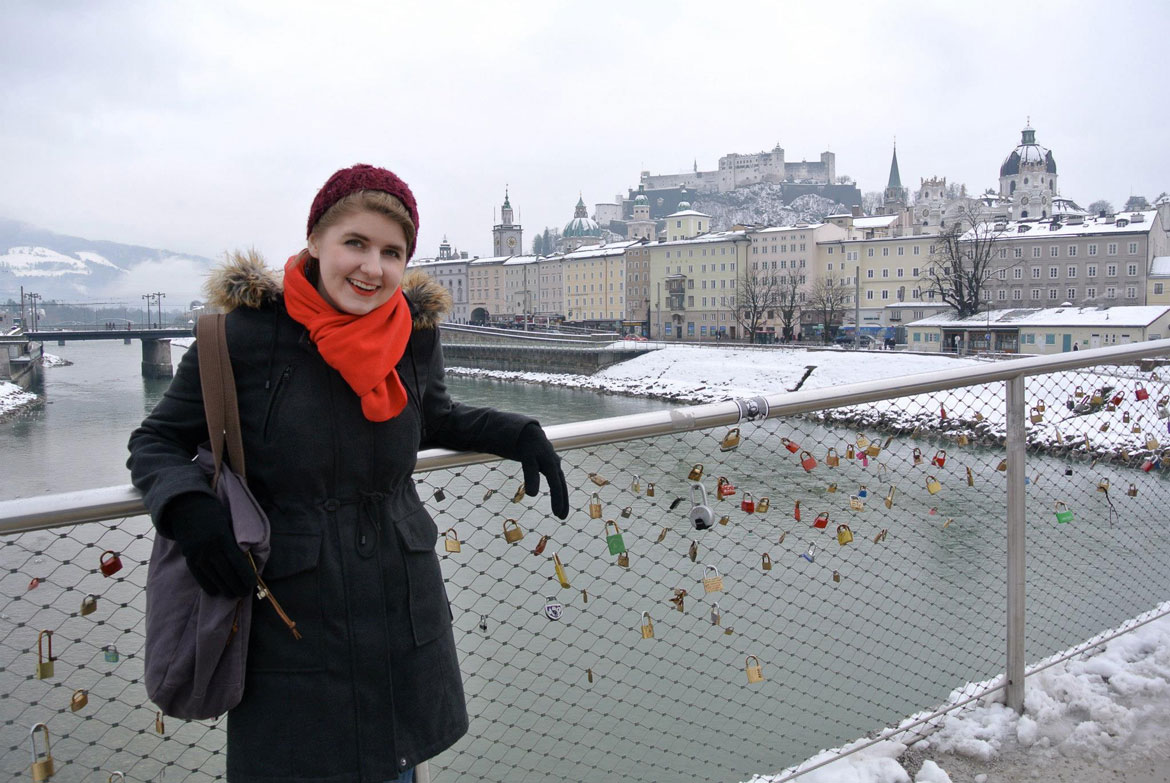 It was these experiences that led the German Studies and International Affairs major to travel to Germany through two prestigious scholarships to learn more about her family history. There, she visited the concentration camp her grandfather liberated during WWII.
These experiences sparked a curiosity in Topolosky and she became determined to learn more about mass traumas and why certain human-created traumas are forgotten while others become topics of public and intellectual discourse. She focused her senior thesis on the topic.
Her curiosity led her to study international law at the University of California Davis School of Law, where she graduated this past May. During her time there, she held internships with the California Department of Corrections & Rehabilitation, the U.N. Special Rapporteur of Cultural Rights, Human Rights First, and the Center for Justice and Accountability (CJA).
"My past work with German Studies Prof. Laurel Cohen on my senior thesis contributed to my selection as a CJA intern," she said. View Topolosky's thesis in Musselman Library's The Cupola.
At CJA, an organization that sues war criminals living in the United States on behalf of their victims and represents Cambodian-Americans in Cambodia's genocide court, Topolosky had the opportunity to work on a motion to admit an expert report to the Cambodian court that focused on the generational impact of the Cambodian genocide.
The expert report Topolosky worked on discussed the impact on children (who hadn't been born yet) of victims of the Cambodian genocide, and the effects of intergenerational trauma.
"For example, reports show that children of atrocity survivors show higher rates of anxiety and levels of depression. I worked on a motion to get the expert report admitted and it was accepted," she said. "It was amazing to synthesize what I had learned at Gettysburg and U.C. Davis, put it to use, and have it approved by both my superiors and the court. The acceptance of that expert report creates precedent. It changes things for people working in that system. To be able to say that I helped do that? That's a fantastic feeling."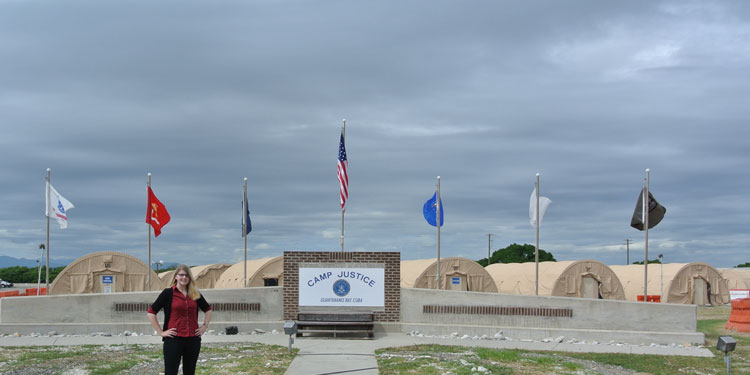 Elizabeth Topolosky in Guantanamo Bay, Cuba, observing military trials as part of her internship with Human Rights First.
This spring, Topolosky applied and was accepted for her dream position – a six-month post-bar internship with the Office of Public Defence at the International Criminal Court (ICC). The ICC prosecutes individuals for genocide, war crimes, and crimes against humanity. She moved to The Hague in early September to start the position.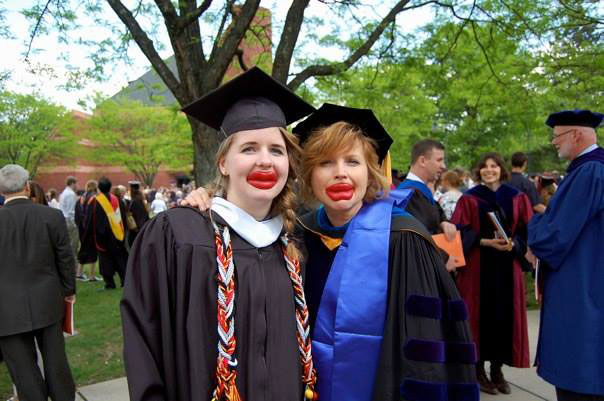 "This is what I want to do – work in the field of accountability litigation – ensuring that victim populations can participate in trials and that the rights of both defendants and survivors are protected.
"For many people, their path twists and turns before they find their calling. I was fortunate to find mine as a child, and even luckier to have seen what I've seen. I've gotten to where I am today thanks to the people around me—from my family who set me on this path, to my brilliant supervisors, to every professor who took the time to encourage me. If I hadn't gone to Gettysburg College, I wouldn't be where I am today," concluded Topolosky.
Founded in 1832, Gettysburg College is a highly selective four-year residential college of liberal arts and sciences with a strong academic tradition. Alumni include Rhodes Scholars, a Nobel laureate, and other distinguished scholars. The college enrolls 2,600 undergraduate students and is located on a 200-acre campus adjacent to the Gettysburg National Military Park in Pennsylvania.
Contact: Shawna Sherrell, associate director of creative services, 717.337.6812
Posted: Wed, 13 Sep 2017

Next on your reading list
Ben Tabor '13 on making connections at home and abroad
---
2019 Commencement speaker is author Jerry Spinelli '63
---
Winnie Wang '18: Committed to fighting homelessness in San Francisco
---
Share this story: