Sunderman students wow at Pennsylvania music conference
The annual Pennsylvania Music Education Association (PMEA) Conference features research presentations by leading professors and doctoral students. That is—of course—unless you're Gettysburg College standouts like Eddie Holmes '18 and Alex Schweizer'17.
The Sunderman Conservatory of Music undergraduates were chosen to present two of the four total presentations at the prestigious conference. In fact, Holmes' research proposal was ranked second in all of Pennsylvania, while Schweizer's was ranked third—a remarkable accomplishment and a testament to Gettysburg's music education program.
In addition, the PMEA Research Board also asked their mentor, Sunderman Prof. Brent Talbot, to serve as this year's Invited Researcher—a position reserved for the Commonwealth's most distinguished music academics.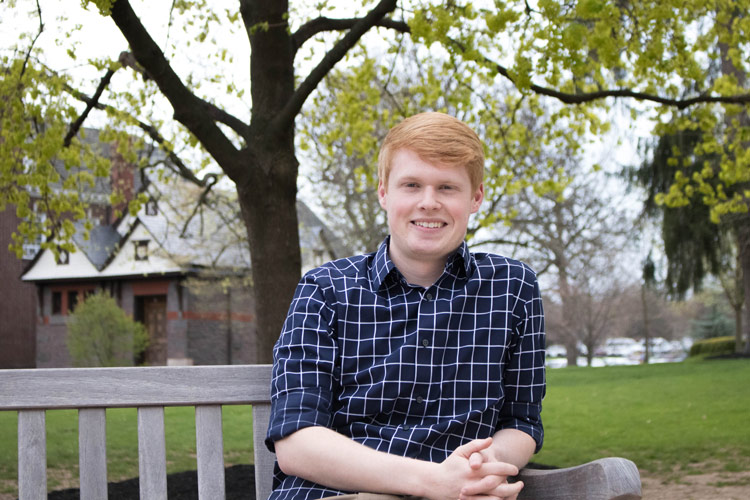 Eddie Holmes '18
In the fall semester of 2015, Talbot encouraged Sunderman students to submit research proposals for the 3rd Symposium on LGBTQ Studies and Music Education held at the University of Illinois in May 2016. Holmes jumped at the opportunity.
"The music education program at Gettysburg has a socially-conscious theme to all of the classes," said Holmes, "and I was curious whether other programs offered similar support for their students."
With a total of 74 respondents, Holmes managed to survey most of the regions in Pennsylvania. Across the board, the respondents agreed that they do not feel there is a great support system for LGBTQ students within their college music education programs.
"Dr. Talbot does an amazing job of keeping this topic of conversation going," said Holmes, who credits Talbot's mentorship for his continued music development. "For the last three years, I have been lucky enough to be his office assistant. There are so few institutions in our nation that you have the opportunity to work so closely with a professor and conduct this type of research."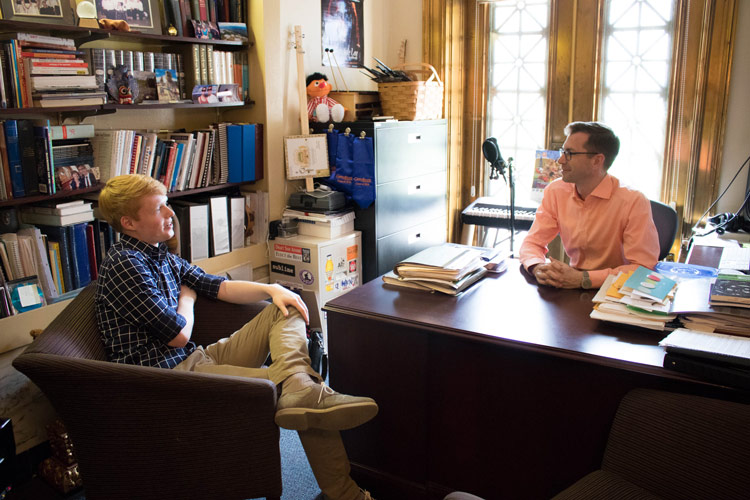 With roughly 25 students in the music education program, Holmes has enjoyed the tight-knit environment and the many opportunities available to him as an undergrad.
"It has been an amazing experience to do this research, to hear the experience of students as they themselves work through their music education career, and to think of ways in which we can be more inclusive in music education," said Holmes.
At last year's PMEA conference, Holmes was literally running around getting participants to take his survey. This year, he and Talbot stood before those same respondents and shared their hour-long presentation, Towards a More Inclusive Music Education: Experiences of LGBTQQIAA Students in Music Education Programs across Pennsylvania.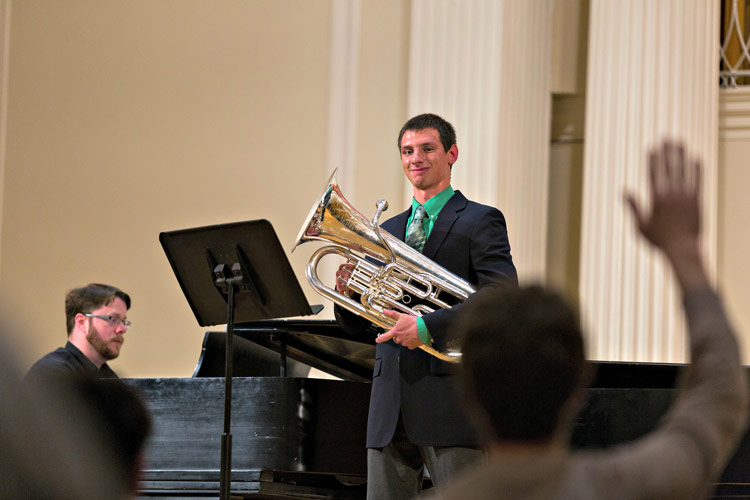 Alex Schweizer '17
Last summer, Schweizer—along with the Gamelan Ensemble—prepared for their excursion to Bali, Indonesia. For Schweizer, it was the perfect opportunity to explore how musicians and teachers create meaning in a cross-cultural learning context.
"I suggested that Schweizer read the research that I did for my dissertation and the research Alice Broadway '14 conducted in 2013," said Talbot.
Once in Bali, Schweizer recorded all of the ensemble's rehearsals—reeling in upwards of 50 hours of video footage. Preliminary results concluded that in order for ideas to be transmitted and for communication to occur, meaning has to be established by everyone in the ensemble environment.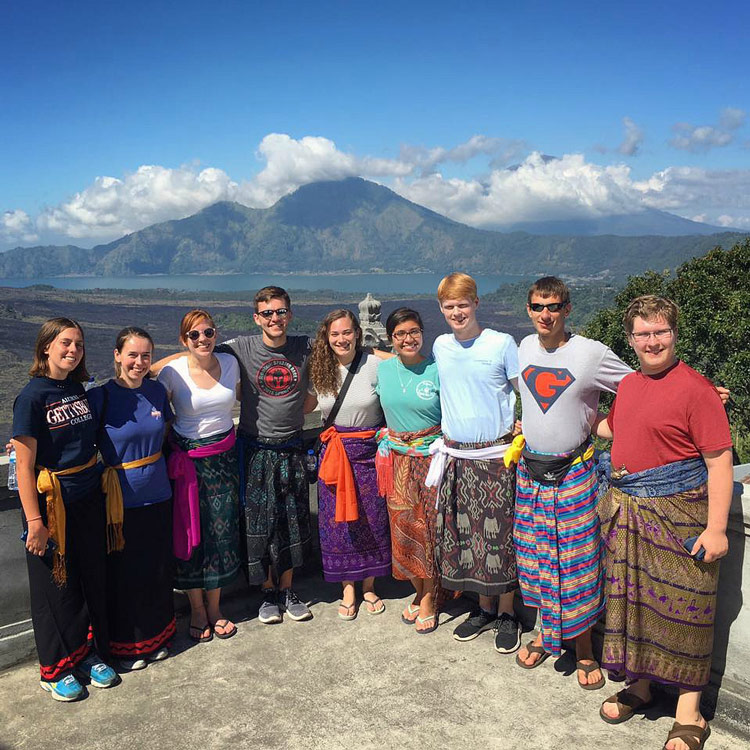 Following the journey abroad, Schweizer approached Talbot about extending this research to develop a conceptual model that might work in other settings for music learning. While abroad in Vienna, the Sunderman duo wrote a research grant proposal through the Mellon Foundation.
"The Sunderman Conservatory has given me so many incredible opportunities to perform and to travel all over the world with the different groups I'm involved in," said Schweizer, who also acknowledged the platform it has provided him for truly innovative student-faculty research. "I've learned so much from my research with Dr. Talbot that I now implement in my everyday life."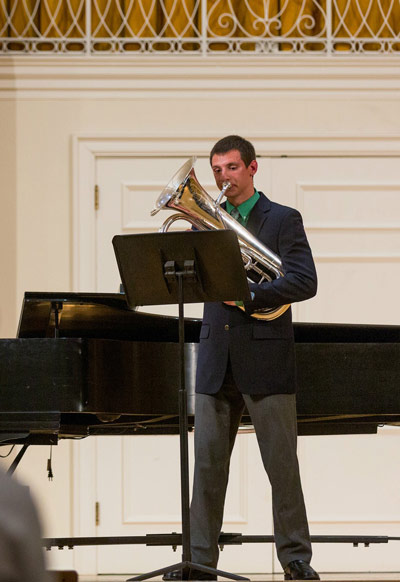 Today, Schweizer is student teaching north of Gettysburg in the Mechanicsburg Area School District. And through his Sunderman coursework, he has learned to be more inclusive and aware of the needs of his students.
"Teaching is about forming a connection with your students and providing a scaffold to help them succeed," Schweizer said. "Dr. Talbot has helped me put that into practice; he's equipped me with the tools to succeed."
Schweizer was both humbled and honored to present his research at the conference. Awarded a half-hour, he and Talbot presented, Why Are You Waving Your Hands Like That? An Analysis of Musical Meaning-Making in a Cross-Cultural Music Learning Environment.
Learn more about the music education program at Gettysburg College, and read about other exciting careers made possible by our Sunderman Conservatory of Music.
Founded in 1832, Gettysburg College is a highly selective four-year residential college of liberal arts and sciences with a strong academic tradition. Alumni include Rhodes Scholars, a Nobel laureate, and other distinguished scholars. The college enrolls 2,600 undergraduate students and is located on a 200-acre campus adjacent to the Gettysburg National Military Park in Pennsylvania.
Article by Virginia Barlow '18, marketing intern
Eddie Holmes photos by Mary Beth Bielicki '18, photography intern
Contact: Mike Baker, associate director of communications and coordinator of development communications, 717.337.6521
Posted: Mon, 1 May 2017

Next on your reading list
In his words: Ben Pontz '20 and the "essence of experiential learning"
---
The antidote for ignorance: A liberal arts education?
---
Econ majors to learn from Chris Matthaei '01 gift, innovative software
---
Share this story: