Bookmarks
Success Strategies for Adjunct Faculty
by Richard E. Lyons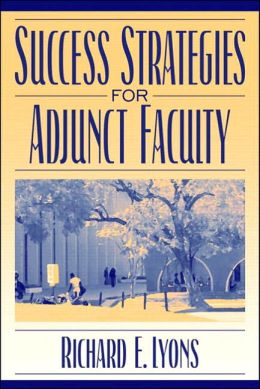 Like so many institutions, Gettysburg College relies on a certain number of adjuncts to fulfill curricular goals and meet student demand. Because adjuncts have become a way of life on virtually every campus—there are currently approximately a half million individuals teaching part time in North American colleges and universities--a number of helpful books specifically devoted to adjuncts and their concerns have recently appeared. One such book is Richard E. Lyons' Success Strategies for Adjunct Faculty. At the outset Lyons notes that adjuncts fall into four general categories: (1) aspiring academics (2) freelancers (3) specialists, experts or professionals and (4) career enders. Read more.
---
Faculty Highlights
Tim Shannon
This academic year's recipient of the Johnson Center for Creative Teaching and Learning Excellence in Teaching Award is Tim Shannon, who holds the position of Department Chair and Professor of History. Tim Shannon stands out for his conscientious and highly effective teaching, while maintaining an active research agenda and providing significant service to the college.
Professor Shannon teaches Early American, Native American, and British history. His most recent books are The Seven Years' War in North America: A Brief History with Documents (Bedford, 2014), and with David N. Gellman, American Odysseys: A History of Colonial North America (Oxford, 2014). His book Indians and Colonists at the Crossroads of Empire: The Albany Congress of 1754 (Cornell, 2000) won the Dixon Ryan Fox Prize from the New York State Historical Association and the Distinguished Book Award from the Society of Colonial Wars. His articles have appeared in the William and Mary Quarterly, the New England Quarterly, and Ethnohistory. His work has been supported by fellowships from the National Endowment for the Humanities, the John Carter Brown Library, and the Huntington Library. Professor Shannon is currently working on a biography of eighteenth-century Indian captive Peter Williamson. Read more.