Sarah Johnson interns at the Daniel Boone Homestead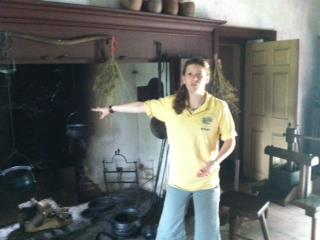 This summer I interned at the Daniel Boone Homestead in Birdsboro, Pennsylvania. I primarily worked as a tour guide and helped with the planning and orchestrating of special events, such as History Day Camp, Evening on the Green, and an open-hearth cooking workshop.
To tie my internship to Civil War Era studies, I researched Daniel Boone's affiliation with the expansion of slavery into western territories. As it turns out, Boone set a precedent for slavery in Kentucky when he crossed the Wilderness Road with his slaves. From the time when the first permanent settlement, Boonesborough, was created, up until the American Civil War, slavery in Kentucky was confusing, much debated, and periodically led to violence. This research gave me better background information and greater understanding of why the situation in Kentucky had grown so volatile by the time of the American Civil War.
The Homestead was a great internship for anyone looking to cut their teeth at a smaller site to get a good look at the inner workings of the museum field. I was also able to gain valuable insight into the functions of non-profit organizations.