The Class of 1995 Twenty-Fifth Reunion Gettysburg Fund Scholarship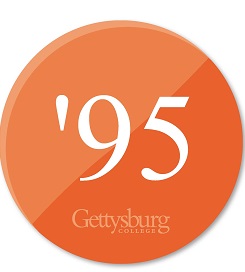 Created to honor the 25th reunion of the Class of 1995, the Class of 1995 Twenty-Fifth Reunion Gettysburg Fund Scholarship will help ensure that a Gettysburg education is within reach of high-achieving, talented students from all walks of life. Every time gifts from the Class of '95 reach the $25,000 mark, a scholarship will be awarded and a new fund will begin. The class goal is to fund at least one scholarship.
25th Reunion Records

| 25th Reunion Records | Amount | Class Year |
| --- | --- | --- |
| Highest total annual giving dollars raised | $215,434.87 | 1991 |
| Highest participation rate | 43% | 1973 |
---
Class Participation Goal
The Class Participation Goal is 70/423 donors (17%)
As of 04/23/20, the class has given $27,295 in cash and pledges to the Gettysburg Fund, Orange & Blue and/or other current use areas of the College in honor of our 25th Reunion. 64 classmates or 15% of the class have given a gift this fund year.
Class Donors
Mr. Jeffrey S. Albright
Mrs. Karen Taylor Albright
Mr. Jason H. Anderson
Mrs. Kathryn Williams Anderson
Mrs. Jennifer Roberts Betty
Mrs. Lainia Rinaldi Bohen
Mr. James G. Boisoneau
Mrs. Marah Williams Boisoneau
Mr. Steven J. Bonafonte
Dr. Christina Cromley Bruner
Mr. Shawn C. Bunting
Mr. Brian A. Casal
Mrs. Kerri Naughton Casal
Mr. Miles J. Cheleden
The Rev. Janet Denton Chisom
Mr. Peter H. Cordray
Mrs. Tricia Summers Cranmer
Mr. Douglas A. Danowski
Mr. Noah J. Davis
Mrs. Aimee Gaspard DeBrandt
Mr. Troy A. Dell
Mrs. Jennifer Kline Donovan
Mrs. Marla J. Ferrency
Mrs. Carolyn Hall Finlay
Mr. Robert C. Fitzgerald, Jr.
Ms. Kelly M. Geise
Mr. E. Fraser Halscheid, Jr.
Mrs. Heather Ehart Hinkle
Dr. Molly E. Hoke
Mrs. Alexandra Baldwin Hubbard
Mr. Matthew R. Jones
Mrs. Megan Marquard Jones
Mrs. Kristine Svec Jordan
Ms. Keira S. Kant
Mrs. Kelly Drop Keiter
Mrs. Rebecca L. Keller
Mr. Bryan D. Kropp
Mrs. Jennifer Emery Kropp
Ms. Kathryn T. Kroupa
Mr. C. Scott Lish
Mrs. Madalyn Bet Lish
Dr. Sharon Ryan Lydon
Mrs. Elizabeth Parsons Maguire
Mrs. Jill Gicking McConnell
Mr. Brian R. McGurn
Mr. Timothy H. Michael
Mr. Henry R. Minchin, Jr.
Mrs. Katherine Glatfelter Minchin
Mr. Christopher R. Moran
Mr. Christopher Notarfrancesco
Mrs. Anna Sievers Olson
Mr. Ian H. Palmer
Mr. Jeffrey M. Pannozzo
Mr. Christopher E. Patterson
Mrs. Michele Midgette Porter-Koenig
Mrs. Maureen Andrews Preston
Mrs. Kristen Stuckel Seiler
Dr. William H. Steel
Dr. Mark A. Stickney
Mrs. Clare C. Tomasetti
Mr. David M. Wengel
Mrs. Shanna Eveler Wood
Ms. Stacey L. Zeller
Mr. Seth Zuckerman
Class Donors- Thank you!
Gettysburg Fund and Orange and Blue Club, June 1 - May 31
---