Class of 1980 Fortieth Reunion Gettysburg Fund Scholarship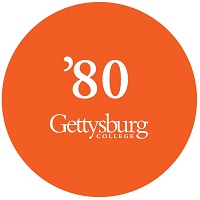 Created to honor 40th reunion of the Class of 1980, the Class of 1980 Fortieth Reunion Gettysburg Fund Scholarship will help ensure that a Gettysburg education is within reach of high-achieving, talented students from all walks of life. Every time gifts from the Class of '80 reach the $25,000 mark, a scholarship will be awarded and a new fund will begin. The class goal is to fund at least one scholarship.
Read the information sheet (PDF)
40th Reunion Records

| Reunion Record | Amount | Class Year |
| --- | --- | --- |
| Highest total annual giving dollars raised | $317,852.55 | 1975 |
| Highest participation rate | 73% | 1959 and 1961 |
Class participation goal
The Class of 1980 participation is 138 out of 338 donors, or 41%.
As of 12/05/19, the class has given $13,371 in cash and pledges to the Gettysburg Fund, Orange & Blue and/or other current use areas of the College in honor of our 40th Reunion. 48 classmates or 14% of the class have given a gift this fund year.
Class donors
Mrs. Anne Williams Behe
Mr. Francis J. Bernhardt, III
Mrs. Lisa Morton Bruce
Dr. Randall G. Brundage
Mrs. Susan Kinzer Brundage
Ms. Susan A. Bryers
Ms. Luanne M. Buonpane
Mr. Peter E. Carlson, Jr.
Ms. Lisa Cosgrove-Davies
Mr. Scott K. Dawley
Mrs. Barbara Entwistle DeLaat
Dr. Pamela Pershing DiNapoli
Ms. Caroline Achey Edwards
Mr. Richard J. Enterline
Ms. Shirley A. Geerling
Mr. William H. Gillam
Mrs. Susan Hall Harkins
Mr. Philip R. Janke
Dr. Robert S. Jones
Ms. Linda M. Kassekert
Mr. Guy H. Kehler
Mr. Stuart L. Knade
Ms. Denise Higgins Kuendig
Mr. Stephen G. Masciocchi
Mr. Scott W. McArthur
Mrs. Ann Humelsine McBride
Mr. W. Thomas McBride
Mr. Keith F. McDaniel
Mrs. Barbara Ricigliano Monahan
Mr. Theodore W. Mowery
Ms. Janet Wiley Mulderrig
Mrs. Suzanne Speakman Murray
Mr. Stephen H. Nimmo
Ms. Ellen Koontz Ostendorf
Mr. Gary E. Ostermueller
Ms. Kimberly Park
Dr. Larry T. Patterson
The Rev. Carol A. Petersen
Mr. John D. Pile
Ms. Angela M. Rapposelli
Mrs. M'Liz Scotton Riechers
Mrs. Elizabeth Parker Sablik
Mr. Joseph W. Sacchi, Jr.
Mrs. Sarah Dalton Shorrock
Mr. Craig R. Swanson
Mr. Richard L. Vanasse
LTC Michael S. Weiss
Mrs. Leesa Berges Wimmer
Class donors—thank you!
Event date
Gettysburg Fund and Orange and Blue Club, June 1 - May 31