The Class of 1970 Fiftieth Reunion Gettysburg Fund Scholarship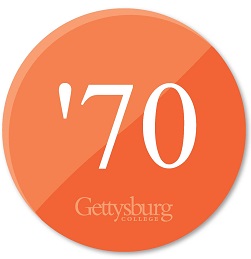 Created to honor the 50th reunion of the Class of 1970, the Class of 1970 Fiftieth Reunion Gettysburg Fund Scholarship will help ensure that a Gettysburg education is within reach of high-achieving, talented students from all walks of life. Every time gifts from the Class of '70 reach the $25,000 mark, a scholarship will be awarded and a new fund will begin. The class goal is to fund at least one scholarship.
50th Reunion Records

| Reunion Records | Amount | Class Year |
| --- | --- | --- |
| Highest total annual giving dollars raised | $524,007.76 | 1965 |
| Highest participation rate | 88% | 1959 |
---
The Class of 1970 Class Participation Goal is 170/298 donors (57%)
As of 12/05/19, the class has given $92,590 in cash and pledges to the Gettysburg Fund, Orange & Blue and/or other current use areas of the College in honor of our 50th Reunion. 66 classmates or 22% of the class have given a gift this fund year.
Class Donors
Mr. Frederick W. Anthony
Mr. Timothy K. Armour
Mr. Thomas W. Averell
Ms. Marsha L. Barger
Mr. David C. Berry
Mr. Brian J. Blood
Mrs. Mary Ann McFaul Bonos
Mr. Thomas W. Bonos
Mrs. Karen Wallace Borowy
Mr. G. Hunter Bowers, III
Mrs. Marcia Strange Cannata
Mr. Kent E. Carlson
Mrs. Cynthia Baughman Cenname
Mr. Warren H.P. Coffin
Mr. Stephen E. Conrad
The Rev. Geoffrey B. Curtiss
Dr. Scott R. Derrickson
Mr. James G. Dickensheets, Jr.
Mr. Robert D. Eastlack
Mr. William P. Fackner, Jr.
Mrs. Carol McCarty Fox
Mr. C. Gregory Frantz
Mr. James D. Goodwin
Dr. Joann Hess Grayson
Mr. Phillip S. Grayson
Dr. Michael H. Handelsman
Mr. James N. Heston
Mr. Gregory Islan
Dr. Bruce B. Johnson
Dr. Warren J. Kerrigan, Jr.
Mrs. Ellen Walters Krauk
Mr. Robert G. Legg
Mr. George R. Lorah
Mr. Philip B. Marchbank
Ms. Jeanne T. Maskell
Mr. Daniel E. McGarry, Jr.
Dr. G. Andrew Mickley, Jr.
Mr. Dean F. Murtagh
Mr. Richard T. Peebles
Mr. John M. Prugh
Mr. John L. Ricketts
Mrs. Cathy Campbell Romash
Mr. Richard C. Ryder
Mr. John E. Sampson
Ms. Mary Lou Robinson Seamens
Mr. Harry C. Shriver, Jr.
Mr. J. David Smith, Jr.
Ms. Donna L. Springer
Mrs. Susan Seckar Stillgebauer
Ms. Marilynn Malin Sturgess
Dr. Paul S. Teese
Mr. Eric P. Thompson
Ms. Joan E. Tosh
Mr. Blake W. Trimble
Mrs. Barbara Schneider Tuceling
Mr. William F. Tuceling
Mr. Richard E. Van Ness
Mr. Robert J. Waldman
Mrs. Ann Laubach Walker
Mr. William W. Walker
Mrs. Janet Ritter Wheeler
The Hon. Thomas C. Wheeler
Mr. Edson E. Whitney
Mr. Harry W. Wiggins
Mr. Bernie C. Witkin
Mr. Bruce C. Young
Class Donors- Thank you!
Gettysburg Fund and Orange and Blue Club, June 1 - May 31