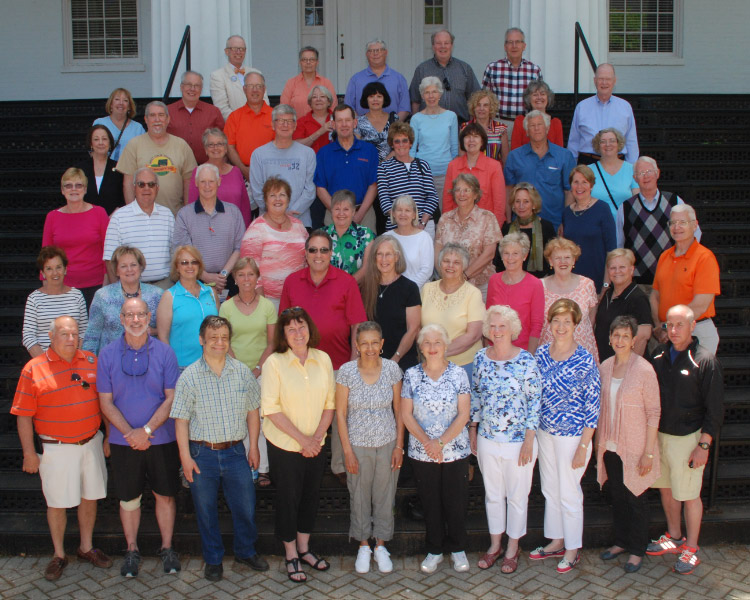 Reunion Weekend Hotel Information
Rooms have been reserved for Reunion Weekend at the hotels listed below. Please make your reservations as soon as possible.
The Gettysburg Hotel
One Lincoln Square
Gettysburg, PA 17325
717.337.2000
Group name: GC Class of 1969 and 1974
Rate: $149-$229/night plus tax
Rooms released on March 1, 2019
Wyndham Gettysburg
95 Presidential Circle
Gettysburg, PA 17325
717.339.0020
Group name: Gettysburg College, Class of 1969 or 1974
Rate: $159/night plus tax
Rooms released on April 30, 2019
---
Reunion Committee Chairs
Mr. F. Thomas Kull, Jr.
Colonel Frederick W. Schumacher, Jr.
Reunion Committee
Sorted by maiden name
---
Who is Returning
The following members of the Class of 1969 are planning to return for Reunion Weekend. If you would like to add your name to this list please email alumni@gettysburg.edu. Please remember to officially register in the spring.
Sorted by maiden name
Mr. J. Paul Amaden
Rev. Dr. Gunnar L. Anderson
Ms. Karen Augustine-Miller
Mrs. Pamela Bailey O'Leary
Mr. Joseph B. Baker
Mr. David S. Bayne
Mrs. Elaine Billage Langford
Mr. Timothy W. Black
Mrs. Pamela Blair Edelstein
Mrs. Martha Bockoven Riley
Mr. Fred R. Bohrman
Mrs. Carol Bryson Emrich
Mrs. Linda Buckley Platt
Dr. Blase A. Carabello
Mrs. Marie Carlson Dunkerley
Dr. Mary A. Carskadon
Mr. A. McDowell Carter, III
The Rev. J. Howard Cepelak
Mr. Ronald E. Chamberlin
Ms. Gail Claussen Santa Maria
Mrs. Joan Clendining Snodgrass
Mr. James W. Corkran
Mrs. Marga Cummings Hill
Mrs. Jean Deimler Seibert
The Hon. Thomas H. Dilts
Mr. Jesse H. Diner
Mr. John J. Donovan, III
Dr. Thomas M. Dyott
Mr. Norman R. Eavenson, Jr.
Mr. Stephen J. Edelstein
Mr. Gregory L. Eisenhart
Mr. James D. Erb
Mrs. Francie Erickson Zimmerman
Dr. Larry M. Espenshade
Ms. Jean A. Eugene
Mrs. Margaret Eutemark Smith
Mrs. Elise Ferguson Jones
Mr. Kevin P. Finan
Mrs. Ann Fischer Markel
The Rev. David R. Fisher
Mr. James R. Fleming
Mr. John G. Folkemer
Mr. Kenneth J. Fortier
Dr. Emily S. Foster
Mr. David C. Geiman, Jr.
Mr. Gregory C. Gibson
Mr. Kenneth W. Good
Dr. Eric W. Grotzinger
Mrs. Phoebe Guiley Strome
Mr. Richard J. Hardenbergh
Dr. Robert G. Hart
Mrs. Helen Hauslein Martinson
Dr. Daniel P. Hely
Mrs. Jana Hemmer Surdi
Mr. Stephen J. Henderson
Mr. William G. Herbst
Dr. Michael J. Hobor
Mrs. Jeanne E. Gilbert
Dr. Dusty Johnson McMillen
Mr. Robert H. Joseph, Jr.
Mr. Eugene H. Kain, Jr.
The Rev. David B. Kaller
Dr. Vincent L. Keipper
Mrs. Linda Keller Hess
Mrs. Susan Knauer Webster
Dr. Gregory M. Koons
Mrs. Carolee Kowal Wineburgh
Mrs. Linda Kubis Rich
Mr. F. Thomas Kull, Jr.
Mr. William L. Lampe
Mr. Regis F. Legath
Mrs. Terry Lehman Schooley
Colonel Charlotte Lenz Cochard
Mr. William N. Lindsay, III
Mr. Robert B. Lineburger
Mrs. Janet Loeffelman Trojak
Mr. Robert S. Lowry, Jr.
Mr. Thomas W. Markley
Ms. Mary E. Marts
Lt. Col. Kenneth T. Maskell, Jr.
Mr. Jerry L. May
Mrs. Beverly Meichner Harper
Mr. Michael S. Metcalf
Mrs. Joan Mitchell Baker
Mrs. Nancy Morris Lineburger
Mr. Stephen D. Morris
Ms. Carol L. Moyer
Mr. Byron J. Mundy
Mrs. Carolyn M. Sweeney
Dr. Stephen J. Nelson
Mrs. Deborah Ness Lamont
Mr. Henry R. Nicholson
Mr. John P. O'Leary, Jr.
Mr. Dwight D. Oland
Rev. Dr. Donna Osterhoudt Schaper
Mrs. Patricia Perian Barrows
Mr. Michael W. Powell
The Rev. John B. Pumphrey
Mr. David F. Quackenbush
Mrs. June Ratcliffe Dombrova
Mrs. Karen Reese Thomas
Mrs. Nancy Riggins Letts
Mr. Peter H. Riley
Ms. Susan P. Robinson
Dr. Douglas F. Roth
Mr. Preston E. Roth
Mr. Juhan Runne
Ms. Barbara A. Ruth-Williams
Mr. William C. Ryder
Mrs. Sally Sanford Johnson
Mrs. Marilyn Schuetze Unger
Colonel Frederick W. Schumacher, Jr.
Mrs. Paula Selby Henderson
Mrs. Kathy Shiffer Brown
Mr. James M. Shippen
Mr. Dana S. Shreve
Mr. Charles R. Simpson, II
Mr. Michael J. Skinner
Mr. Henry N. Small
Mr. Frederic M. Smith
Mr. Larry S. Smith
Mr. Thomas E. Smyser
Mr. Steven E. Sommers
Mrs. Margaret Spangler Kull
Mr. Joel H. Springer
Karen M. Starko, M.D.
Mrs. Myra Stein Kain
Mrs. Karen Stem Walters
Mr. William H. Stone, Jr.
Mrs. Marian Strock Brenneman
Mr. John R. Sutton
Mr. Randall F. Thomas
Mr. Randall F. Thomas
Mr. Gary B. Thompson
Mr. Richard R. Thormann
Mr. Paul G. Trojak
Mr. William C. Unger
Mrs. Gail Van Nostrand MacFarland
Mr. Frederick Q. Vogel
Mr. Robert E. Wagner
Mr. Stephen R. Walker
Mrs. Nancy Wallace Paulson
Mr. Robert J. Walters
Mrs. Enid Wedemeyer Corkran
Mr. David V. Weigel
Mr. John A. Weitzel
Mr. James R. Whetstone
Ms. Elena White
Ms. Charlotte W. Wilcox
Mr. Stewart H. Williams, Jr.
Mrs. Judy Winter Walker
Mrs. Barbara Wold Vogel
Dr. Debra J. Wolgemuth
Mrs. Helen Woods Wilson
Mr. James F. Wright
Mrs. Amy Wunder Stabenow
Mrs. Linda Yeneral Porter
---
College Liaisons
Tammie Brush-Campbell
Associate Director of Alumni Relations
Campus Box 417
Gettysburg,PA 17325
(717) 337-6509
tbrush@gettysburg.edu

Jacquie Temple
Associate Director of Annual Giving
Campus Box 423
Gettysburg, PA 17325
(717) 337-6512
jrtemple@gettysburg.edu
---