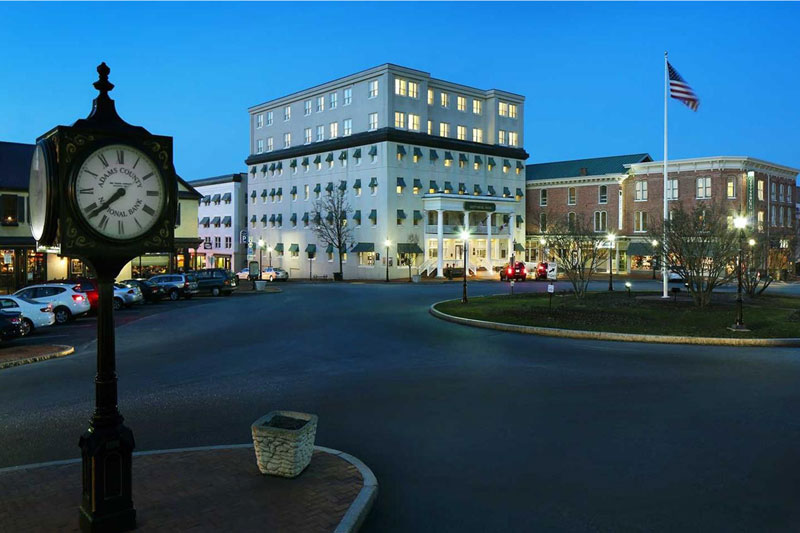 Travel Information
Hotels, dining, transportation, and local attractions in historic Gettysburg, PA.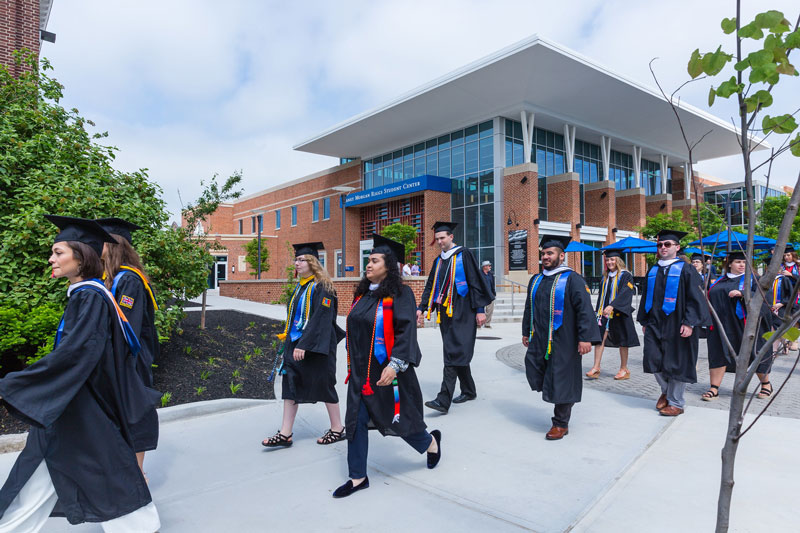 Campus Information
Alternate viewing locations, parking, facilities, campus policies, and more.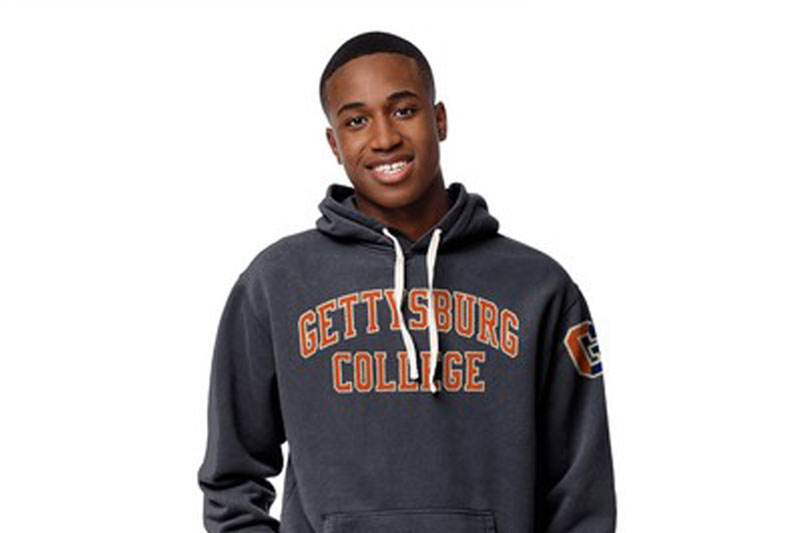 Gifts for your Grad
Travel Information
Hotels and lodging
Visit the Hotel Accommodations page for a listing of local hotels.
Some area hotels may have a Commencement Weekend rate. Please call them for details.
Dining
Please see the Campus Services section for Commencement Weekend Bullet Hole and Commons Café hours.
Transportation
Around Town: rabbittransit offers public transportation around Gettysburg (it is free with a Gettysburg College ID only). See the rabbittransit website for details and schedules.
Battlefield Tours
Licensed Battlefield Guide Car Tour
A Licensed Battlefield Guide will meet you at the Visitor Center and drive your car for a private, two-hour tour of the battlefield. Guides are available daily, but to avoid disappointment, advance reservations for Licensed Battlefield Guide tours are strongly recommended. Please reserve your tour at least three days before your scheduled visit.
Please call the one of the following numbers to make a reservation:
Licensed Battlefield Guide Reservations Desk: 717-337-1709 (cash payment only)
Gettysburg Foundation: 877-874-2478 (cash and credit; an additional booking fee applies)
You may also request a Licensed Battlefield Tour Guide in person at the Visitor Center complex, but same-day requests are subject to Guide availability.
Licensed Battlefield Guides spend years studying the Battle of Gettysburg so they can offer visitors quality, informative tours. It is customary to extend a gratuity if you're satisfied with your experience.
Campus Walking Tour
The Gettysburg College: Witness to History historical app is a 1.2-mile walking tour that takes you through the Gettysburg College campus and the town of Gettysburg. Download the free app for Apple devices.
Campus Information
Tickets
No tickets are needed for the Baccalaureate or Commencement exercises. Seating is first-come, first-served and we ask that you please do not reserve seats. The ceremony takes place at the Beachem Portico, North side of Pennsylvania Hall, rain or shine. Entry to the seating area begins at 9:00 a.m. Indoor viewing locations with live-streaming video will be available in several campus locations.
Unfortunately, the College does not have an indoor space large enough to accommodate everyone in the event of rain or excessive heat, and the many large trees around Pennsylvania Hall prevent us from placing tents at the Commencement site. Ponchos will be provided to graduates, faculty, and all guests, if necessary. Please bring any gear that you wish to have if there is inclement weather on Commencement Day.
Alternate Viewing
Baccalaureate:
Baccalaureate will take place in-person at 4:30 p.m. on Friday, May 13, at the Commencement site, on the north side of Pennsylvania Hall.
For those guests who are unable to attend in person, this event will be offered to guests via the web as a live video stream, beginning at 4 p.m. on Friday, May 13. View the livestream.
Commencement:
The 11 a.m. Commencement Ceremony will take place, rain or shine, on Saturday, May 14, on the north side of Pennsylvania Hall.
Livestreaming of Commencement will begin at 10 a.m.
On campus: Livestreaming coverage of Commencement will be available in the following buildings:
Masters Hall (rain or shine)
College Union Building (CUB) on the video screens in The Junction, The Bullet Hole, and the seating area at the top of The Bullet Hole staircase
Kline Theater, Brua Hall (rain only)
COVID-19 Guidance
The College has adopted no special rules relating to COVID-19 for Commencement Weekend. Individuals are encouraged to evaluate their individual circumstances and broader COVID trends in deciding whether any precautions, such as masking, might be appropriate for them. We expect everyone to honor and respect the individual choices made by other students, employees, and guests.
Parking
Parking is available in lots throughout campus. For detailed accessible parking information, please see the Campus Parking Map below or visit the Accessibility webpage.
View the interactive campus map
The Gettysburg Parking Department has notified the Public Safety Office that meter parking will be enforced throughout Commencement Weekend which includes Sundays from 1 p.m. to 8 p.m., as per the notification on the meters. Please be sure to feed parking meters in accordance with the days/hours posted on them, to avoid receiving a citation. For additional information, please visit the Borough Parking Department's website.
Restrooms
During Commencement, guests may find restrooms in the surrounding campus buildings, including:
Weidensall Hall
Glatfelter Hall
The Science Center
Masters Hall
Breidenbaugh Hall
College Union Building
Musselman Library (Please note that Musselman Library has limited facilities and will be used as a staging area for faculty during Commencement.)
Additional portable restrooms and ADA-compliant portable restrooms will be available adjacent to the Commencement site for guests with limited mobility and are located along the sidewalk at the east end of Musselman Library, near Weidensall Hall.
Find a restroom
View restrooms on the interactive campus map
Tips
Tips for the Commencement ceremony
Set up a predetermined location to meet your graduate after the ceremony for family photographs, to meet friends, etc.
Bring rain gear.
Wear sunscreen.
Bring binoculars.
Wear sensible shoes. High heels may sink into the grass.
Wear a hat.
Wear layers. It could get hot; it could cool down very quickly.
Give yourself a full hour to find a seat and get settled. It's exciting to watch the preparations.
The seating for Commencement is on flat ground. Please don't expect to get great photographs. Three photographers will capture the awarding of your student's diploma from different angles. We encourage you to sit back and enjoy the moment.
Most of all, celebrate and enjoy this achievement with your graduate -- congratulations!
Policies
Animal Policy
Due to the number of guests expected, only service animals are permitted at the Baccalaureate and Commencement site.
Ceremony Courtesy
With courtesy and respect to all graduates and families, please refrain from disrupting the weekend's formal ceremonies with the use of noisemakers (such as air horns, cowbells, and bullhorns), shouting or chanting, and high-volume mobile phone ringtones and conversations.
Please remain seated and respectful to all graduates for all diploma presentations until the Valedictorian and Salutatorian receive their diplomas at the end of the diploma presentations.
Weather
Commencement takes place at the Beachem Portico, on the north side of Pennsylvania Hall, rain or shine. In the event of severe weather forecasted for most of the day, a decision may be made to hold the ceremony indoors for the graduates only, with alternate viewing sites available for guests.
It is possible that Commencement might be delayed or cancelled due to dangerous weather. If so, notification will be provided as follows:
In the event of a delay, we will email all seniors and senior parents and updates will be posted on the homepage of the College's website, the Commencement webpage, and the College's social media channels.
In the event of a move indoors for graduates, we will email all seniors and parents; update the homepage of the College's website, the Commencement webpage, and the College's social media channels; and Public Safety will text all senior students.
Dangerous weather is defined as lightning and strong winds. Rain alone does not constitute dangerous weather. Should the weather turn dangerous once the ceremony has begun, an emergency weather plan will be put into place. All degrees will be conferred, and graduates will receive instructions regarding diploma pick up. Ushers and DPS officers will be on duty to answer questions and direct attendees into campus buildings.
Ponchos will be provided to graduates, faculty, and all guests, if necessary. Please bring any other rain gear you wish to have if there is inclement weather on Commencement Day. We advise guests to be prepared with rain gear and warm clothing. If it is raining, Commencement will continue outdoors as planned.
Please see the Commencement homepage for weather updates (Baccalaureate lineup, Departmental Receptions, etc.).
Gifts for your Grad
Photography and Videography
GradImages is the official photographer for our Commencement. Proofs will be sent to your home and via email within three to five days after graduation. Pictures can be ordered online, by phone or by mail. GradImages can be contacted at 800-261-2576 or via online registration.
Registering your graduate with GradImages provides them with the information they need to deliver your graduation proofs to you in a timely manner. Giving them an accurate mailing address and email address will allow them to get your proofs to you on the first try. You may also provide them with email addresses of up to six friends and family members to allow them to celebrate in the accomplishment.
Announcements
Custom graduation announcements are available through the College Bookstore. Information and order forms are sent directly home to the senior's parents in February. Please contact the College Bookstore at 800-337-6367 for any additional information or questions after receiving the mailing.
Gift ideas
Parents and Family
We invite families to honor your graduate by making a gift to the Gettysburg Fund. Find out more.
Seniors
Have you contributed to the Senior Class Gift? Your donation to the Gettysburg Fund can help the Class of 2022 leave a mark on Gettysburg College that no class before you has left! How to give. For additional information, please contact Annual Giving - Student Programs at 717-337-6334.
Everyone
Display and wear your Gettysburg College pride! From diploma frames to sweatshirts, find graduation gift ideas at the College Bookstore.

Recognize a graduating senior and help support Musselman Library through the Honor with Books program.