We believe that outdoor trips are one space where leadership can be cultivated. Self-awareness, communication, decision-making as well as time and space for reflection are all possible outcomes on our trips. We offer day to week-long experiences backpacking, hiking, kayaking and rock climbing.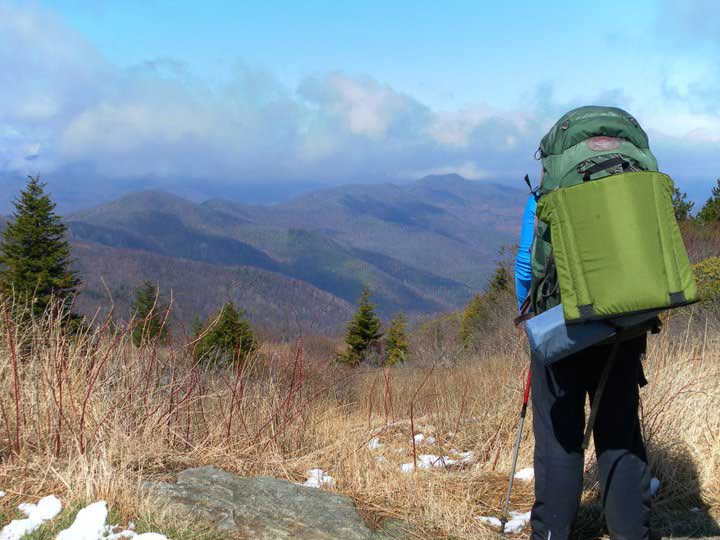 The GLC offers a variety of trips in several activity areas. Whether you are looking to try an activity for the first time, or you have some experience and are looking to learn more, our trips are designed with your goals in mind.
We offer experiences in a variety of outdoor destinations within 2-3 hours from campus. We are fortunate to have several national forests, as well as Shenandoah National Park, all within the range of possibility. We also offer a variety of resources to help you, from our rental equipment to our knowledgeable student staff, and we encourage you to reach out to us when planning your next adventure.
Spring 2023 Trips & Clinics
March 18 • Day Hike (9AM - 4PM) Join the GLC for a day hike! On this hike you'll spend time reflecting in nature, as well as building community.
March 30 • One Foot in Front of the Other (7PM - 8PM) Endurance adventurer, Author, Motivational speaker, and National Geographic 2018 Adventurer of the Year, Heather "Anish" Anderson will share her story. This event is open to the public.
March 31 • Open Ropes Course (4PM - 7PM) Want to try your hand on the ropes course? Trained Student Facilitators offer you the chance to problem solve on the low and high elements - no experience necessary. Free and open to the campus community
April 8 • Acoustic Campfire (6PM - 8PM) Join us at the Pavilion for a collaboration with Listeners & Performers to roast hotdogs and s'mores over a campfire with the ambiance of live acoustic music. Free and open to the campus community.
April 15 • Day Hike (9AM - 4PM) Join the GLC for another day hike! Spend time reflecting in nature, enjoying signs of spring, and building community.
April 21-23 • Backpacking The AT Decompress in nature and learn outdoor skills by joining Student Facilitators for a 2-night backpacking trip along the Appalachian Trail. Rental equipment is available at no cost to participants. Trip is FREE and open to all students, regardless of experience level. (Pre-registration required; Mandatory pre-trip meeting)
These are only a few of our planned trips & clinics. Visit EngageGettysburg to see our full calendar of events and to register for a trip!
Equipment Rentals
Planning your own outdoor trip or adventure? The GLC offers equipment rentals for students, faculty, and staff! We are actively working to shift our rental process online. Until then, please follow these steps:
Submit rental requests to glc@gettysburg.edu. Please include as much detail (specific equipment, group size, dates, etc.) as possible in your email.
Requests must be submitted at least one week (7 calendar days) before the desired pick-up date.
Rental pick-ups

and

returns are by appointment only, during regular business hours. (Weekend rentals can be picked-up on Friday and returned the following Monday, unless other arrangements are made with GLC Staff.)
All rental paperwork must be completed in-person in our CUB 202 office or PLANK 118 office.
Each person in a group must be present to complete a rental form and sign an equipment waiver.
Find our list of available gear, rental policies, and fees here. Questions? Please contact glc@gettysburg.edu.