Digital Humanities at Musselman Library
Digital Humanities encompasses any humanistic inquiry facilitated by digital technologies. Digital humanists use tools for mapping, data visualization, text analysis, online exhibits, digital collections, storytelling, and more to interpret, analyze, and present research across all disciplines to a broad audience.
Digital Humanities work is characterized by collaborative approaches, public engagement, openness, and transparency. We value process and experimentation as well as scholarly outcomes.
In our liberal arts college context, we focus on undergraduate research. Musselman Library offers:
Direct support for student researchers, including a high-impact summer learning experience
Collaborative pedagogical support for faculty, including assignment design and instruction of Digital Humanities tools and methods. These activities are coordinated with campus partners, including Educational Technology and the Johnson Center for Creative Teaching and Learning
Support for Digital Humanities / Digital Scholarship
Seeking support for digital scholarship projects? Interested in integrating a digital tool into your existing assignments? Want to support creative teaching and learning at Gettysburg College? Schedule a consultation today!
Digital Scholarship Summer Fellowship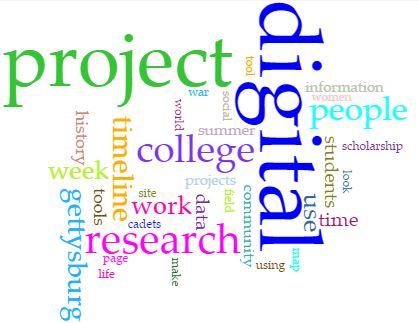 In the summer of 2016, a cohort of 3 Gettysburg College students took part in the first Digital Scholarship Summer Fellowship, a 10-week summer program designed to encourage creative undergraduate research.
Unlike other research fellowship opportunities, the Digital Scholarship Summer Fellowship is programmatic, based on a curriculum designed to provide students a broad introduction to digital scholarship. Digital tools, project management, documentation, and the philosophy behind digital scholarship are equally emphasized. In the summer of 2018, our third cohort participated in the program.
To learn more about the Digital Scholarship Summer Fellowship program, read the student blogs, and review the curriculum, visit the 2016, 2017, and 2018 sites.