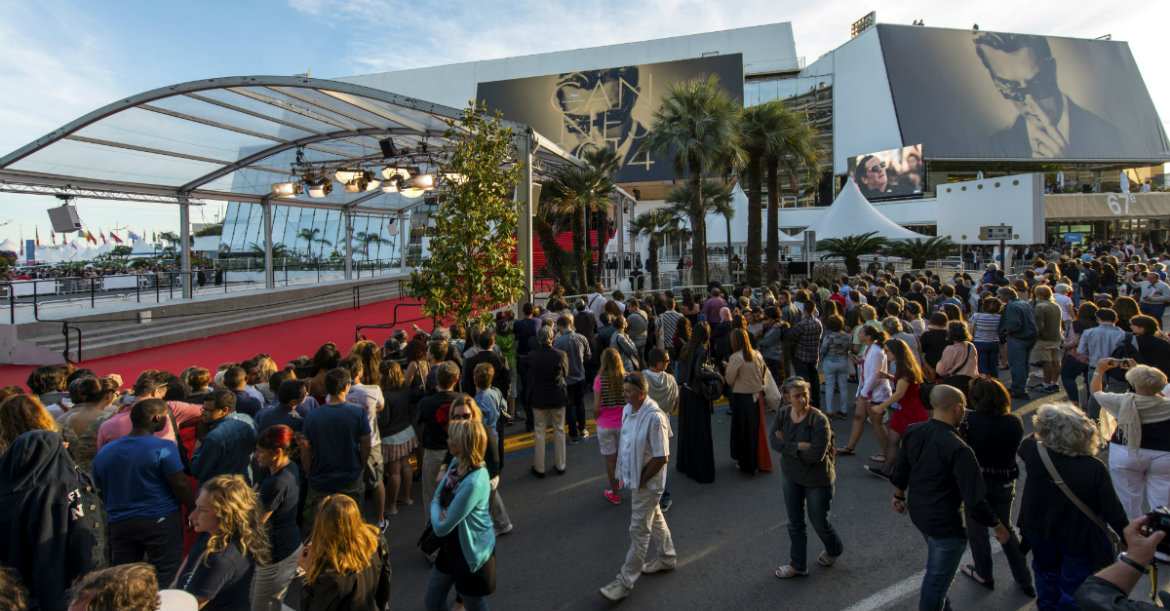 Interning at Cannes: Two students make connections at an international film festival
Each year, about a third of the movies produced globally somehow pass through the Cannes Film Festival, the largest international film festival held each year in the south of France. Whether a film needs funders, distributors, or prestige and promotion, simply put, Cannes is where they will be found.
"The actual film competition is a very small part of what Cannes is," said Cinema and Media Studies Prof. Jim Udden. "All sorts of deals happen at Cannes that impact every aspect of the film industry—from how films are funded and produced to how they are distributed and get in front of audiences."
That is why, Udden states, two internships that students Robert Sharpe '17 and Nick Merritt '18 were offered through the American Film Pavilion were so exceptional. The organization has served as the center of activity for the American filmmaking community at Cannes since 1989.
Not only would Sharpe and Merrit have a front row seat to witness deals that could not be made anywhere else, but they would also be able to connect and build relationships with some of the biggest names in film.
"There's no better way to get a foot in the door than what they did in Cannes," Udden said. "It's really an unprecedented opportunity for them."
The students were connected with the program when Mark Lindsay, a representative for the American Film Pavilion and President of Distribution for Saboteur Media, reached out to Udden. While no one from the program had ever recruited interns at the College before, Udden believes the skills students learn at a liberal arts institution were an obvious draw.
The two arranged a presentation for interested students, during which Lindsay encouraged them to apply for the program.
Both Sharpe and Merritt took him up on the opportunity.
"Trying to make connections in this industry is not an easy thing," said Sharpe. "You've got to meet people and network. As Cannes is the most prestigious film festival in the world, I knew it would be the best opportunity I would get."
Sharpe, Merritt, and their fellow interns arrived at Cannes a few days before the festival kicked off for training, tours, panel and roundtable discussions, and networking events.
"I ended up meeting Spike Lee at a party that Will Smith was hosting," Sharpe said. "It really showed me that you never knew who you would cross paths with."
Once the festival began, students worked four to five hour shifts each day. This allowed students plenty of time to explore the festival, attend exclusive events, and continue to make connections and build relationships before the program ended just 14 days after they arrived.
Since returning home, Sharpe has leveraged the connections he made at Cannes to land an opportunity as a programmer at another film festival in Denver, Colorado and is continuing to find opportunities to explore his interest in the film industry. Merritt returned to an internship with Haven Entertainment, a Los Angeles-based management and production company.
"As with so many industries, film and media isn't about your degree or who you professor is—it's about who and what you know," Sharpe said. "Fortunately, Professor Udden really prepared us with the skills and the knowledge to be able to navigate that landscape well."
Founded in 1832, Gettysburg College is a highly selective four-year residential college of liberal arts and sciences with a strong academic tradition. Alumni include Rhodes Scholars, a Nobel laureate, and other distinguished scholars. The college enrolls 2,600 undergraduate students and is located on a 200-acre campus adjacent to the Gettysburg National Military Park in Pennsylvania.
Contact: Kasey Varner '14, assistant director of communications, 717.337.6806
Posted: Thu, 17 Aug 2017

Next on your reading list
Biology Prof. Alex Trillo's research attracts international attention
---
Celebrating 2018 midyear graduates
---
Ben Tabor '13 on making connections at home and abroad
---
Share this story: