With our increasing reliance on Zoom, please keep the following recommendations in mind to protect the privacy of your meetings, record them for reuse when needed, and publish as apporopriate.
On this page:
Meeting privacy
Information for participants about joining specific Zoom meetings should be provided by email to those planning to attend. This process can be handled via the use of simple registration forms built using Microsoft forms.
This service is available through the College's enterprise agreement with Microsoft, and integrates with the College user directory for secure sharing. Information collected on this platform can be recovered in the event that the person who created the form is no longer available to access it.
Contact Communications and Marketing for help creating Zoom event registration forms.
Recording settings
Configure your recording settings on Zoom so that the video can be processed and uploaded to YouTube. Log in to Zoom and navigate to Settings › Recording. Then ensure that the following options are set as indicated:
Cloud recording
toggled on – Cloud recording (Allow hosts to record and save the meeting / webinar in the cloud)
checked – Record active speaker with shared screen
checked – Record gallery view with shared screen
checked – Record active speaker, gallery view and shared screen separately

checked – Active speaker
checked – Gallery view
checked – Shared screen

checked – Record an audio only file
checked – Save chat messages from the meeting / webinar
Advanced cloud recording settings
checked – Display participants' names in the recording
checked – Record thumbnails when sharing
checked – Optimize the recording for 3rd party video editor
checked – Audio transcript
checked – Save panelist chat to the recording
toggled on – Allow cloud recording sharing (A sharing link for the recording will be generated after a meeting. Users who have been granted the viewing permission can access the cloud recording through this link.)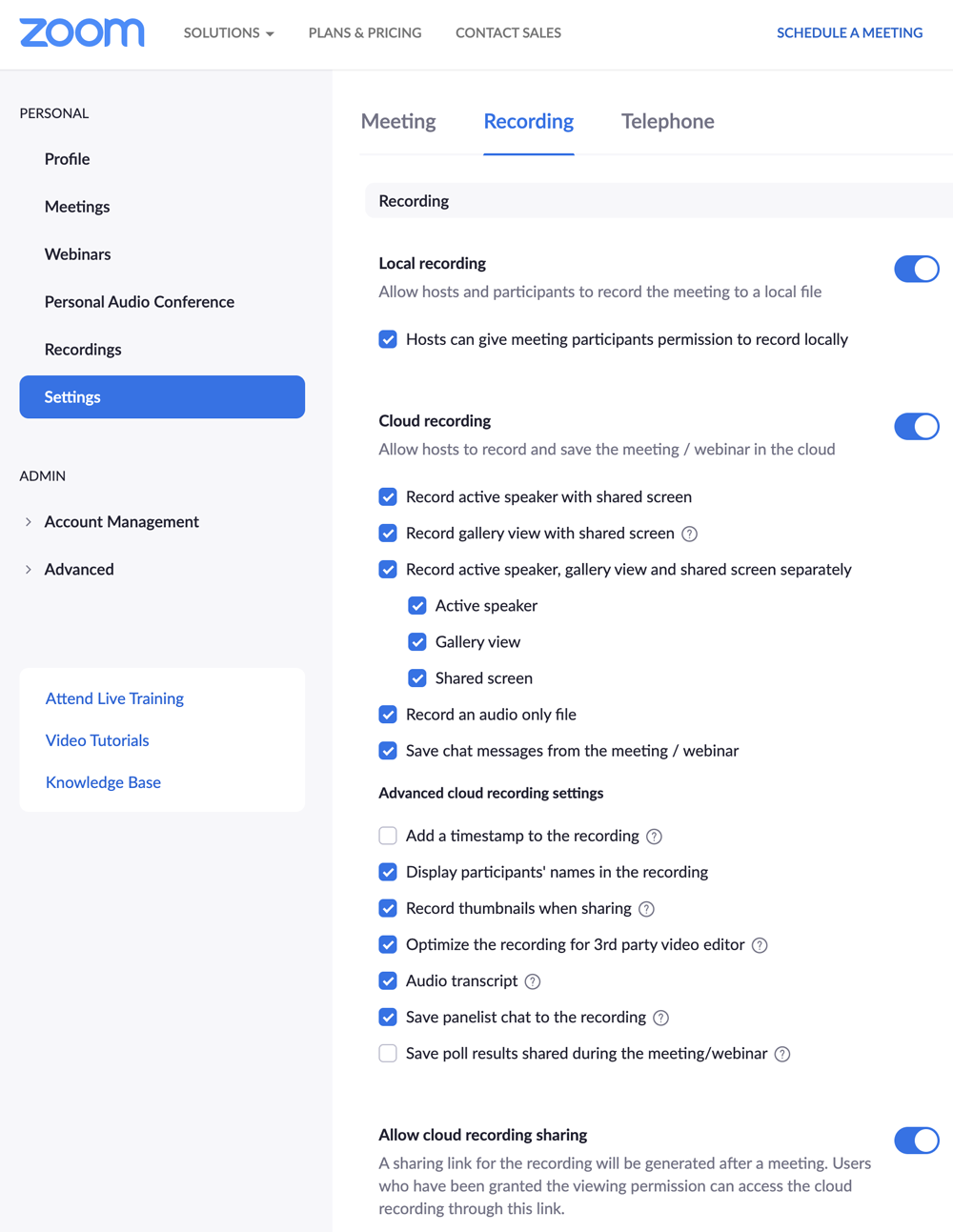 The following Zoom documentation is also helpful for sharing the recording that you generate. Be sure to use a password when sharing the video.
Sharing or long-term storage
Video recorded on in the Zoom cloud should be considered temporary and should not be used for public sharing. Use a different platform to permanently house your video if you intend to keep it:
Storage is limited: videos are periodically deleted since we have a limited amount of cloud storage on Zoom.
Storage is temporary: IT has indicated the Zoom site license will only be retained as long as it's needed for remote teaching.
Please note: Trimming playback in Zoom does not trim the video. If you have trimmed playback to omit information from the beginning or end of your video, the full video is still available if you also allowed file downloads. This can lead to unintended information disclosure.
Promoting your video on YouTube
Videos that are intended to be public should be shared with Communications and Marketing for uploading to the College YouTube account. Videos shared this way will be seen by many more people than those shared as a Zoom cloud recording.
Steps to have your video uploaded:
Send us the final recording file from Zoom, along with:

a video title,
the date it recorded, and
a brief description of your program.

Prior to your recording, make sure all presenters give their permission to have their video shared publicly on YouTube
Start and stop the recording as close as possible to the final footage you'd like viewers to see
If you open your program up to Q&A, make sure all people who appear on video give their permission to be on YouTube
No minors in the videos
Allow up to three business days for the Communications and Marketing Office to place the video on the College's YouTube channel
Private or archival video
For videos that are intended to be private, or stored in an archive, campus partners should use one of the following options:
Panopto (note: if this is your first time logging into Panopto, email the IT Helpdesk to request upload access.)
Start with the links above, or contact the IT Helpdesk with additional questions.