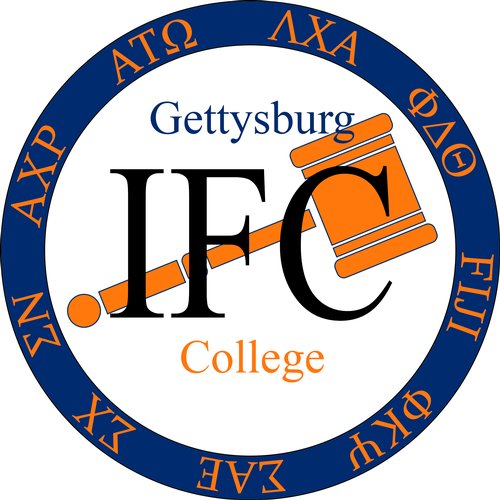 Thank you for your interest in joining the Interfraternity Council (IFC) fraternity community at Gettysburg! Fraternities have been a positive influence on the Gettysburg community since 1855. The information below provides important dates and guidelines for successful participation in the IFC recruitment process. If you have additional questions, please contact the Vice President for Recruitment, Will Ballinger, or visit the Office of Student Activities & Greek Life in CUB 210.
Interfraternity Council Important Dates and Fall 2020 Recruitment Information
Recruitment for the fall semester begins immediately after Spring Break on Monday, March 16th.
During this time chapters may hold recruitment events and discuss joining chapters with Potential New Members (PNMs), but may not extend bids. Bids may only be extended beginning on September 6th, 2020
Important Dates for 2020 Recruitment:
Monday, March 16th - Recruitment Opens
Thursday April 16th - BBQ on Stine Lake
Monday, August 31st - Fraternity Rush Week Begins
Wednesday, September 2nd - Appeals Deadline for Fraternity Recruitment
Sunday, September 6th - Bid Day
Wednesday, September 9th - Deadline to Accept Bid
Fall 2020 RECRUITMENT REGISTRATION
Registration is required for any man interested in participating in recruitment, or rush, each year. The earlier that a man registers for recruitment, the earlier chapters will receive his information as an interested candidate and will receive additional information from the Interfraternity Council (IFC). There is a fee to participate in recruitment and this year that fee has been set at $20. This fee helps to offset the costs associated with recruitment that is provided to all registered men. In order to complete the recruitment registration process, an interested man must pay the registration fee and complete the grade and conduct release waivers.
**There is an online registration process utilized for fall recruitment.**
Two-Step Fall 2020 Registration Process:
2. Pay for Recruitment Registration
*If you have registered for recruitment in a prior semester, you do not have to pay again but you should re-register. Please contact the IFC VP of Recruitment to notify him of your interest.
COMPARING ORGANIZATIONS
It is important to fully consider the decision to join a fraternity. All of Gettysburg's fraternities are part of national or international organizations whose chapters all share the same values, philanthropic partners and form an invaluable membership network. Please be sure to learn more about both the local chapters and inter/national organizations prior to recruitment. The Reports & Statistics page contains comparison, GPA, and philanthropy information for Gettysburg's fraternities and sororities.
Learn more about our fraternities
REQUIREMENTS FOR JOINING AN IFC FRATERNITY
Prospective members must have at least sophomore academic standing at the College (excludes transfer and advance placement credits) and have completed at least two semesters as a matriculated student of a college/university.
All interested men must have a minimum 2.50 cumulative grade point average as of the semester they participate in recruitment. (Some individual organizations have higher minimum grade requirements to join).
Students may not have more than 4 sanctioning points as a result of College Judicial Action.
A student must register for recruitment and pay the registration fee of $20.00
Students must complete the waivers authorizing the release of grade and conduct information. The waivers must be agreed to through the online registration process, but the language in the waivers can be found here.
EXPECTATIONS
There are a number of expectations for students who join a Greek-letter organization:
Members are expected to honor and practice the values espoused by the organization
Members are expected to perform well academically
Members are expected to assume a leadership role in the chapter
There is a financial obligation of members that includes initiation fees, chapter dues and national fees, housing fees, and non-resident fees for those who do not live in the house, as well as the timely payment of bills. These bills are paid every semester.
Members are expected to commit to chapter philanthropy, service and educational events


HOUSING
Men should be prepared to live in the chapter house every semester after they join, beginning with spring of their sophomore year.
Men will not be permitted to live outside of the fraternity house unless the house has already been filled by members.
Non-resident fees are paid every semester that a member does not live in the house, regardless of whether the house is full.
Fraternity members will not be approved to live off-campus, or in any other campus housing, until their chapter house is filled to capacity. Do not sign off-campus leases prior to being released by the Office of Residential & First-Year Programs.
Sophomore men joining in the fall semester will be expected to move into the house in the spring if it is not full.
Men studying abroad will be released from the houses before any students will be released to live off-campus. House occupancy will not impact someone's ability to study abroad.