On this page:
Building on the Gettysburg College Dining Services' long history of strong food safety and sanitation practices, we are prepared to provide health and safety while still offering delicious, varied, and healthy meal options for our community.
Student safety
Students must wear masks while waiting in line and obtaining food and drink in the serving area. Masks may only be removed while eating.
Students should sanitize their hands prior to entering any of the serving areas and before eating.
Safety modifications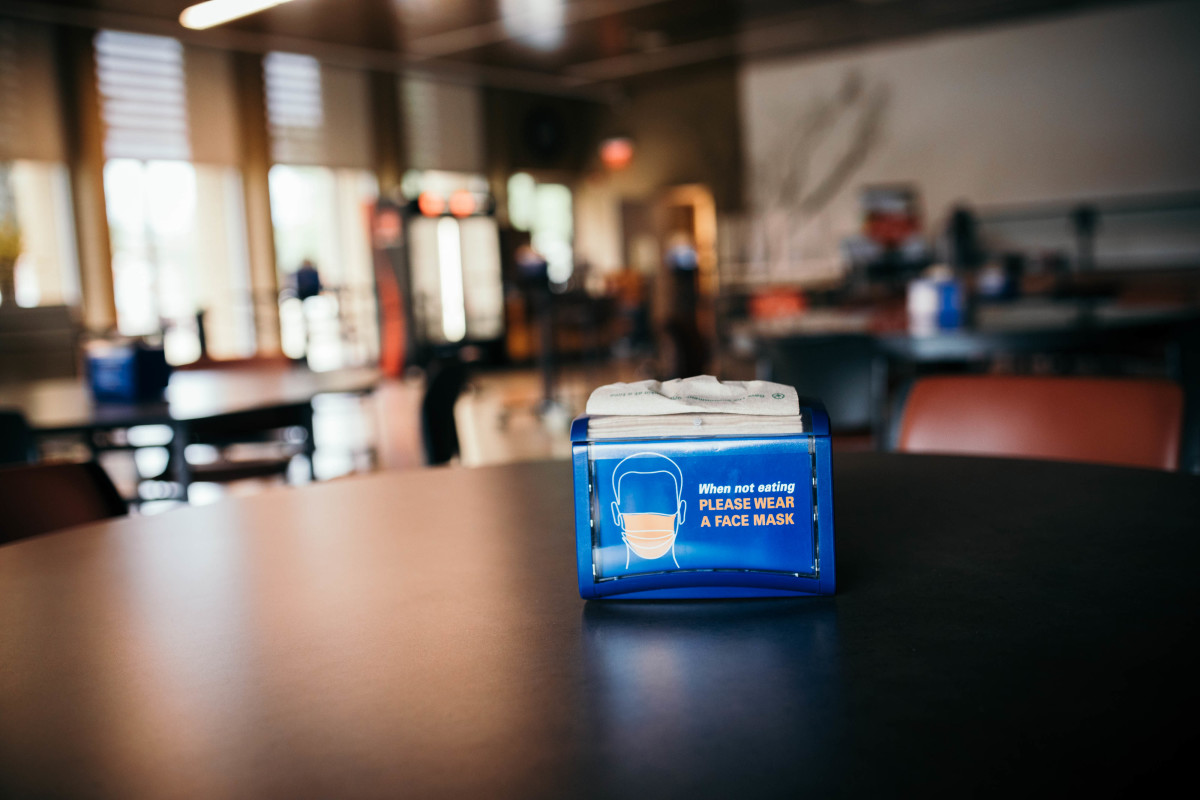 Cashier, serving areas, and seating areas are marked accordingly to support physical distancing guidelines.
Guest-facing technology (checker stands and cash registers) have been reconfigured with the goal of providing as much contactless cashiering as possible. When checking out, you will tap your Gettysburg ID card when prompted by the cashier instead of handing it to them
Signage for guests and staff are deployed strategically throughout the queueing areas, dining venues, restrooms, and common areas to communicate appropriate physical distancing and effective traffic flow and proper CDC mitigation strategies.
Disinfectant cleaners are used on all surfaces. A food grade sanitizer is used on all food contact surfaces.
Hand sanitizer stands are placed throughout all Dining locations. Guests should sanitize when entering dining venues and prior to eating.
High contact points such as beverage paddles/handles and buttons are subject to an intensive sanitizing schedule. Additionally, sanitizing wipes are provided for guests to use as an added measure.
Self-service areas (salad bars, rice pots, soup wells, hot service lines) are served in order to service our guests in a safe manner.
Dining facilities has converted certain points of service to accommodate "to go" pick-up formats.
Seating in all dining locations is reduced by approximately 75% to adhere to social distancing guidelines. Please do not move tables or chairs.
Plexiglass shields are installed on more than 33 tables in the Dining Center and 27 tables at the Bullet Hole.
Meal plans
You can view meal plan options on the Dining Services website.
Dining locations and menu options
There have been some changes to the menu offerings. With our dining room capacities being reduced, many "to-go" meals are available to accommodate. We will be posting what will be allowed to be taken out of the dining halls and ask that you be mindful not to waste food. However, not all meals need to be "to-go." There are opportunities for students to eat with friends. Since seating in all dining locations is reduced by approximately 75% to facilitate physical distancing, seating will vary. Some tables have multiple chairs and others will be single seating. Dining Services has also added additional locations to obtain and eat food, including the Ballroom, a tent on Memorial Field, patio seating, Plank Gym, etc.
Please note that student-favorite Kazue will continue serving sushi and rice bowls, but has been relocated from the Bullet Hole to the Atrium Dining Room for the fall 2020 semester.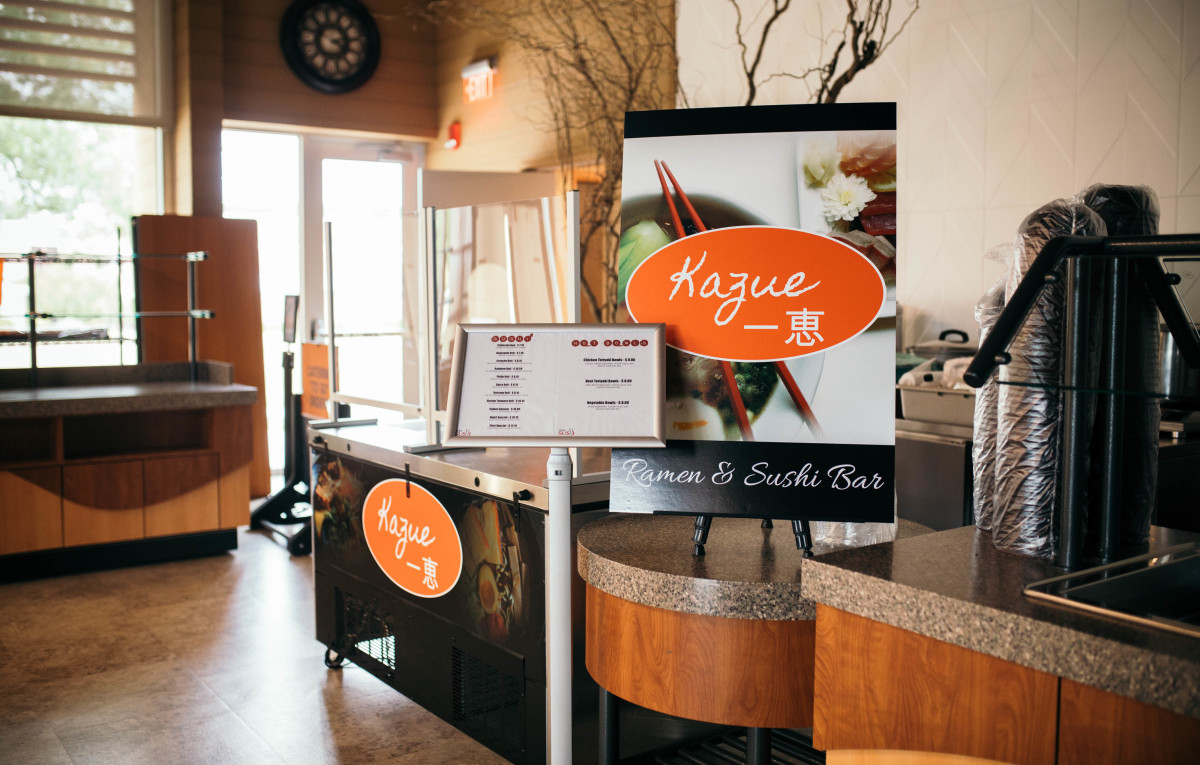 Mobile ordering app for the Bullet Hole
We've just launched Bullet Express, the mobile ordering app for the Bullet Hole. You can download the app to your mobile device and order food from the Bullet Hole to be picked up at the Bullet Hole. The app will be open Monday through Friday from 11:00am to 7:00pm and weekends from Noon to 7:00pm. You must pick up your food before the Bullet Hole closes at 8:00pm.
How to get started: If you have an Android phone, go to the Google Play Store, or if you have an iPhone, go to the iTunes app store and search for Touchnet Order Ahead (Global Payments Inc.) Download the app. Once you open the app, you will see schools listed, choose Gettysburg College. It will ask you to Log In with Campus ID. Use your existing college credentials to log in.
Bullet Express works with your existing meal plan, just like it works in the Bullet Hole. If you can use a "meal" in the Bullet Hole, you can use a "meal" on Bullet Express. Declining Dollars work the same way, and you can also use a credit card.
How it works: Once you're logged in, you can scroll through the menu items and add them to your cart. Once the items you want are in your cart, you can checkout, by clicking campus card, you can switch from your meal plan to credit card. If campus card is showing, then you can click between meal exchange and Dining $. Once you choose your payment method, click pay at the bottom. It will ask you to confirm by clicking pay, and will tell you about how long until your food is ready. For the freshest possible foods, you should not order more than 20-30 minutes ahead of when you'd like to pick it up. You will receive a notification that says your Order Ready, Your order number xxx is now ready! Please bring your phone with the QR code for your order so we can identify that we are giving you the correct order. You must pick up your food before the Bullet Hole closes at 8:00pm.
Obtaining meals during quarantine or isolation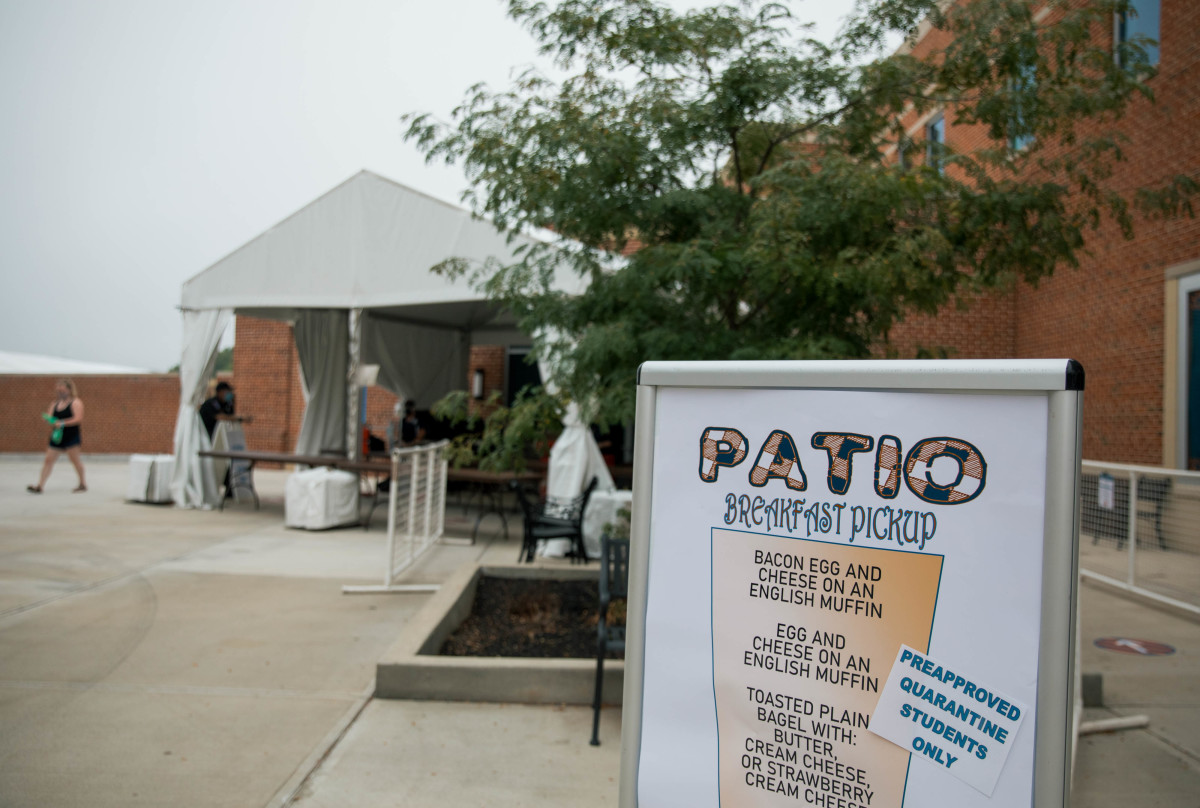 During quarantine: If you are required to quarantine because you have been identified through contract tracing as having a LOW risk of exposure to someone who has tested positive for COVID-19, will pick up take-out meals at a tent on the Bullet Hole patio. If you are residing at the Gettysburg Hotel, you can pick your meals up at designated to-go locations at the Hotel.
When in isolation or restrictive quarantine: Because students in isolation are not permitted to visit any Dining Service location, including but not limited to the Dining Center, the Bullet Hole, the Commons, the Dive, Atrium Dining/ Kazue, or Servo Express, Dining Services will deliver meals to your isolation or restrictive quarantine room.
When in isolation or restrictive quarantine, please place your order for meals using the isolation meal order form on the dining services website. Please order your meals by 2 p.m. for delivery the following day. For example, order Tuesday's meals by 2 p.m. on Monday.
Meals are delivered daily during the mid-day. A representative from Dining Services will knock on your door and leave the food outside. Please retrieve the food and refrigerate perishables as soon as possible. Food is packaged in disposable containers designed for reheating in a microwave. Dining will fill your order to the best of our ability but in some instances may have to make substitutions. Delivery personnel will wear appropriate PPE including facial covering, disposable gloves, etc. and will have no face-to-face contact with you.
To place an order for your first day of isolation or restrictive quarantine, please contact Dining Services at isolationmeals@gettysburg.edu to let us know that you need meals. Please include your name, phone number, and any dietary restrictions and a Dining Service Staff member will contact you.
Students with food allergies or special dietary needs
Students with special dietary accommodations will obtain meals in the Smart Eats Kitchen. If you have food allergies and have not notified Dining Services, please complete the Food Allergy Form. A member of the Dining Services Management Team will be in contact with you.
If you have additional questions, please contact Dining Services at diningoffice@gettysburg.edu.