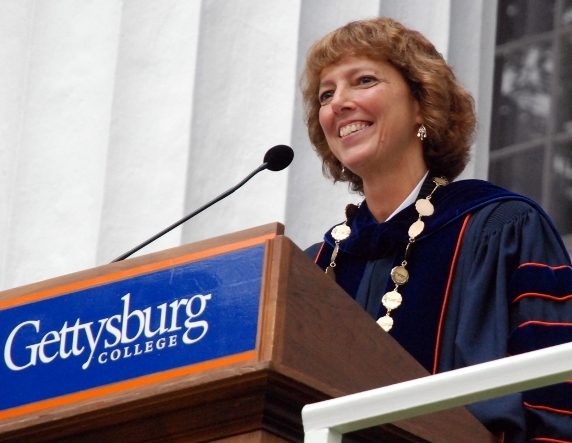 Janet Morgan Riggs was appointed the 14th president of Gettysburg College in 2009 after serving as interim president since 2008. She graduated from Gettysburg College with a B.A. in psychology and mathematics and received her M.A. and Ph.D. in social psychology from Princeton University. Janet returned to Gettysburg College in 1981 as a faculty member in the Psychology Department, where she served as department chairperson. She has worked in a variety of administrative roles, including executive assistant to the president, interim provost, and provost.
Janet is the recipient of the Gettysburg College Student Senate Faculty Appreciation Award, the Thompson Award for Distinguished Teaching, and the Woman of Distinction Award presented by the women students of Gettysburg College. She has taught courses in experimental methods, social psychology, and general psychology and has conducted research in the areas of attitude attribution and expectancy confirmation.
Janet currently chairs the PA Consortium for the Liberal Arts and the Centennial Conference Presidents Council. She serves on the Executive Committee of the Annapolis Group and the Association of Independent Colleges and Universities of PA, and is currently a member of the Gettysburg Foundation Board and the Gilder Lehrman Lincoln Prize Board.