The Power of One: Igniting a Movement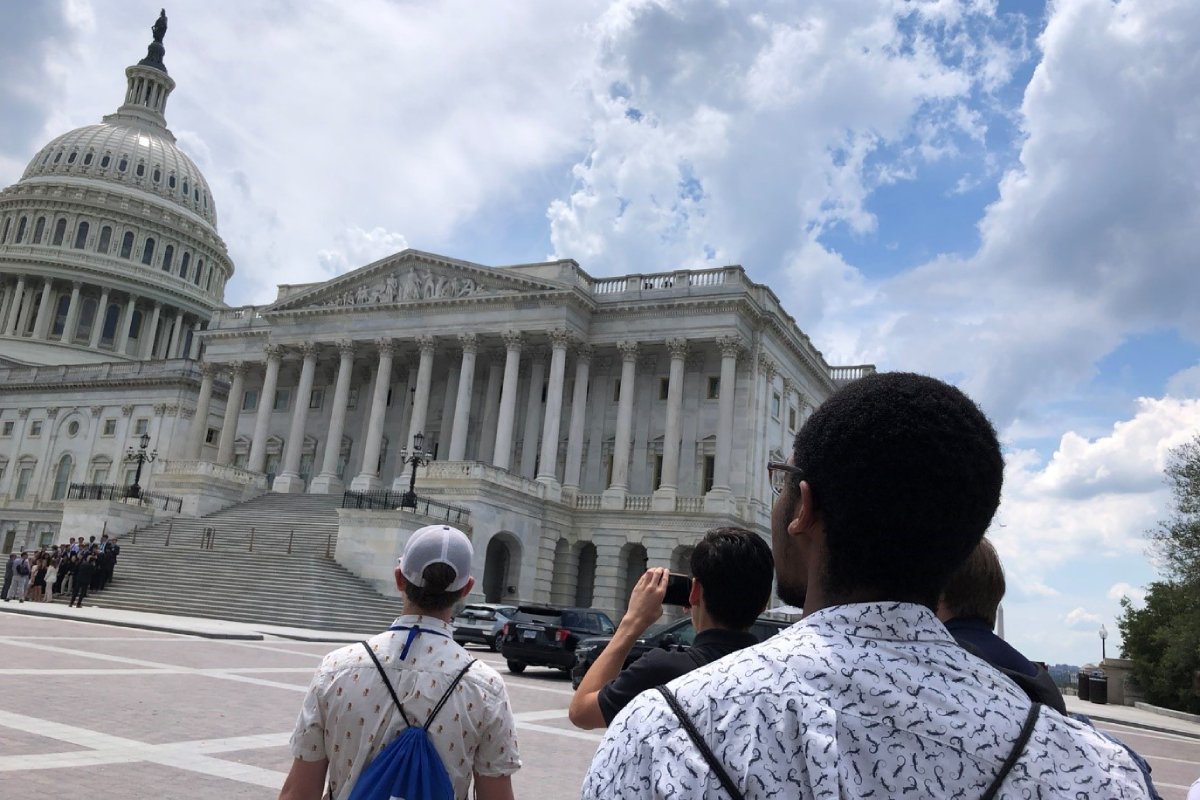 A Dynamic Experience!
This interactive camp takes a hands-on approach to civic engagement, helping highly-motivated high school students turn ideas into action that transforms communities. We connect students with experts, using real-world situations to inspire creative solutions to challenging questions. This weeklong training builds the foundation for advocacy, equipping students with tools needed to become impactful leaders.
Participants will learn about our democracy and its institutions in historic Gettysburg and Washington, D.C. They will participate in simulations to practice strategic thinking and decision-making skills used by one of our nation's most effective leaders, President Dwight D. Eisenhower. Importantly, students will develop their passions into individual action plans that address a public policy challenge - and compete for a grant to fund their project. Participants will walk away from this experience well-informed, inspired and prepared to make positive changes in their community.
Need-based scholarships and project grants are provided through the generous support of the Price-Eisenhower Civic Engagement Initiative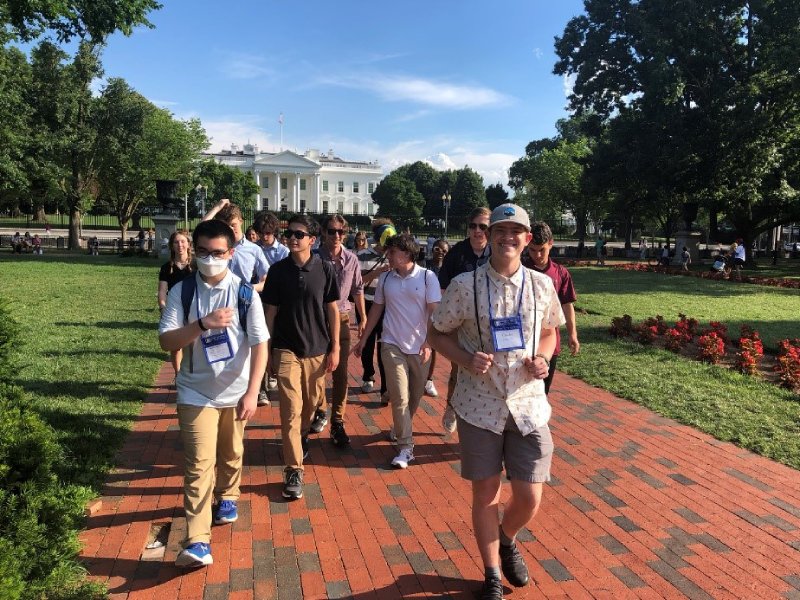 On this page
Applying to Civic Engagement Camp
Applications are now CLOSED. Please check back in early 2024 to apply for summer 2024.
Information for campers and families
About the Camp Director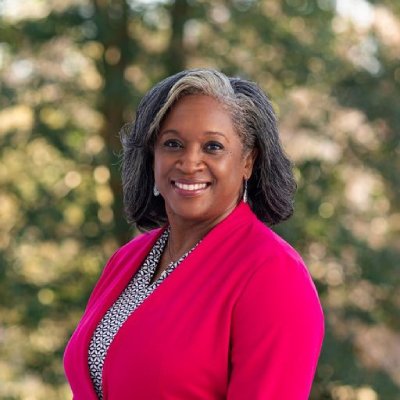 Tracie Potts is the Eisenhower Institute's Executive Director. She joined Gettysburg College with a wealth of media experience focused on public policy, along with years of educational advocacy for and with students.
Mrs. Potts spent three decades as an award-winning broadcast journalist, most recently as senior Washington Correspondent for NBC News Channel, the affiliate service of NBC News. Based on Capitol Hill, she covered four Presidential administrations, Congress and the federal government for 200+ local morning news programs, MSNBC, CNBC and foreign news organizations.
Mrs. Potts serves as vice chair of the USC Annenberg Center for Health Journalism Advisory Board, after being selected as a 2017 National Fellow. She was an instructor for NBC University and continues to provide the foundational digital lesson for the News Literacy Project. Her lesson on NLP's "Checkology" digital learning platform has been used by more than 100,000 students and educators worldwide. She also taught journalism at Knoxville College and Biola University.
Mrs. Potts was appointed to the National PTA Board of Directors and serves as a family engagement trainer, facilitator and speaker on its governance team. She advised the federally-funded Statewide Family Engagement Center for Maryland and Pennsylvania, and currently serves as an advisor for the educational nonprofit Learning Heroes.
Mrs. Potts completed Northwestern University's Accelerated Masters Program, earning Bachelor and Master of Science degrees from the Medill School of Journalism.
About the Eisenhower Institute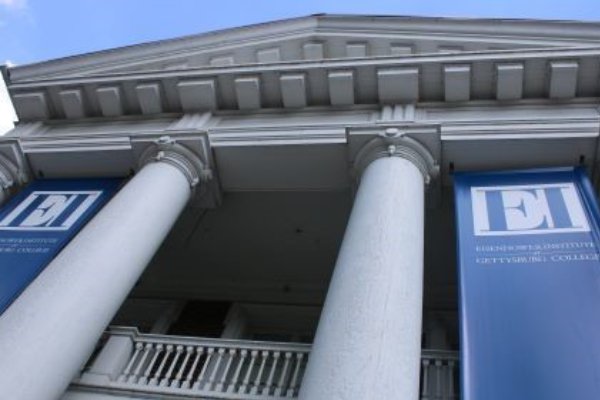 The Eisenhower Institute at Gettysburg College empowers young leaders to tackle society's most challenging public policy issues in real time. Our experts lead students into communities across the U.S. and abroad to see the impact of policy decisions, talk to people affected, create innovative solutions, and urge decision makers to take action.
The Institute has offices on our historic Gettysburg campus - in what was once the home of Dwight and Mamie Eisenhower - and in the heart of the nation's capital, just blocks from the White House. Our dual locations provide students with the resources and experiences to lead what President Lincoln in his Gettysburg address called the "unfinished work" of American democracy. We prepare students to contribute meaningfully in public, private, and nonprofit careers.
Topics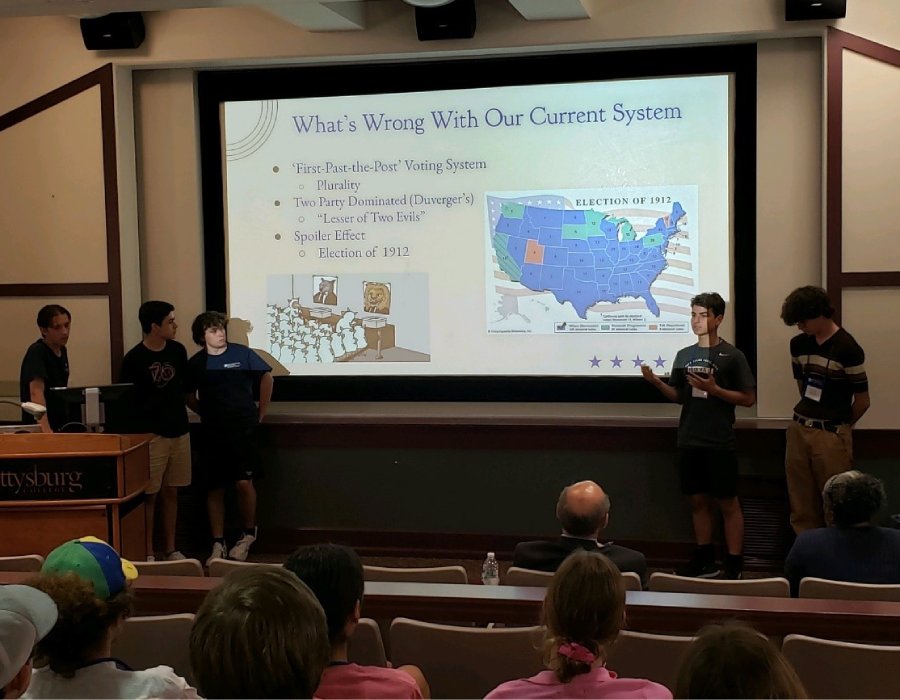 What is Democracy?
Exploring Democratic Institutions
Eisenhower Leadership Lessons
Strategic thinking and effective decision-making
Defining Civic Engagement
The Role of Storytelling in Public Policy
Finding Support and Building Community
Creating a Call to Action
Experiences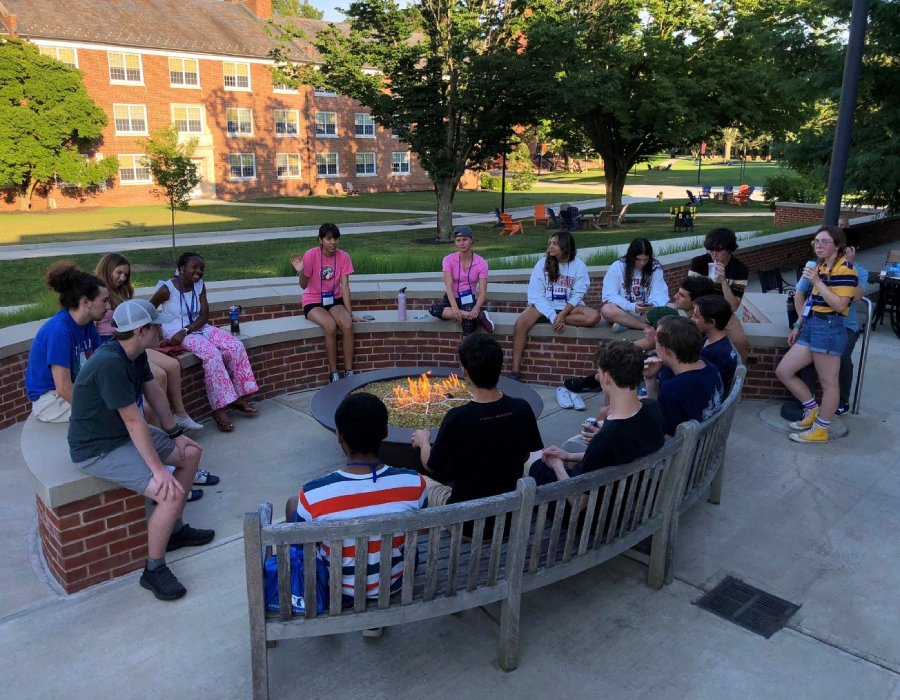 Create a "WHY" video for your public policy project
Decision-making simulations
Small group activities
Guided discussions with experts
A day in Washington, D.C.
Student presentations
Details at a glance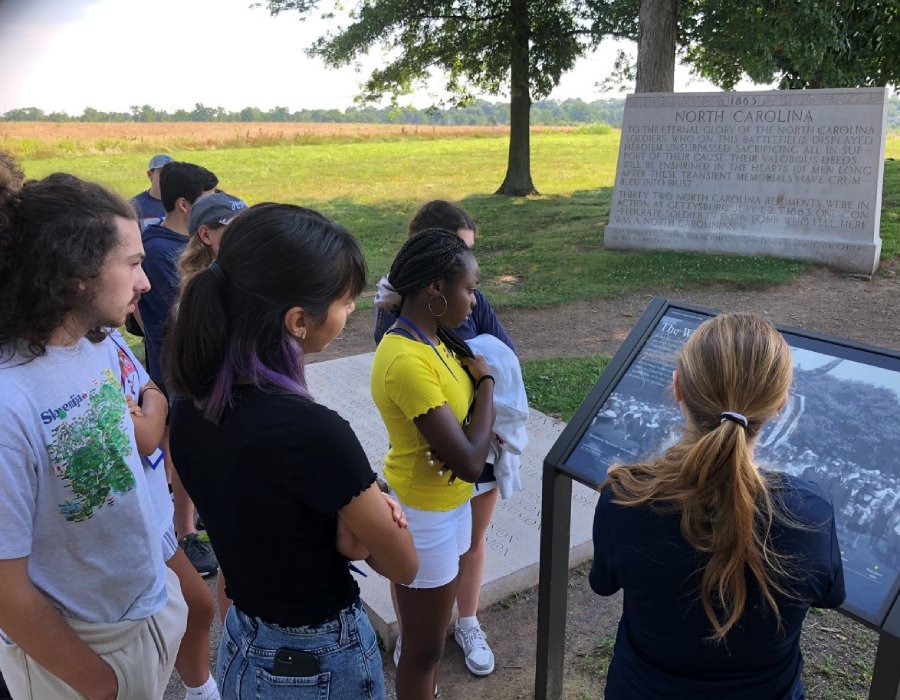 Details
Where: Gettysburg College Campus
When: July 16-21, 2023
How Much: $1,395 for lectures, activities, room & board (financial aid is available)
Who: Rising high school sophomores, juniors, and seniors
Application Deadline: Applications will be received on a rolling basis until June 2.
Sample day
| Time | Event |
| --- | --- |
| 8:30 a.m. – 9:00 a.m. | Breakfast |
| 9:00 a.m. – 10:00 a.m. | Presentation: Becoming a Changemaker in Your Community |
| 10:00 a.m. – 11:00 a.m. | Video Production: Discovering your "why" |
| 11:30 a.m. – 12:30 p.m. | Lunch |
| 1:00 p.m. – 2:00 p.m. | Discussion: Strategic Thinking and Decision Making |
| 2:30 p.m. – 4:30 p.m. | Breakout Groups: Presentation Prep Time |
| 5:00 p.m. – 6:00 p.m. | Dinner |
| 6:30 p.m. – 8:00 p.m. | Group simulation activity: Effective Decision-Making |
| 8:15 p.m. – 9:00 p.m. | Walk to town for ice cream |
| 9:30 p.m. – 10:00 p.m. | Prep for following day |
| 10:00 p.m. | Curfew |
FAQs
Registration and logistics
When is the camp?

The camp will take place from July 16 to July 21, 2023

How much does it cost to attend?

The camp fee is $1,395. This includes lectures, activities, and room & board. The number of admitted campers is limited to facilitate close contact with camp director (professor) and additional faculty, and guest speakers.

When is the application deadline?

Applications will be accepted until June 2. Once admitted, campers will receive instructions for completing online registration. When the camp is full, registration will close.

What is the refund and cancellation policy?

Gettysburg Conference Refund Policy: Refund requests received up to 60 days prior to the start of the camp will be given a full refund. No refunds will be issued less than 60 days from start of camp.

What is the contact information for the camp?

Eisenhower Institute
300 North Washington Street
Campus Box 2988
Gettysburg, PA 17325
717-337-6685

Who is eligible to attend the Eisenhower Institute's Civic Engagement Camp?

Civil Engagement Camp is designed for rising high school sophomores, juniors, and seniors.

Does my camper need to do academic preparation for the camp?

No. We welcome campers with varying levels of knowledge from no knowledge to extensive knowledge.

What should I know about the letter of support?

After we receive your application, the Eisenhower Institute will send your reference an online form to submit a statement of support. This statement affirms the student's qualifications and interest in the camp. Your reference can be a teacher, work supervisor, coach, volunteer coordinator, or another adult mentor from outside of your family.

How are scholarships awarded?

A limited number of scholarships are awarded based on financial need. Requests will be reviewed in light of the overall application as well as other scholarship requests.
Camp life
Can my camper have a cellphone?

Yes. However, campers will be asked to turn off cellphones and other portable electronic devices during sessions.

Does my camper need a computer?

Yes, campers will use a computer during camp.

What does a typical day look like?

See a sample day at Civic Engagement Camp.