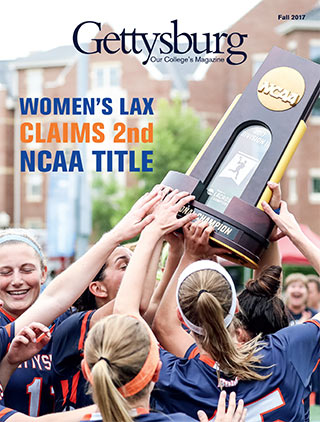 Shortly after the fall issue arrived, Joe Lynch '85, executive director of alumni relations, and Women's Lacrosse CoachCarol Daly Cantele '83 took to Facebook Live for a lunchtime (Eastern time) chat. Link to the video from the College Facebook page for her responses to questions from Joe and viewers about the championship, coaching, and the College.
Also on social media
If you missed the Facebook Live discussion about the legacy of U.S. President Dwight D. Eisenhower, you can still view the discussion with history Prof. Michael Birkner '72, P'10 online.
"Prof Birkner is a wonderful teacher and sparked a lifelong love of history for me. So thankful for my Gettysburg experience," posted Sue Strittmatter Mead '93.
Don Willoughby '73 said, "Great to hear your expertise on Eisenhower and the country's situation."
After 42 years with the Bullets, Head Coach Barry Streeter announced he would retire at the end of the football season. Social media teemed with gratitude and congratulations:
"Coach Streeter you will be missed by your team and their families! Thank you for your dedication to the Bullets and all you've done for our boys! We wish you all the best for relaxing and fun retirement," said Laura Mahecha Salamanca P'21.
Roger Goodstein '83 wrote, "Thank you, Coach Streeter, for being such a positive role model for all of us that have had the privilege to play for you."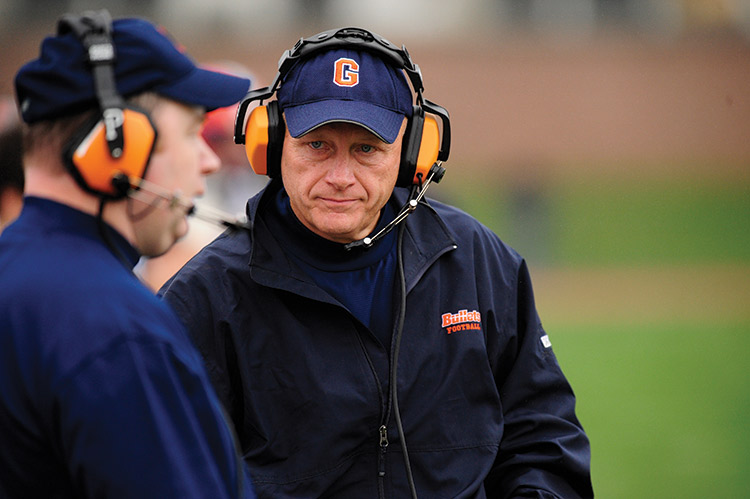 "Thanks for giving me my start in college coaching. For Kay and I, those were 4 of the best years of our lives. You have been an inspiration to me and so many others. Your perseverance and passion are unmatched. Great times together," posted Kevin Higgins
"Thank you. Will never forget the priorities in life: 1. God and Family, 2. School Work, (Now Work), 3. The team. Learned it and live it," wrote Michael Salerno '87.
Following a national search, the appointment of 1990 alumnus Kevin Burke as football head coach was met with congratulations:
"Kevin is top-notch. Great choice," said Craig Montesano '90. "Kudos Gettysburg College! You couldn't have selected a coach more committed to his players!" said Melinda Holsopple P'21.
"I had the chance to meet [head coach] Burke during the 2017 season. What class, so glad he is my son's coach for the next 3 years," wrote Robert Ballinger P'21.
"When Coach Streeter retired I literally felt a sense of loss… .I'm equally excited knowing we hired someone who has lived these values as a student and coach—day after day, year after year—and these values will live on and grow!!! Congrats to Coach Burke!!!!" said Gerry Mihalick '90.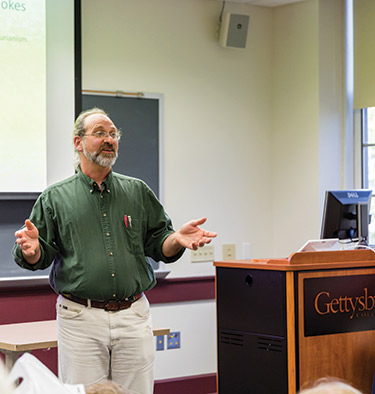 "Auto mechanics, quantum mechanics, ask me anything," says philosophy Prof. Steve Gimbel, at the start of his classes. "This process of engaging any question is really about the liberal arts classroom," said Gimbel, in an online profile. Alumni added to the conversation on Facebook:
"I remember your getting asked everything from directions to the airport to 'what is the origin of the universe' (that one took a whole class)," said Amy Yarnell '05.
Shaw Bridges '15 recalled the questions: "How does a refrigerator work? [and] What's your favorite theory?"
"When does dinner stop being dinner and start being breakfast?" posted current student Mikayla Cleaver '19.
In the news
Eisenhower Institute Chairman Emeritus and SALTT program expert Susan Eisenhower spoke at the Ignatius Forum at the National Cathedral in Washington D.C. The program, "Nuclear Weapons: America, North Korea, Iran, and the World at a Crossroad," was streamed live and is online.
"Was Robert E. Lee really 'an honorable man?'" In a guest editorial for Pennlive.com, history and Africana Studies Prof. Scott Hancock weighed in on the national conversation about what constitutes honor.
"Here's what John Kelly got right about honor, compromise, and the Civil War," was the title of a Pennlive.com opinion editorial by Prof. Allen Guelzo, Henry R. Luce Professor of the Civil War Era and director of Civil War Era Studies. USAToday.com published his op-ed about "Confederate," the HBO television series.
Philly.com carried English Prof. Chris Fee's opinion piece, "Embracing immigrants is a religious imperative." In a Veteran's Day-timed piece for The Hill, Fee and Joshua Stewart '11 called attention to the nation's debt to homeless veterans.
Studies on makeup, facial feature size, and face perception by psychology Prof. Richard Russell were cited in Latin Times.
Biology Prof. Kay Etheridge was interviewed on BBC radio about her work on Maria Sybilla Merian.
And on Instagram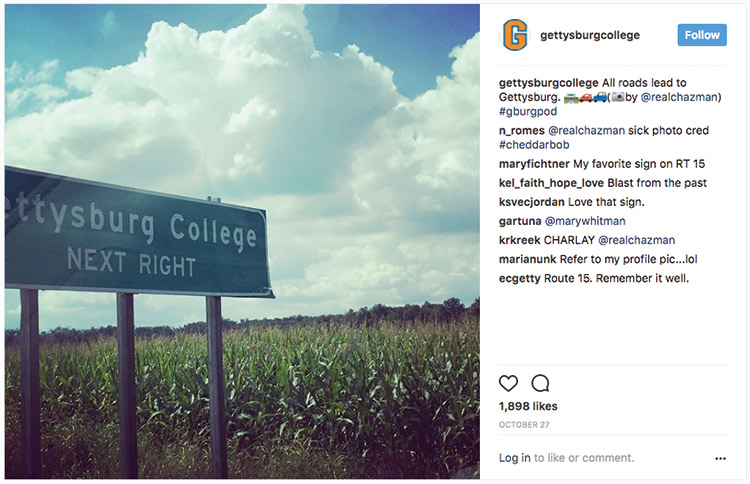 Perennial favorites like Penn and Glatfelter halls, fall leaves, and Gettysburg Thanksgiving dominated Instagram this fall. The love for this shot by Charlie Edwards '12 suggests that perhaps this familiar road sign stirs up feelings of anticipation—or nostalgia.