For free speech to be most valuable, it must reach open minds. Open-mindedness suggests an ability to see a perspective outside of one's own.
"It's being willing at the very least to have your own viewpoint challenged. Also, to test your thinking a bit," said Political Science Prof. Kenneth Mott P'07, by way of definition. It's early in the morning on May 3. Mott is finishing up some work in his Glatfelter Hall office before embarking on a much-deserved family vacation. Mott retired in August after teaching 51 years at Gettysburg College.
Gettysburg's curriculum and learning environment are designed to cultivate the type of critical thinking that makes open-mindedness possible.
"The liberal arts encourages—I'd stop short of saying it forces—that, if you do your coursework, you're going to get other viewpoints, and at the very least it, will help you sharpen your viewpoint," said Mott.
Gettysburg alumni demonstrate the importance and impact of open- mindedness in a variety of fields and careers. For some, it takes the form of finding new approaches to science research, demonstrated by Distinguished Alumni Award recipients John A. Hohneker '81 and Inga Holl Musselman '82 [page 6]. For others, it means working across the aisle in politics or simply being able to work well with people from different backgrounds, like Xavier Harding '12.
If the liberal arts curriculum and environment are part of the science of cultivating open-mindedness, then professors like Mott are the art and flair behind it.
"Ken gave practical meaning to 'don't judge a book by its cover,'" says Jamie Fleet '02. "He encouraged people to seek out unusual allies. And he was intentional about creating a learning environment where you could disagree without being disagreeable."
On May 3, as Mott reflects on open-mindedness, the College is preparing for a visit later in the evening from Robert Spencer, a speaker known for his controversial comments on Islam. Earlier in the week, the Religious Studies department and the Peace and Justice Studies program sponsored a lecture by a Luther College professor, Todd Green, on the topic of Islamophobia. While Spencer delivered his lecture in the College Union Building, a group of students held a solidarity rally in support of Muslim students outside of Penn Hall.
"Maybe that's the essence of open-mindedness. You don't have to be wishy-washy," says Mott. "Nobody who is a thinking person will be open to anything that comes down the pike. But if you don't agree with a [viewpoint], why don't you?"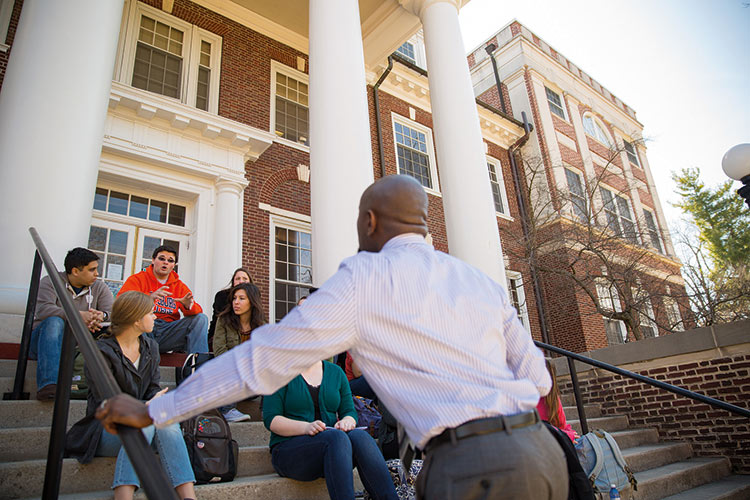 Across the country, college campuses are grappling with issues of free speech. What is free speech? How do we protect it? What issues should private, liberal arts colleges consider? In the spring issue of this magazine, President Janet Morgan Riggs '77 pointed to examples of how the College is engaging in and thinking about these issues. "I am certain that we will not all agree on how to approach every speaker or how to respond to every instance of offensive speech," Riggs said in her letter. "What I can assure you is that as we face these issues, we are guided by our institutional values and Gettysburg's mission as a liberal arts college."
The Gettysburgian reported that more than 300 people attended the event in solidarity with Muslim members of the campus community, and close to 400 people attended Spencer's lecture, many out of curiosity. Quoted in an article written by Benjamin Pontz '20 after the event, Luca Menicali '19 said: "I'm interested in hearing what he has to say. Going in, I know what my viewpoints are, and I will critically analyze what he has to say. All in all, I think it was the right decision to have him come and share his thoughts with us."
One of the College's core values is "the free and open exchange of ideas and exploration of their ethical and spiritual dimensions." But where another College value comes into play: "the power of a liberal arts education to help students develop critical thinking skills…." Finally: "the commitment to a diverse and inclusive learning environment," and "the worth and dignity of all people and the limitless value of their intellectual potential."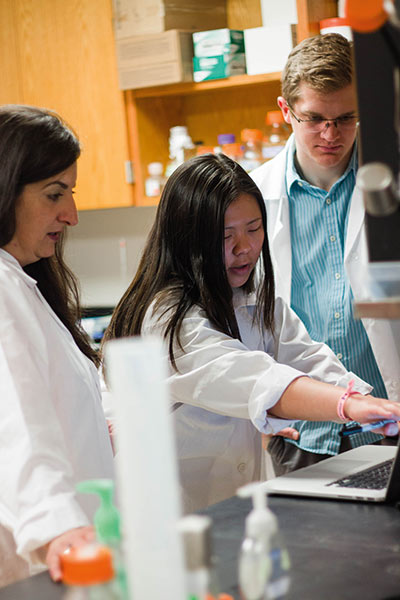 At Gettysburg, having an open mind doesn't mean opinions shift with the direction of the wind. But each of the College's values— a free exchange of ideas, the development of critical thinking skills, diversity, and regard for our community's intellectual potential— work together to cultivate healthy open-mindedness. Gettysburgians learn, as Mott said, to challenge the viewpoints of others, and perhaps most importantly, their own.
Ask alumni who took one of his classes, and they will tell you that one of Mott's professorial super powers is the ability to make meaningful comments that caused them to think, but didn't indicate what he thought.
"I hold much respect for Prof. Mott, whose classes I attended some 45 years ago," said Hal MacLaughlin '71. "He was polite, courteous, and civil, and always demonstrated the important characteristic of listening to all points of view, never denigrating students or their opinions."
Mott takes pride in having advised student groups ranging in a spectrum from the College Democrats to the College Republicans and Young Americans for Freedom. As a constitutional law expert, Mott has always been well-practiced in the approach of looking at issues from multiple sides.
"I used to hear students say, 'I don't know where Mott stands on this, and I'd think 'good for me!'" he said.
But Mott admitted he's worried about the future, pointing to the example of "electronification." It's a term he uses to explain how advances in technology have impacted public discourse and the ways we communicate, or don't communicate, with one another.
"We communicated by computer, and then we moved to cell phones and that has a kind of atomizing effect," said Mott. "We become isolated. I think there is some danger lurking—our thinking and our knowledge become a mile wide and an inch deep. There's a tendency to move away from, 'let's go to the library and read some of the great books' to a tendency to say 'let's go to Wikipedia, and that will be the end of our search.'
"You miss the deep dive. So, you get to an issue like Robert Spencer. How deeply are we thinking about this? The tendency can be to say, 'Oh, I know what his message is and I hate it and I'll protest.' But how about going a little deeper? Let's say there is the principle of freedom of speech. That's one thing, that's just one dimension."
According to Mott, the type of critical thinking and open-mindedness that Gettysburg cultivates allows alums to engage the important questions of our time by asking the important questions.
"A liberal arts education takes a step back from everyday life and raises the fundamental questions: why are we here, what are we doing, what is our purpose, how does life function in the most basic sense. The great questions, in other words.
"So, when, for example, in [the world of] political science where I live, there's a temptation to deal with the everyday sort of politics—what did Trump say today?—but to do that is so surface level that it will become irrelevant tomorrow morning," Mott said.
"In a liberal arts setting, you should be asking questions and thinking about issues that are more or less everlasting. Then you can say—having focused on those 'great issues'—'OK, what did they say on the news this morning, and how does that fit in the larger scheme of things?'"
Fleet developed his initial relationship with Mott through his first-year seminar in 1998. With Mott's encouragement, Fleet ran for office while a student and, at the age of 18, was elected to Gettysburg Borough Council. Today, he is a staff director at the House of Representatives, overseeing the operations of Congress, including an over $3 billion budget and responsibilities for the Smithsonian Institution, human resources, finance, security, and the Capitol building. It's a position he also achieved when he was young, at 27.
Fleet said what he learned at Gettysburg prepared him well for staying nimble and open-minded in what he describes as the "bubble" of Washington, D.C.
"D.C. is an echo chamber. You can easily fall into the trap of talking to the same people about the same things and never seeking out a different opinion or challenging someone's assumptions," he says.
"Gettysburg teaches students to expand the universe of people from which they learn. There was no good reason I got the job I have at my age. I think it was because I was equipped with the skills I have—my professors taught me what I know and also to be aware of what I don't know. I spent most of my career managing people substantially older than I am. I have succeeded in that because I am willing to do the hard work of hearing them out, respecting their experience and knowledge, and learning from them."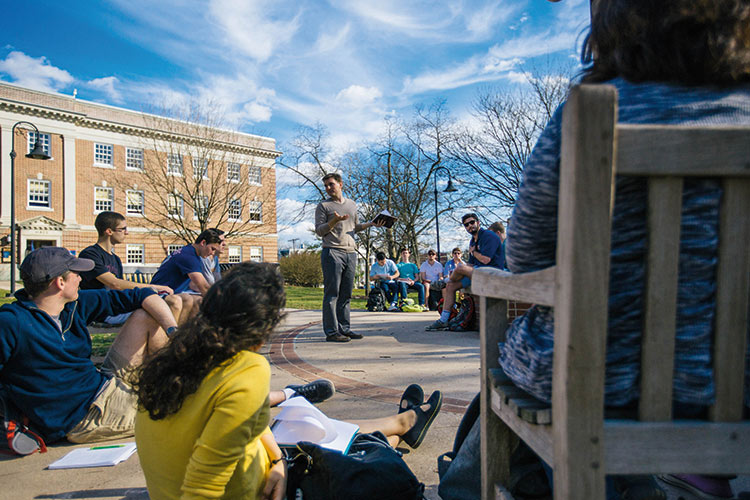 Donna Schaper '69, a minister and published author who, over the years, has also been involved as an advocate for women's and civil rights, said her academic and cocurricular experiences at Gettysburg similarly shaped who she is today. "While playing basketball, I understood what it means to be a woman, both a strong one and a beleaguered one," she said. "My professors took my youth seriously and allowed me to question them while they questioned me. I learned to think. I learned to learn. As an English major, these gifts were almost as important to me as my immersion in Emily Dickinson and William Shakespeare."
Learning how to learn and how to think, and not what to think, is what allowed Gaye DeCesare '84 down the path she was determined to resist.
"I was a music performance major. I hated when Prof. [Robert] Zellner would joke that 'music ed majors get jobs in music and performance majors get jobs at banks,' but I ended up working in credit unions," she said. "My summer job became a career, then became my passion. My time at Gettysburg prepared me to think critically and outside the box. I specialized in financial regulatory compliance, but I still play and sing when time permits."
The philosophy of education is a focus of Prof. Daniel DeNicola's research. Over the years, he has examined the importance of critical thinking through the exploration of the topic of ignorance, which he said is trending. Despite advances in knowledge, he asks the paradoxical question in genuine pursuit of an answer: "How can the unknown become known and still be unknown?"
Asking questions like these in courses such as his senior seminar, Ignorance and Forbidden Knowledge, prepares minds to question. DeNicola said a liberal arts education "has a rhythm like the process of clarification: it introduces you to new possibilities, explores alternative approaches, and enlarges your imagination." This is important not only to staying nimble in a career, but also in staying open to new ways of thinking.
"It challenges your committed beliefs—and encourages that openness," continued DeNicola.
His advice to alumni for keeping open-mindedness fresh?
"We hope our students graduate with a love of learning that is a lifelong commitment. But feeding that curiosity during the years of finding a job, building a career, starting a family—it's difficult," he said. "I think the methods are simple, but following them is tough: read widely, try new things, learn new skills, travel for a purpose (history, genealogy, culture, language), converse with people who are different from you, attend cultural events and lectures, etc. Do not build an information cocoon in which you only encounter what reinforces your beliefs. Think about your mind as your greatest long-term asset."