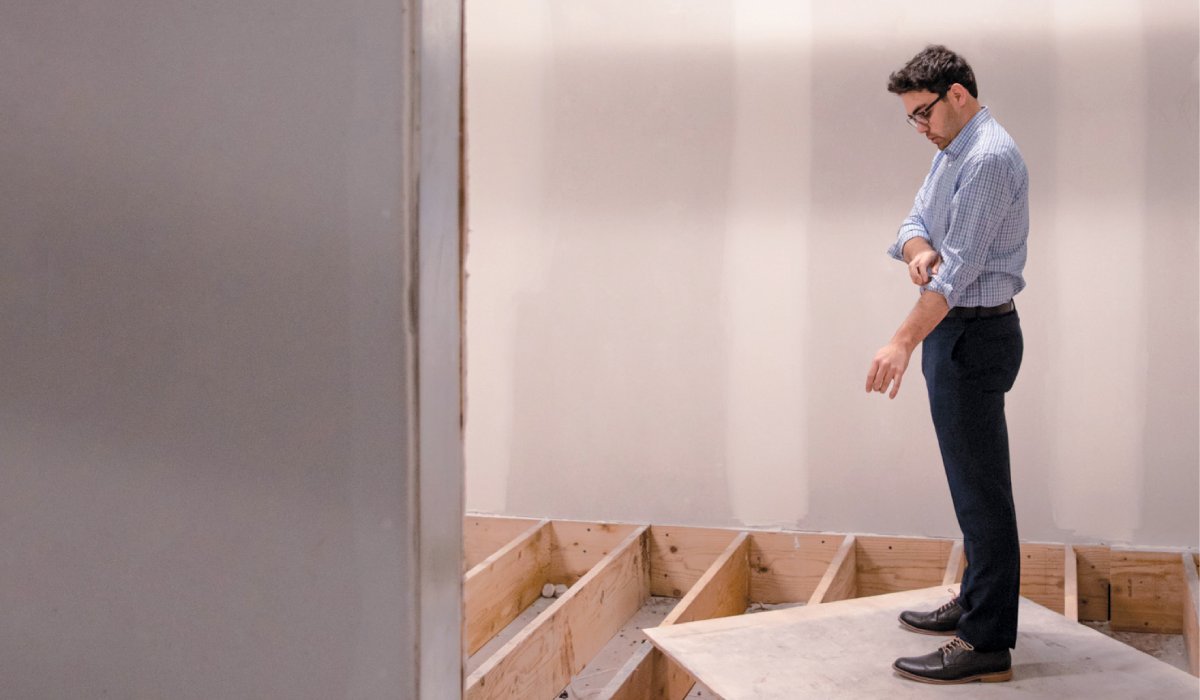 Andrew Dalton '19 grew up in Gettysburg walking the terrain, battlefield, and cemeteries teeming with historical tales. He also grew up around storytellers. His father was a journalist intrigued by unearthed accounts, while his grandfather was a farmer-carpenter who crafted and protected tales through his handiwork. Both instilled in Dalton their work ethic and a love for the power of storytelling.
"They helped me understand that good history is storytelling," said Dalton.
Since he was young, Dalton has been enraptured by the Adams County Historical Society's collection of more than a million historical artifacts. When he volunteered as a research assistant in high school—working on projects ranging from genealogy to the Battle of Gettysburg—he found his favorite artifact by accident. It was an original program from President Abraham Lincoln's Gettysburg Address.
"No one knew that it was in our collection, and only a handful are known to exist," he said.
Today, Dalton is the Society's 25-year-old executive director and the force behind the $10.5 million capital campaign to build a new home for the nonprofit organization. He never imagined that he'd become the youngest executive director in its 80-plus year history.
"I'm so lucky. I love this place, the people, and the mission," said Dalton, who was appointed to the role in 2019. "If I'd never gone to Gettysburg, I'd never have had my internship at the Society, which turned into a job, which turned into becoming the executive director, which has allowed me to work on a project I've dreamed about for years."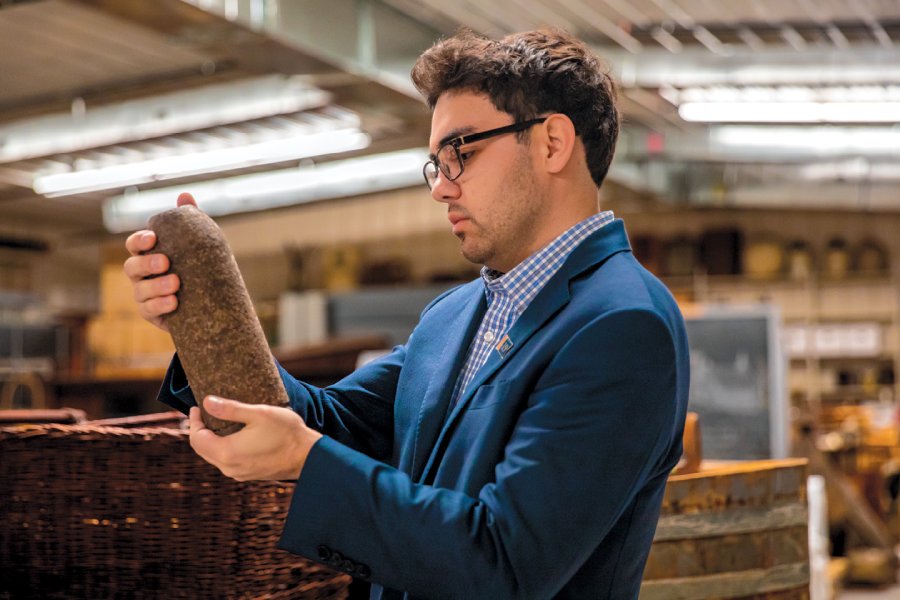 While Dalton may have been surprised by his success, History Prof. Michael J. Birkner '72, P'10, his mentor and a former journalist, was not.
"Andrew combines a deep love of history—especially Adams County history—with a passion for sharing the county's richly textured storyline," Birkner said. "His vision for the future of the Adams County Historical Society and remarkable success in raising money to make this vision real exemplifies what makes him an outstanding public historian."
College Connections
The Gettysburg battlefield—and Gettysburg College—has long been Dalton's backyard. His mother, retired Political Science Prof. Kathleen Iannello, often brought him to campus, exposing him to the College's and town's rich history. His grandfather also worked part time as a clerk of the works, many times preserving the College's history by overseeing construction and renovation projects on campus.
"This is a very special place," Dalton said. "I owe everything to my family and this community, both of which are intertwined with Gettysburg College—and will be forever."
At age 16, when Dalton published his book "Beyond the Run: The Emanuel Harmon Farm at Gettysburg," The Frederick News-Post disclosed the young author's college aspirations: "He even hopes to go to Gettysburg College, so he doesn't have to leave his battlefield and his research."
That dream came true in 2015, when he enrolled at Gettysburg to pursue a career in historical storytelling—inspired by his familial ties, the professors he met along the way, and the late History Prof. Charles H. Glatfelter '46, who was the first executive director of the Society and author of "A Salutary Influence: Gettysburg College, 1832-1985."
A history and political science double major and president of the College Democrats, Dalton honed many of his research and leadership skills at Gettysburg. As a 2016 grant recipient from the Andrew W. Mellon Foundation, he documented the history of campus buildings under Birkner's guidance, creating an interactive campus map dating back to the construction of Pennsylvania Hall in 1836.
Interdisciplinary Studies Prof. Ian Isherwood '00, Anthropology and Classics Prof. Benjamin Luley, and Civil War Institute Associate Director Jill Ogline Titus were also instrumental in helping him develop a foundation in historical scholarship and research, and later lent their expertise as Dalton spearheaded the Society's new venture.
Three Gettysburg students—Gus Brouillard '22, Autumn Menzock '23, and Alexander Remington '23—even helped brainstorm the museum's design and exhibits when they were interns. Brouillard secured several donations for the campaign, Menzock cataloged artifacts, and Remington was later hired as the collections manager for the Society.
"I admire Andrew for his undying passion for history and preservation and his seemingly endless energy," said Remington. "He has accomplished a staggering feat."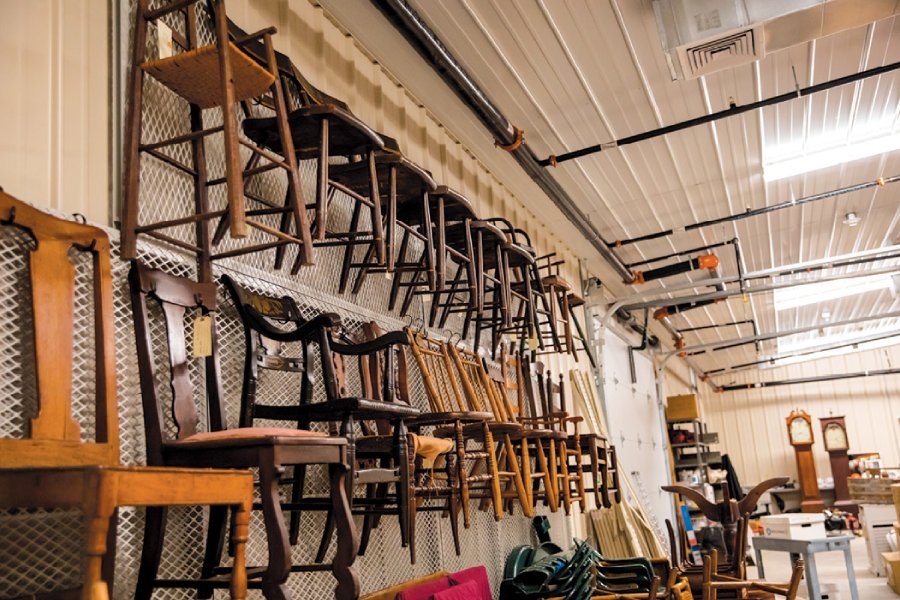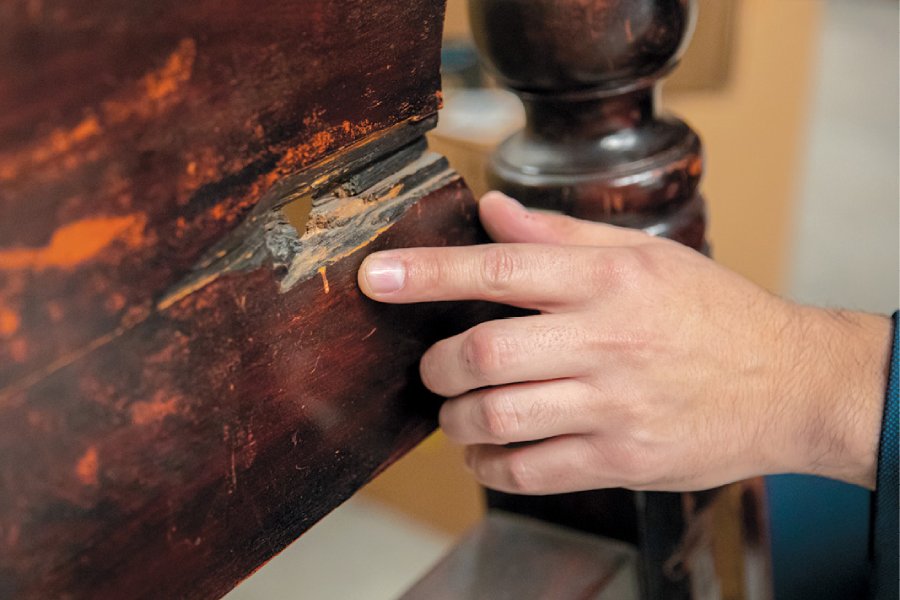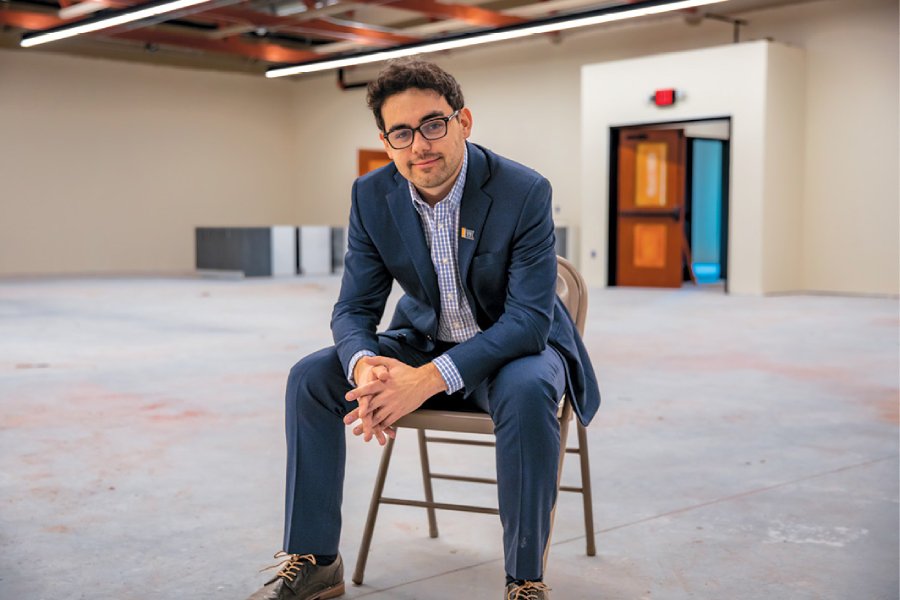 Protecting History
Driven by the siren's call of untold stories, in 2019, Dalton launched the Lincoln Cemetery Community Database, a digital platform that documents the lives of the hundreds of Black men, women, and children buried at Lincoln Cemetery in the 19th and early 20th centuries, including 30 members of the U.S. Colored Troops who were denied burial in the Gettysburg National Cemetery due to segregation. Prior to this database, little to no information existed about many of these unmarked burials.
A year later, the fear of losing more priceless history sparked Dalton to give the Society a new home—and a new museum. The Victorian house on Springs Avenue housed a collection of irreplaceable artifacts that were in dire need of a climate-controlled and fireproof environment.
"We are Gettysburg and Adams County. We have one of the most remarkable stories of any place in this country," Dalton said. "It's imperative that we preserve this history."
To date, Dalton and his team, with the support of generous donor-alums including David W. '85 and Cynthia LeCompte '84 Salisbury P'15, David LeVan '68, and others, have raised more than $11 million—exceeding the initial goal—to build a 29,000-square-foot complex just north of the Gettysburg College campus.
"His enthusiasm is simultaneously inspiring and contagious, resonating well with donors and contractors alike," the Salisburys said. "It's even more magical to have a Gettysburg native, recent Gettysburg College graduate, local history buff, and author come together in one package to pull off a project only a hometown hero could."
The new building houses a research library where visitors can access Gettysburg's rarest holdings, including hundreds of civilian accounts from the Battle of Gettysburg and Lincoln's Gettysburg Address. It also features the new Gettysburg Beyond the Battle Museum, an education center, and an event space overlooking the battlefield.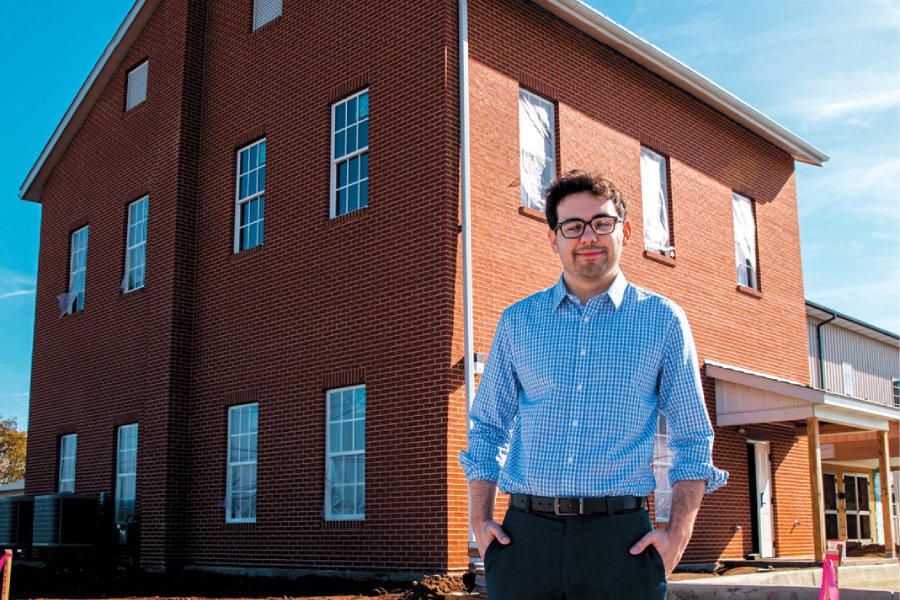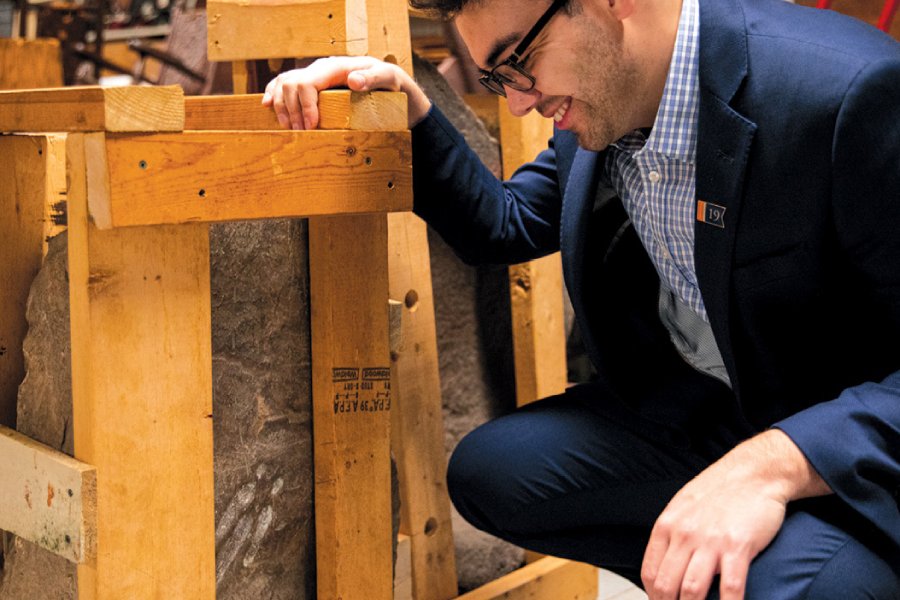 "History is so much more than just names and dates on a page, and our job is to make history come alive," said Dalton. "The new museum will allow people to connect with history in a more palpable way."
The museum will feature 12 galleries of immersive exhibits that explore more than three centuries of American history in Gettysburg. Visitors can walk through the prehistoric era—with some of the rarest artifacts on display for the first time, including dinosaur footprints and a meteorite—and travel through time up to the Eisenhower years, exploring the founding of Gettysburg, the Underground Railroad, and the Civil War.
The main exhibit, Caught in the Crossfire, invites visitors to step inside a recreated Civil War-era home. Through sight, sound, and special effects, in collaboration with world-renowned historical novelist Jeff Shaara and a North Carolina media company, they can follow the harrowing ordeal of Gettysburg's civilians, specifically one family who huddled in their cellar as bullets penetrated their walls.
"There is really nothing like this exhibit anywhere else," said Dalton. "I think museums often soften the reality of how brutal this was for ordinary people. … Until now, there's never been a venue to tell the story of how this community witnessed some of the most unprecedented events in American history. It's the human-interest side of Gettysburg, and we're excited to fill an important void in the historical landscape."
In 2020, award-winning documentarian Ken Burns also got wind of the capital campaign through filmmaker and Gettysburg native Jake Boritt, the son of Gabor Boritt, founder and emeritus director of the Civil War Institute. Burns, who has won 16 Emmy Awards and earned two Oscar nominations for his acclaimed historical documentaries, filmed an impassioned video in support of the campaign and then offered Gettysburg College its first-ever film festival dedicated solely to his work at the Majestic Theater. "Who Are We? A Festival Celebrating the Films of Ken Burns," which took place Feb. 10-12, 2023, allowed Gettysburg students and the public to personally engage with Burns, his collaborators, and historians. Dalton was thrilled that Burns also stopped by for a private tour of the new museum.
"Preserving and sharing history needs to be a collaborative effort," Dalton said. "I'm inspired by Ken Burns' ability to connect with a broad audience using dramatic and emotional storytelling. This is the gold standard for how to do history.
"If anyone had told my 10-year-old self that one day I'd be working with people like Ken Burns and Jeff Shaara, I would've been ecstatic," he continued. "My grandfather recently passed away at 94. He was so excited to watch the construction of our new history center. While he didn't live to see it open, his presence drives me to continue to Do Great Work for this community."
The new Adams County Historical Society and its Gettysburg Beyond the Battle Museum will open in April 2023. Admission is free to all current Gettysburg College students. Visit www.achs-pa.org to learn more.
by Katelyn Silva
Posted: 02/20/23