As a student at Gettysburg College, you gain access to internships and other experiential learning opportunities that help you make intellectual and professional connections.
A perfect example: Abigail Major '19 interned at the National Aeronautics and Space Administration (NASA) as a result of following her natural curiosity and using connections she made through The Gettysburg Network.
Major became seriously interested in Gettysburg College during her junior year of high school, when she attended a Gettysburg College summer camp offered by The Eisenhower Institute. She visited campus several times after that experience, including a day visit where she attended classes. Major found the campus genuine and welcoming, and applied early decision.
"The community is driven and motivated, and when you see that it's contagious," said Major.
She jumped into campus life, working with the Civil War Institute and the Eisenhower Institute. Through the latter, she had the opportunity to visit Washington D.C., where she met Brandon Tower '14, who worked as a legislative affairs specialist for NASA.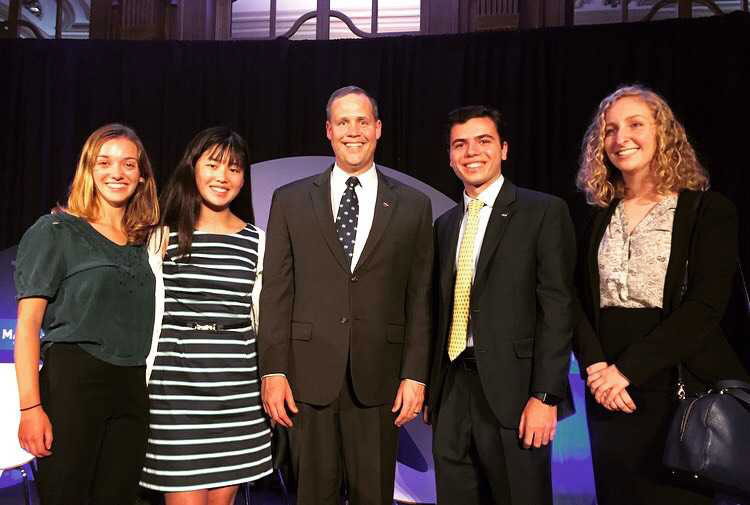 "I always thought if you worked at NASA you had to major in science or math. Meeting Tower made me realize there were other positions available that could use my skillset," said Major, a Classics and history double major with a minor in environmental studies. "The Eisenhower Institute provided me with the opportunity to connect and network with others."
Major kept in touch with Tower over the years, and when she found out about the summer internship available at NASA, she reached back out for some words of encouragement.
He obliged—staying connected to the College is important to Tower, who got his start at NASA when he interned in the department of another Gettysburg alum, Seth Statler '83.
"I wouldn't be where I am today without tremendous support from former Gettysburg grads. That first step in your career after leaving undergrad, regardless of occupation, is a tough one," said Tower. "Just as someone took a chance on me and gave me an opportunity that started my career, I think it's critical to do the same for current students or younger grads in a similar situation."
Major applied and received the internship (in the astrophysics division—a different department than where Tower works), using writing samples from some of her environmental studies classes.
"My job was to communicate to the public about science through press releases, social media posts, blog posts, and more," said Major.
Although it was initially challenging to learn how to simplify complex topics for different audiences, Major persevered and found she had transferable skills from studying history and environmental studies.
"After this summer, I realized that history majors can do anything. You always hear you have transferable skills, but then to actually apply it to something unrelated and have it work out well is a great feeling," she said.
Learn more about the Gettysburg Network and opportunities available to current students through our Center for Career Engagement.
---
Originally posted on the Gettysburg College website
Article by Shawna Sherrell
Contact: Carina Sitkus, director of communications and content strategy, 717.337.6803