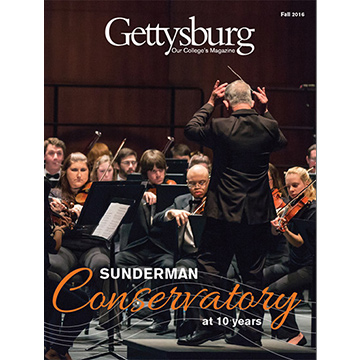 What's wrong with this picture?
Nothing on the cover version but it was flipped inside the issue. Thanks go to Jane Sherman Anello '73 and other readers who noticed our not-so-ambidextrous orchestra. And Geoffrey Thulin '82 pointed out that the photo on our first two pages was, indeed, a view from the College toward the Lutheran Theological Seminary.
The Sunderman Conservatory of Music story prompted James Krum '56 to ask: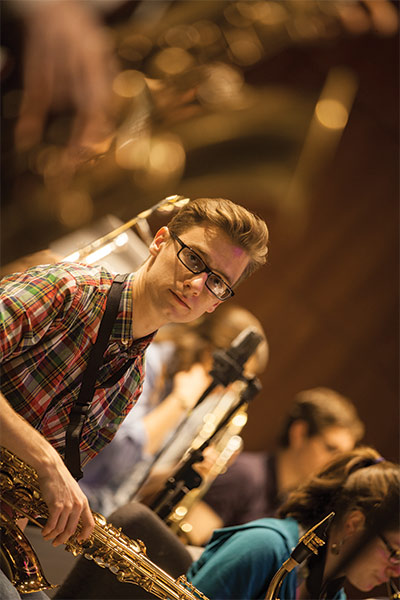 How many students take courses? One out of every seven students on campus is involved with the Conservatory. On average, more than 900 students are enrolled in Conservatory classes each semester.
Is there a major and/or a minor? There is a minor and three degree programs: Bachelor of Arts in Music, Bachelor of Music in Performance, and Bachelor of Music Education. At least half of the Bachelor of Arts in Music students pursue double majors in disciplines across the sciences, humanities, or social sciences.
How has it changed the cultural life of the college? There are videos and student profiles online that speak volumes to that question. Or take in performances throughout the year—many are also streamed online, in real time.
On social media
College faculty are on Facebook Live. Executive Director of Alumni Relations Joe Lynch '85 has held lunchtime chats with Profs. Ken Mott, Shirley Anne Warshaw, Caroline Hartzell, and Dan DeNicola. Viewers can post questions during the live session. We're trying to determine the best timing for these, as well as topics, so let us know your thoughts.
Drop the Octave's impromptu lunchtime performance in the library on Facebook Live attracted an impressive 330 viewers.
Follow the Gettysburg College Athletics page on Facebook for season and game previews and postgame interviews with G-burg coaches and student athletes, some Live, some on video.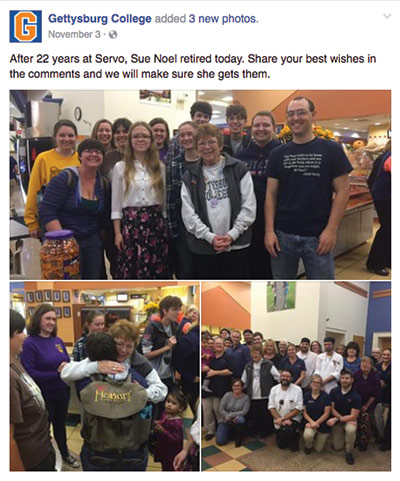 After 22 years with Servo, Sue Noel retired in November. You'll likely remember her swiping your dining card and will enjoy reading the good wishes on Facebook. Allison Erkskine '12 posted: "thank you for smiling at me every morning; for learning my name; for being the best gatekeeper Servo ever had....You were a welcome sight any day at Gettysburg and I wish you all the best in retirement."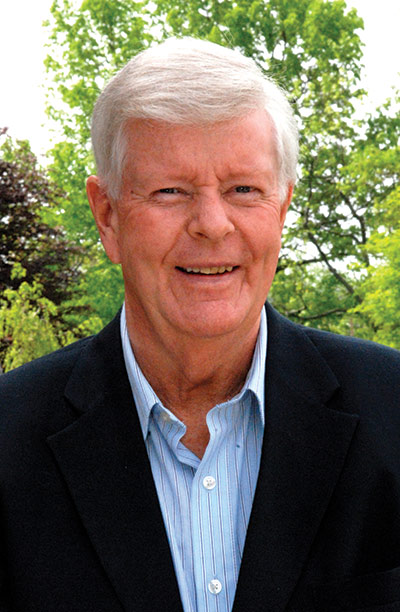 And Prof. Ken Mott P'07 retired, after 50 years of teaching at the College. Dozens of comments on Facebook mentioned his Constitutional Law course and the stirrings of acquired love for political science.
Carey Brown Kerney '91 wrote, "Dr. Mott, wow— I can't imagine the number of students whom you transformed over 50 years."
Back in August, residents of third floor Huber 1972 came to campus for a reunion weekend. Photos of their visit were published as a Photo of the Day, on Instagram, and on Facebook. They also produced their own video.
Reflections on Gettysburg College is a Facebook destination "where Gettysburg College alumni can 'awaken fond memory' by sharing reflections and photos from their days on campus."
And in the news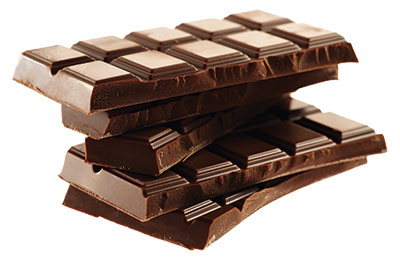 Eating chocolate increases positive mood and the positive effects are heightened when the chocolate is eaten in a state of mindfulness, Prof. Brian Meier reported in confectionarynews.com, The Daily Mail, and Fox News.
WHYY in Philadelphia conducted a Q&A on the complexity of staging debates with Prof. Allen Guelzo, director of Civil War Era Studies and Henry R. Luce Professor of the Civil War Era. Guelzo is the author of Lincoln and Douglass: The Debates that Defined America. Guelzo was also coauthor of "In Defense of the Electoral College," which appeared in The Washington Post.
A piece by history Prof. Michael Birkner '71, P'10, Benjamin Franklin Professor of Liberal Arts, "Echoes of '64 campaign in Toomey-McGinty race" appeared on The Philadelphia Inquirer's philly.com website. Birkner was also quoted in "Pearl Harbor moves from memory to history," by David M. Shribman, executive editor of the Pittsburgh Post-Gazette.
Political science Prof. Shirley Anne Warshaw, Harold G. Evans Chair of Eisenhower Leadership Studies, provided expert commentary to Voice of America and The Globe and Mail for election-related coverage.
"Time for Change: The EU Must Embrace Less Union to Save Itself," by David Wemer '14, appeared in The World Post. Wemer is The Eisenhower Institute's Washington, D.C. program coordinator.
The Wall Street Journal published "Aboard the USS Arizona—Dec. 7, 1941," a commentary by English Prof. Robert Garnett. "Moving," said U.S. Senator John McCain (R- AZ), who retweeted the piece to his 2.7 million followers.
Another opinion piece by Garnett, on writing, appeared on The Philadelphia Inquirer's philly. com website.
Calls to action
Jeanne Scott Robinson '57 is seeking stories and photos for a biography of 1909 grad and chemistry Prof. John Zinn. Contact her at jeanne@ theoldbank.net, 443-415-3938, or 7511 Briargrove Lane, Glen Burnie, MD 21060.
Do the liberal arts matter?
Some say that the liberal arts are under attack. Others say that education in the liberal arts and sciences has taken on fresh urgency in a complex world. What do you say? Did your Gettysburg College education matter? Would you do it again? How has your Gettysburg College education influenced your personal, professional, and/or civic life? We'd like to hear from you for an upcoming story via the alumnimagazine@gettysburg.edu email address.