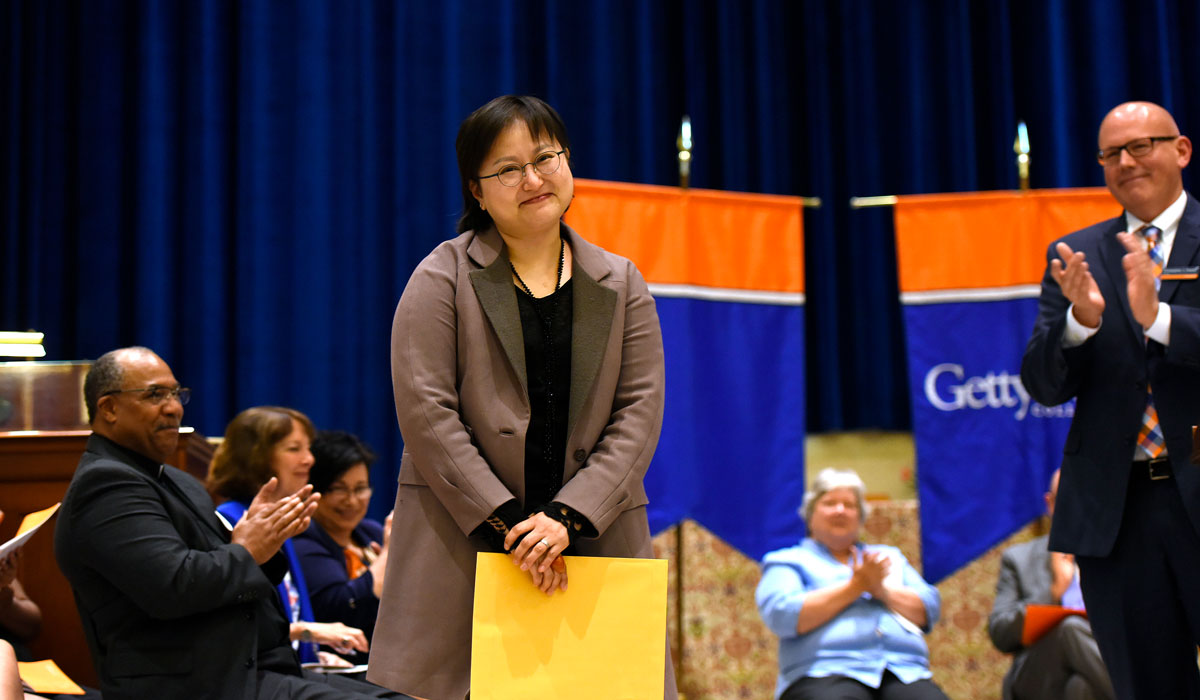 Plato once observed, "Music gives a soul to the universe, wings to the mind, flight to the imagination, and life to everything." Prof. Yeon-Su Kim likewise brought life to the Sunderman Conservatory of Music, and to all of Gettysburg College, through an unwavering commitment to her craft and a passion for transforming her students into vibrant and inspiring musicians.
In the letter below, Provost Christopher Zappe informed our campus community of Prof. Kim's peaceful passing and expressed our profound sympathy to her family and friends. Together, may we forever honor Prof. Kim's memory, and build upon her remarkable legacy at Gettysburg College, by the music we create and the moments we share.
---
Provost Zappe's Letter to Campus
November 4, 2019
Dear members of the Gettysburg College community,
With great sadness I am writing to inform you that Yeon-Su Kim, Associate Professor in the Sunderman Conservatory of Music, passed away peacefully this past weekend after an extended illness. Yeon-Su was surrounded by her loving family, including her husband Eduardo Leandro, in a hospital outside Seoul, South Korea, at the time of her passing.
As the first violinist of the Cosmos Quartet, Yeon-Su delivered performances in Germany, Austria, and England, and worked in residencies under the Amadeus Quartet and the Tokyo Quartet. Her teachers included David Takeno, Syoko Aki, Simon Fischer, and Yuri Mazurkevich. She was the recipient of numerous awards such as prizes at the Semmering Competition and the Leverhulme Fellowship at the Royal Academy of Music in England. As a recitalist and chamber musician, she performed and taught in festivals in Austria, Brazil, England, Germany, Italy, Korea, and the United States. She has given performances on the BBC Radio and the German National Radio.
Above all, Yeon-Su was an inspiring and dedicated teacher who was committed to her students and generous with her time. In 2016, Yeon-Su's outstanding teaching was recognized by her peers through the Luther W. and Bernice L. Thompson Distinguished Teaching Award.
According to one of her colleagues, Yeon-Su was the type of colleague with whom one could have highly engaging, wide-ranging discussions about music and life. Moreover, she has been described as an insightful musician whose depth of understanding was informed by a long acquaintance with art. Yeon-Su worked for the excellence of the Sunderman Conservatory without drawing attention to herself. She will always be remembered as a very kind and talented person.
Members of the Sunderman Conservatory are planning a celebration of Yeon-Su's life, the details of which will be shared on a future date. For now, we wish to extend our profound sympathy to Eduardo as well as Yeon-Su's family, friends, colleagues, and students.
Sincerely,
Christopher J. Zappe
Provost
Gettysburg College