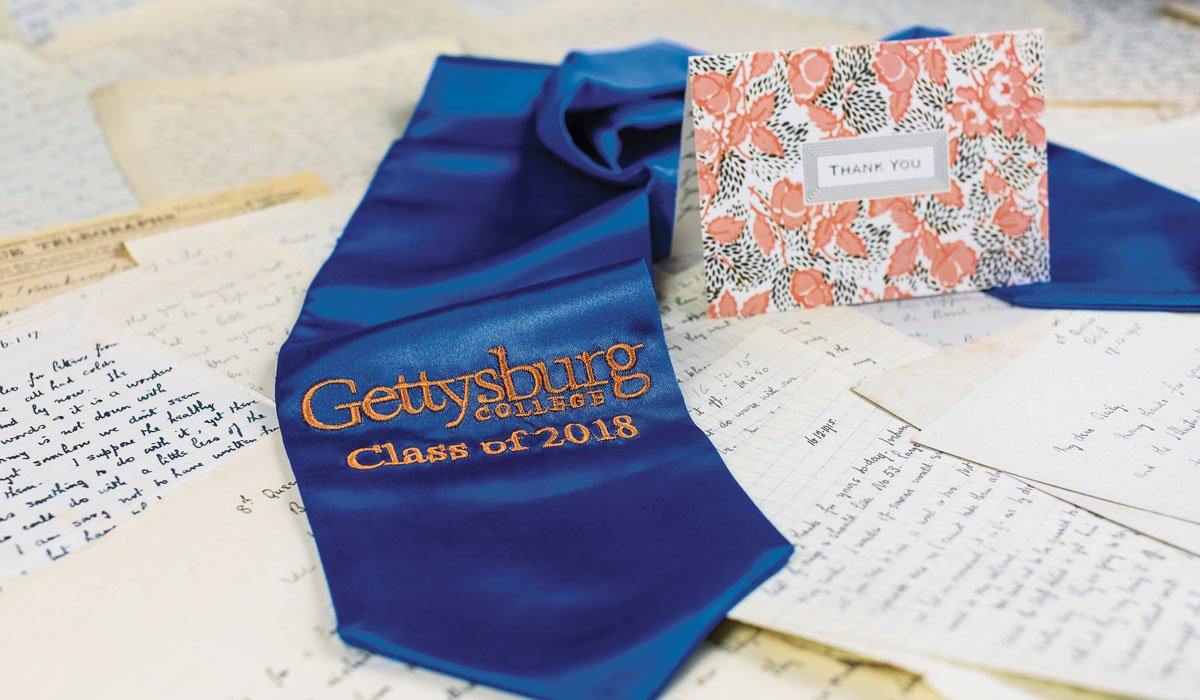 "The Stoles of Gratitude are a nice way to remember the stories of the connections that happened at Gettysburg College. These connections last a lifetime."
— Dean of Academic Advising, Anne Bucher Lane
Gratitude is not always expressed verbally. Sometimes, it comes and goes unsaid in a fleeting moment—thought, but never spoken. Gratitude can be a soft smile, a returned favor, or a thoughtful gift.
At Gettysburg College, gratitude is a tradition.
The Stoles of Gratitude tradition began in 2004 as a result of the vision of Donald W. Burden '63, P'00, who was the president of the alumni board of directors. Graduating seniors wear their Stole of Gratitude during Commencement, afterward presenting it to the person whose support was most instrumental in leading them to that day—often a loved one, a mentor, or an important professor.
Others have made the tradition their own by draping their Stole of Gratitude around two individuals, crafting it into several commemorative gifts, and even thinking beyond people to the experiences that stuck with them the most.
A Gettysburg College experience is multifaceted and made up of many defining moments and influential people. It's easy to trivialize the effect of one moment, one word, or one act of kindness on someone's life, but Stoles of Gratitude are a symbolic reminder that generosity does not go unnoticed. It gets paid forward.
Everyone has a story of gratitude—a time when someone touched one's life and changed it for the better. Seven Gettysburgians share their stories of hardship, hope, and growth.
Musselman Library's Special Collections: The Jack Peirs Collection
Presented by Meghan O'Donnell '18
"I mailed my Stole of Gratitude to Amy Lucadamo [College archivist], one of the major leaders of the digital history project for which I was a student worker. She placed it inside the Jack Peirs collection in Special Collections for safe keeping. This project preserved and brought to life the letters that Jack, a World War I soldier, wrote back to his family during the war. We released these letters online 100 years after the day that they were written. My job was to upload the letters and keep the website running, but I also had the opportunity to do a lot of my own research with the letters and write commentary on them.
In March 2018, we took a research trip to France to trace Jack's footsteps during one of the major battles. Working on this project was one of the defining projects of my undergraduate career. It's one of the experiences that I learned the most from, as I was able to work hands-on with archival material, in this case, letters and ephemera from Jack's military service. I learned the mechanics of doing historical research, which was a practical skill for me since I'm now working toward my PhD in history. On a broader scale, it taught me the value of collaborating, telling stories, and preserving memories. This experience was special enough to me that I wanted to commemorate it in some way, and giving the Jack Peirs collection my stole was a way for me to do just that."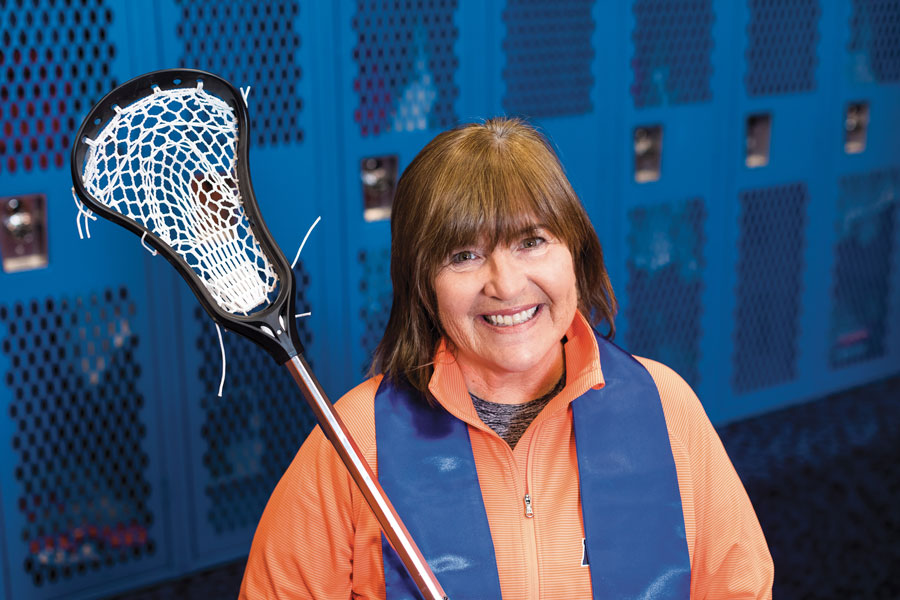 Head Women's Lacrosse Coach Carol Daly Cantele '83, P'15
Presented by Macauley Mikes '17
"During my four years on the lacrosse team, we made it into the NCAA tournament every year, but we didn't make it to the Final Four tournament until my senior year. When I was a junior, Coach [Carol Daly] Cantele '83, P'15 really began encouraging me and my teammates to reflect on ourselves individually and together, both inside and outside of lacrosse. This daily reflection brought a mental and emotional aspect of the game into play that made us look beyond the physical. We were all focusing on what we were grateful for and what we could do to make the world a better place. This mindset carried over into my senior year. You could see a clear change in momentum from the season before.
Even though we ended up losing the Conference Championship game, we still had a really good feeling about the rest of the season. That was the year we made it to the Final Four and won a National Championship. I think the success we had that season had a lot to do with how Coach brought us closer as a team. Looking back, I've realized that anyone can tell you to reflect on your life and think about what you're grateful for and what you can do for others, but Coach Cantele didn't just tell us. She showed us how and made the time for it. She always reminded us of our potential, how good we could be as people, and how great we could be as players."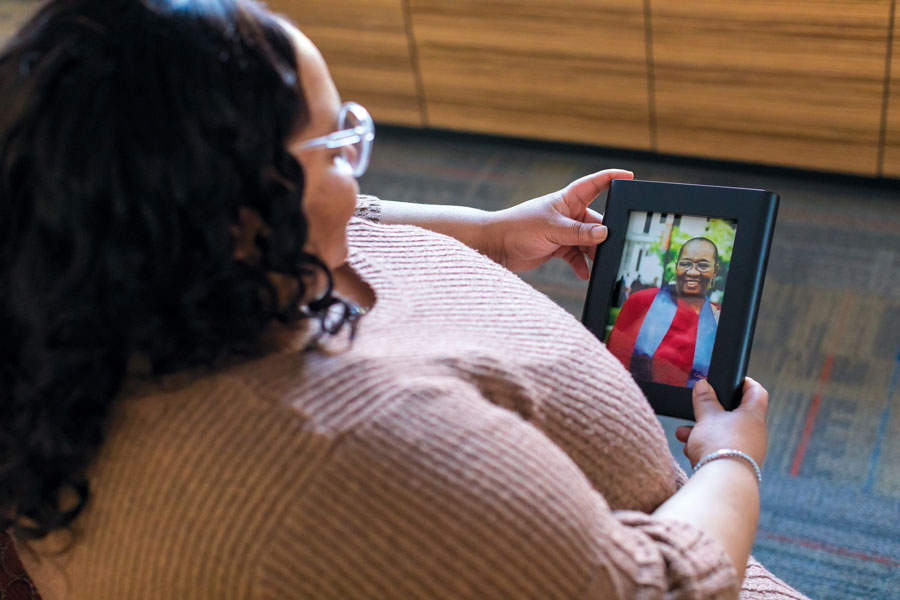 Her Grandmother, Myra C. Perry
Presented by Monique Gore '06
"My grandmother, Myra C. Perry, raised me since I was two weeks old. She didn't have the opportunity to attend school beyond the ninth grade, and because of that, education was vital to her. She wanted to make sure I received an education, and she saved $4,000 to help me pay for college. I secured a full ride to Gettysburg College, and when I did, she generously gave me that money to buy a car. It was just the kind of person she was. She always thought of others.
When it came time for my graduation, it was a huge deal to her and the family. As a first-generation college graduate, they were all excited for me. My grandmother purchased a new outfit for Commencement, a new hairpiece, and even went out of the way to have a new set of teeth made. Before the ceremony, I went to the store and bought her a fresh flower corsage and gave her my Stole of Gratitude so she could wear it as I received my diploma. The stole meant so much to her that I swear she didn't take it off for a week. She still had it on at church that Sunday. She just wanted to show everyone and share with them this great accomplishment.
In 2007, the year after I graduated, my grandmother had a stroke and was sick for many years. When she passed away in 2018, my grandfather found the Stole of Gratitude in a box of her things, and we laid her to rest with it. It meant so much to her, and it meant so much to me that I could give her something to be proud of."
Monique Gore '06 is the director of multicultural programming and outreach at Gettysburg College.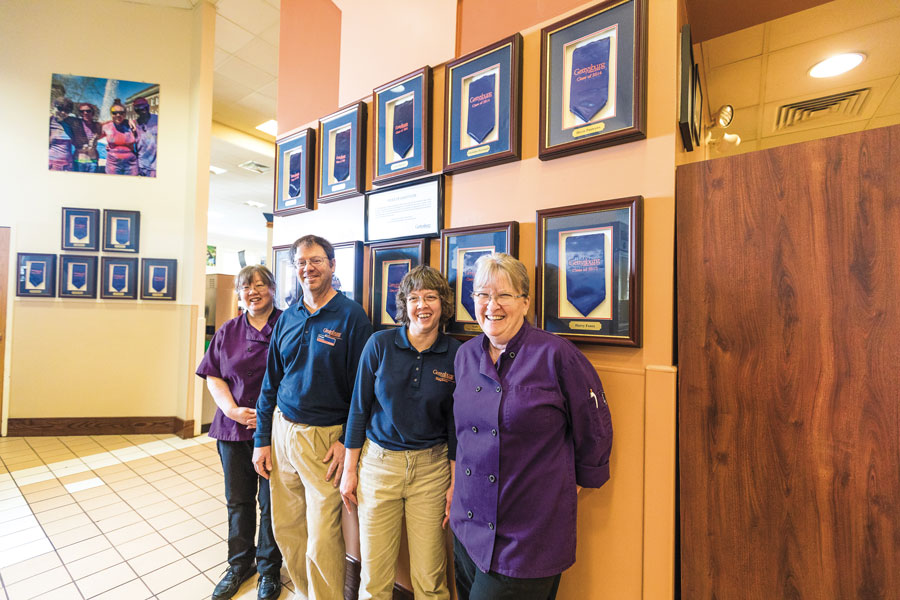 Dining Services/Servo
Presented by Scott Magers '15
"Every time I went to the dining hall, I left happy. I enjoyed starting each day off right by getting a big, fresh breakfast and then eating lunch and dinner at Servo. I also liked to eat some meals at the Bullet Hole (like chicken finger Fridays).
Overall, Servo was a hub of memories for me. I always looked forward to Servo Thanksgiving, where I could enjoy a sit-down meal with my friends, pass food around, and be grateful for each other and the food we were eating. But beyond it being a place to eat my meals, when I would study for finals or tests, Servo was my go-to place. I would hunker down at a booth near a plug, charge my laptop, and study with plenty of food and drink to keep me going. I truly think I wouldn't have experienced the success I had at Gettysburg College, or had my happy, positive college experience, if it hadn't been for all the memories, studying, and nutritional support given to me at Servo."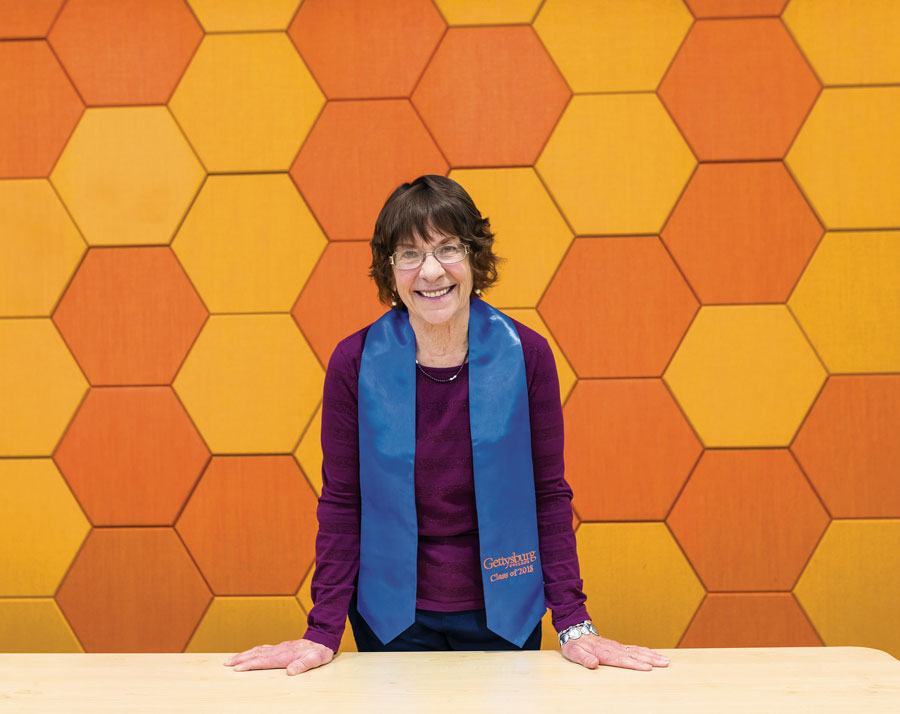 Dean of Academic Advising Anne Bucher Lane
Presented by Christian Awe '18
"Much of the guidance I received from Dean [Anne Bucher] Lane wasn't even directly related to academics. She was constantly going out of her way to help me. During my junior year, my dad had a stroke. That day, I boarded a train back to Rhode Island, where he was in the hospital. Dean Lane came to my dorm when my mom called her. I was obviously very scared, but she made sure I was OK, and called to make sure I made it home. I returned to school almost two weeks later, and then my dad's health turned worse. I needed to get on a train and come back home.
Dean Lane drove me to the train station. She was a shoulder for me to lean on as I was going through this life-changing experience. My dad passed away that week, and I ended up being away from school for around three weeks. I knew it was going to be a crazy, difficult time to get caught up, but I needed to go back. After going through the most difficult moment in my life, Dean Lane, with her guidance and communication with my professors, helped me put things back into place, continue to succeed in my courses, and graduate on time. Giving her my Stole of Gratitude was certainly insignificant compared to what she did for me. I wouldn't have been able to get through it without her. But, I hope that when she looks at the stole, she realizes just how influential she was for me during my time at Gettysburg."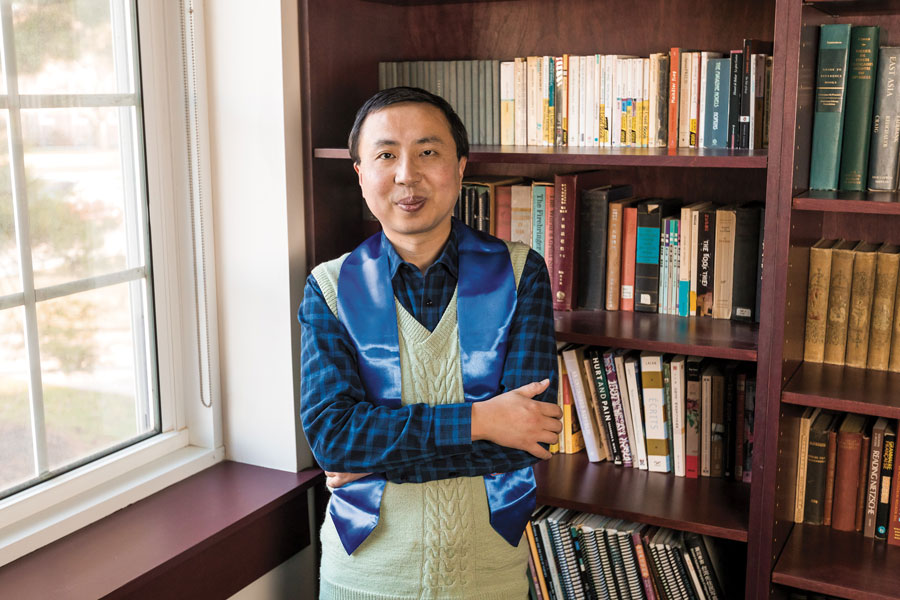 East Asian Studies Prof. Junjie Luo
Presented by Lucas Gaylor '17
"I studied abroad in Beijing my sophomore year, during which I earned a full year of language course credit. The semester I returned, I had already earned credit for the Chinese language courses being offered, so I wasn't enrolled in any. Curious as to why I wasn't taking any language courses, Prof. [Junjie] Luo reached out to me, and after hearing my reasoning, he graciously offered to run a course just for me that we tailored to my individual language needs and goals. Meeting three times a week for 50 minutes at a time, he sacrificed so much of his own time to benefit my language learning and career goals. That showed me how much he cared not just for my language acquisition, but also my future beyond Gettysburg.
This one moment in particular truly exemplifies who he is, not just as an educator, but as a person: we had one of my one-on-one sessions scheduled for a Wednesday afternoon. I received an email from him the night before around 11 p.m. The gist of it was, 'I may not be able to make our class tomorrow. My wife just went into labor and I'm not sure if I'll be back on campus by that time.' The fact he was still thinking about when he'd get back to Gettysburg for our class, even as his family had such a beautiful and exciting event, showed how much his students meant to him.
I gave Prof. Luo my Stole of Gratitude after Commencement. Since he had only been on campus for three years at the time, I was one of the first people to give him a stole. The surprised and touched look on his face when I gave it to him is an image that I will never forget."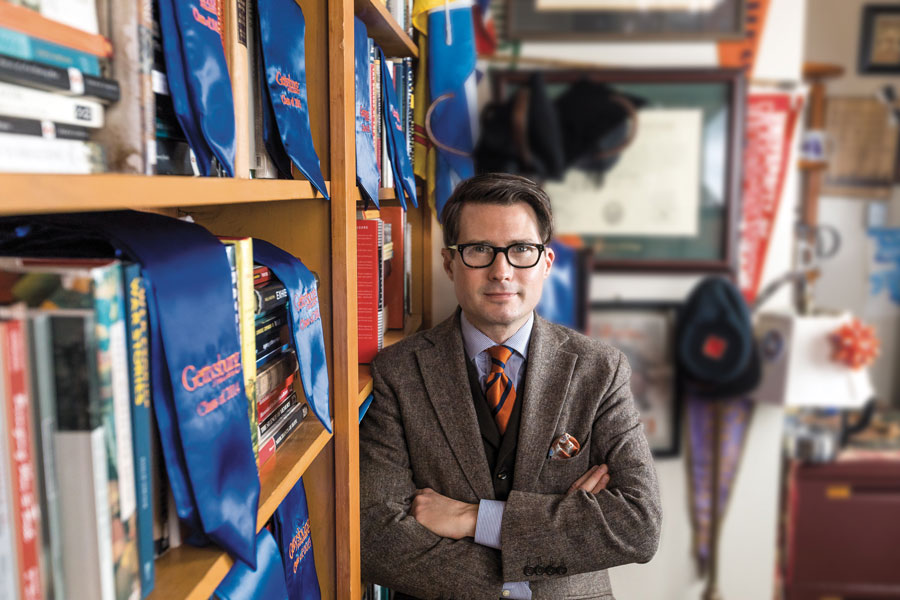 History and Interdisciplinary Studies Prof. Ian Isherwood '00
Presented by Eben "Pete" finney '11
"I took Prof. Ian Isherwood's first-year writing class. I remember that he assigned a personal reflection as a writing prompt. It was something along the lines of 'where do you want to be in 10 years?' or 'what brought you to where you are today?' It made me look in the mirror and reflect on my life. I still have that paper, and it's still a reminder of my time growing up, growing into myself, and figuring out academically what I was capable of and where I fit in the liberal arts scene.
I also took Ian's history writing course and several others. They were not directly related to my coursework—I was a French major—but I kept taking his electives every year because not only was his subject matter enthralling, but he also had a raw sense of humor that humanized him.
Giving my Stole of Gratitude to Ian meant he was the person who had the most profound influence on me, and whom I was closest to over my four years. Amid myriad 'X factors' that could make college feel disjointed at times, he did a great job of making sure that it felt cohesive for me. He helped me connect the dots and realize there's a larger purpose of the Gettysburg College liberal arts education. Finally, he opened my eyes to the opportunities and success that it prepares you for, both inside and outside of your major, as you move forward."
by Molly Foster
Photography by Shawna Sherrell
Posted: 04/09/20