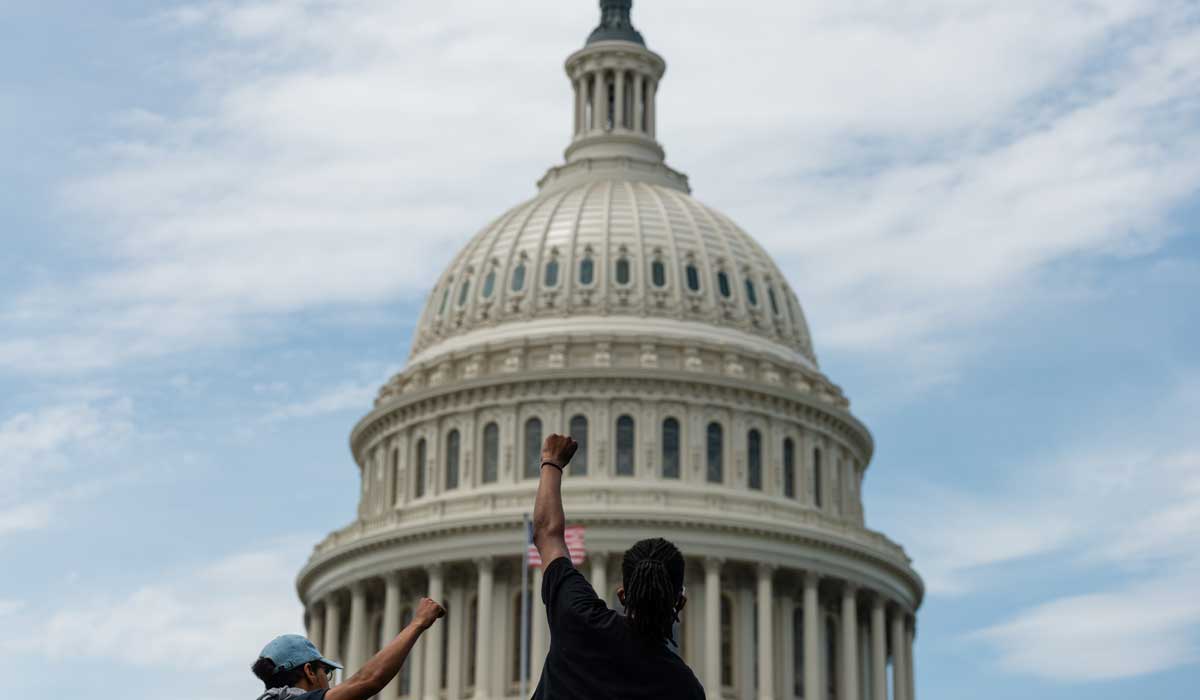 Ever since his childhood in New York, Eric Lee '15 has loved taking pictures. What began as a hobby—snapping candids or portraits of friends and family—quickly developed into a passion for capturing history as it unfolds around him.
In 2011, Lee brought that passion to Gettysburg, where he documented daily life on campus as a visual communications intern, and continued to grow as a photographer. To complete his individualized major in film studies, he originally planned to focus his senior capstone on Asian-American masculinity. For as long as he's been taking photographs, he has also been exploring his own identity as an Asian-American man, and trying to confront and combat racial prejudice. Ultimately, Lee ended up pursuing a thesis that focused on Hong Kong cinema, but the desire to dig deeper into issues of identity remained.
After graduating, Lee worked as a communications consultant, a freelance photographer, and as an intern at NPR, where he started to develop his own sense of how he wanted to approach his work as a photojournalist.
"Journalists are taught to 'Document first, ask questions later,'" says Lee, "which can lead to the 'othering' of underrepresented groups," whereby an individual or a specific group is made to appear fundamentally different from oneself. Lee sees how this "document first" approach also often affirms only the limited perspectives of certain audiences, so he strives to open up honest dialogue.
"I talk a lot with different peers in the photojournalism field about how and why we photograph different communities," Lee said. "I always try to approach subject matter carefully, and question if my work is helping to push a narrative—not a stereotype."
Since the protests broke out on May 29, Lee has worked day and night. In an effort to accurately and honestly document the events, he has walked over 150 miles across D.C., the city where he is currently based as a freelance photojournalist.
"Energies and tensions are high here," says Lee, "as people take to the streets to protest the deaths of black people in police custody, systemic racism, and injustices against people of color. The experience has been intense, and the constant coverage has taken its toll on me—physically, mentally, and emotionally."
May 29-31
After covering peaceful protests on day one, events took a turn over the following days. At the White House, law enforcement fired tear gas, paintballs, and flashbang grenades to push back people who ignited fireworks and lit fires. Military and law enforcement came to Lafayette Square, the main hub of activity for the protestors, where a chain-link fence was installed around the park and armed officers patrolled the area.

I had read reports of—and witnessed—journalists being attacked by police, and as I was photographing through the night, I was struck by a paintball and metal projectile, while also battling tear gas symptoms. As each volley came, demonstrators returned to H Street NW with their hands raised, chanting, "hands up, don't shoot." Through the smoke and flames, people wanted their voices heard.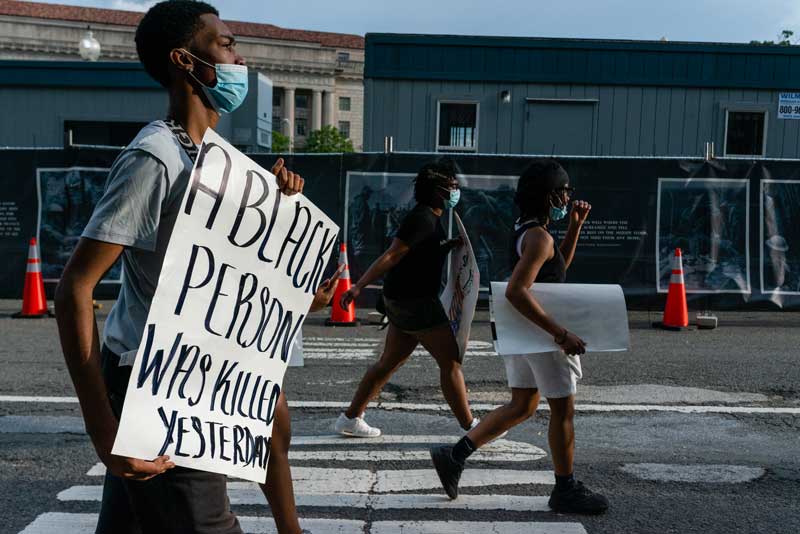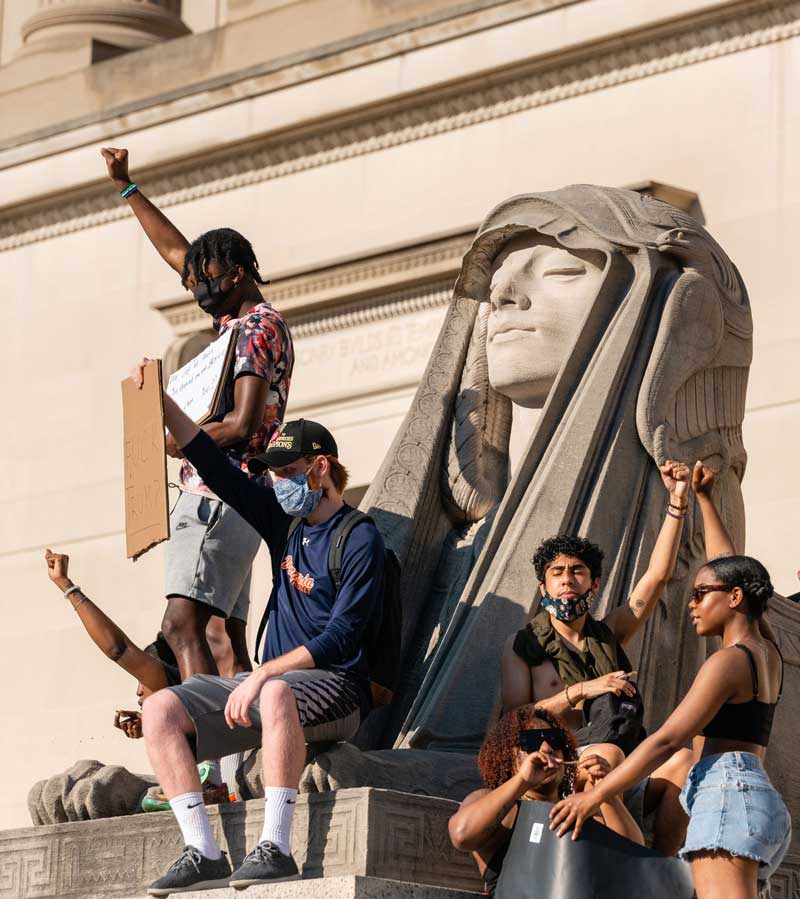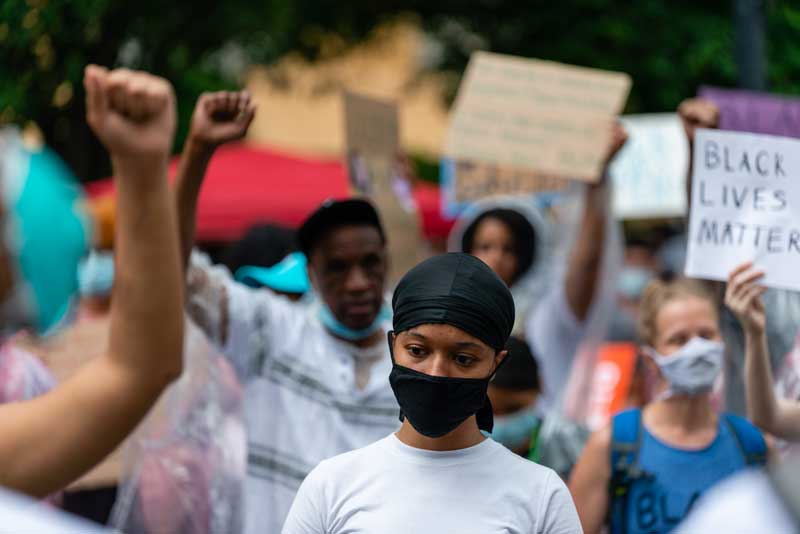 Since he began covering the protests, Lee's work has been picked up by ProPublica, The Atlantic, and New York Magazine, and his Instagram channel (@itselee) gained over 1,000 new followers in less than 2 weeks. Many are D.C. locals, but others are from around the globe. Lee is acutely aware that the world is watching, and he feels a sense of responsibility to frame the stories his photos tell within a broader context.
"None of this is happening in a vacuum," he says. "As a photojournalist, my role is to document all the events happening before me. So many media outlets are covering the looting and the police brutality. It's easy to seek out those 'action' shots that capture violence and anger, but there is so much more going on in D.C. than some may realize," says Lee. "I am trying to make sure that other, peaceful events are being shown, too."
June 1-2
Tensions continued to rise. When the president visited St. John's church on June 1, which was burned the day before, mounted police and riot officers threw flashbangs and tear gas to clear the crowd for the president's photo-op. As night fell and the police announced that curfew was approaching, I followed demonstrators through the night, photographing the chanting, the displays of camaraderie, and the moments in between.

The following night, in Chinatown, two military helicopters suddenly began flying low, sending dirt and debris everywhere. Later I learned that this is a military tactic used in combat zones to disperse crowds—nothing could have prepared me for the powerful gusts from these helicopter blades. I photographed demonstrators who banded together under the helicopter, kneeling with raised fists. Eventually the helicopter flew away, only to come back ten minutes later, down a different street, as people tried to flee from flashbang grenades.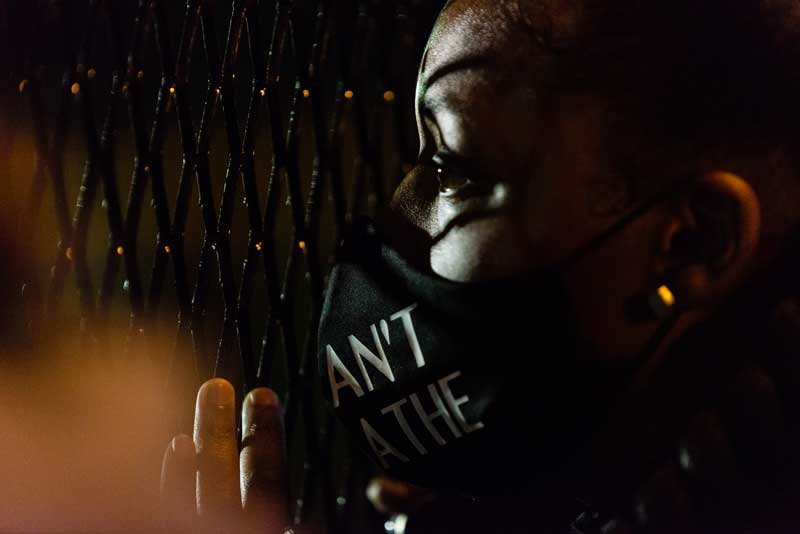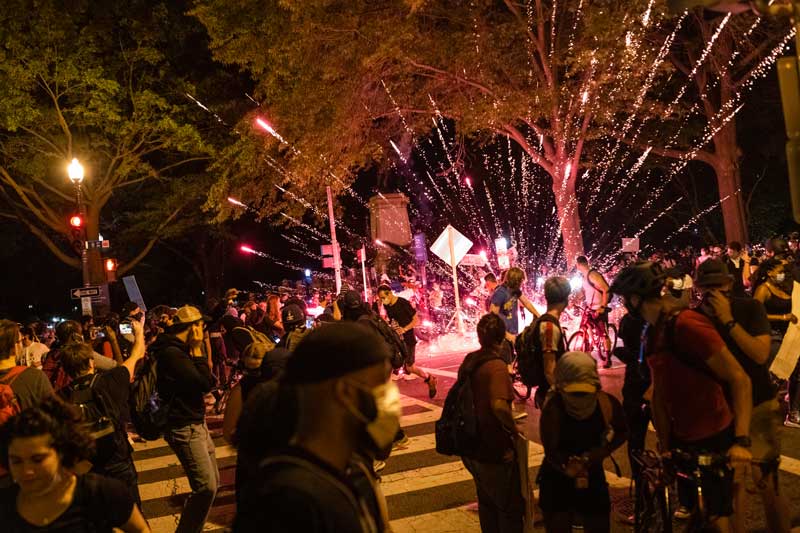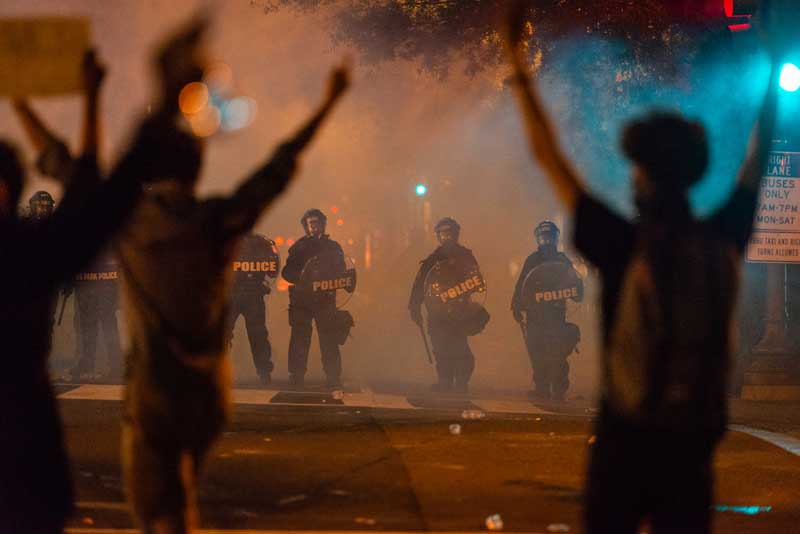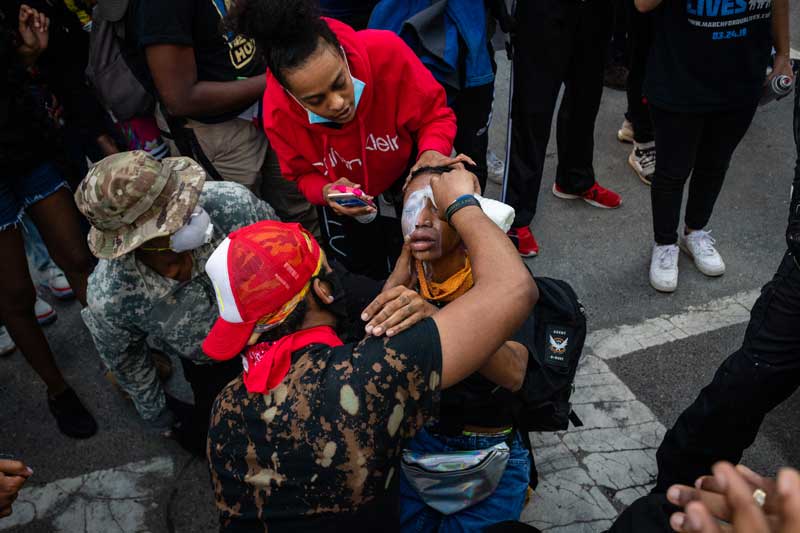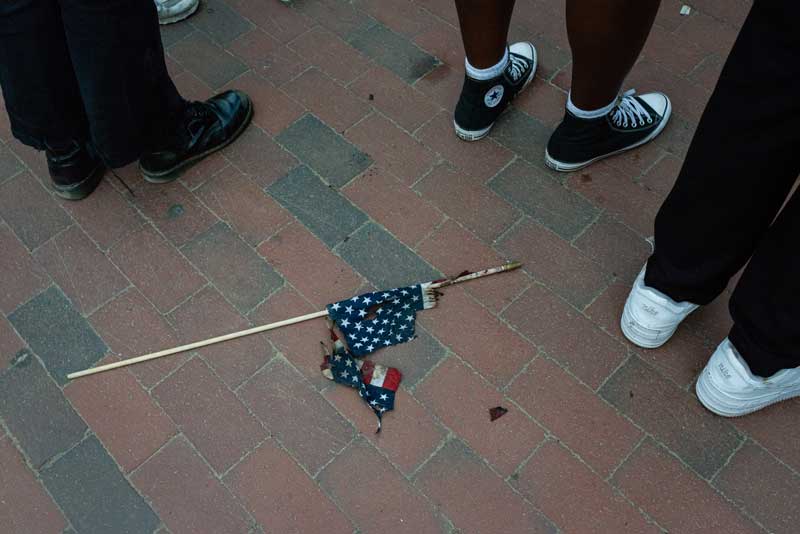 It wasn't until Lee embarked upon a graduate program at George Washington University in the Corcoran School of the Arts and Design in Washington, D.C. that he returned in earnest to more deeply exploring—and coming to terms with—his own identity. At Corcoran, Lee centered his photo thesis on Asian-American boyhood and masculinity.
"It has taken me a long time to be ready to work on a project like that," Lee said. "I was—and am still—confused about my own sense of self," said Lee, who graduated with his master's degree in new media photojournalism in May 2020.
Today, Lee's sense of personal identity continues to guide and inform his work. As he covers the protests, he is mindful of his own background.
"Coming from a place of privilege, I know I have a responsibility to cover the good and the bad," said Lee, who also encourages his audiences to follow other photojournalists. "I don't want people to follow my photographs and videos and only see one viewpoint."
June 3-6
Mid-week protests didn't bring as many people out as the weekends did, except Wednesday, June 3, when thousands marched from the Capitol to Freedom Plaza, picking up others along the way. When they arrived at City Hall, demonstrators laid on the ground and staged a "die-in" for eight minutes and 46 seconds. It was silent. The march continued towards the White House, where demonstrators were met by members of the Air Force, Army, Bureau of Prisons, and unidentifiable agents who formed a perimeter around the Lafayette Square fence. Every other officer had a non-lethal weapon, such as pepper spray, rubber bullet guns, flashbang launchers, batons, and paintball guns. Tensions were high as demonstrators pleaded with members of law enforcement to understand why they were protesting, and some listened.

Heavy rains on June 4 and 5 kept many protesters away from Lafayette Square, which had been renamed Black Lives Matter Plaza—for many whom I spoke to, this felt like a performative stunt rather than substantive change. The summer rains came and went, as lightning flashed in the distance behind the White House. I took shelter under St. John's Church's awning, but one of my cameras had already been damaged in the rain.

I borrowed a friend's camera to get through Saturday, June 6, when tens of thousands protested. Every hour, a new march made its way to the White House. A go-go band played a concert at 16th Street and Swann Street, a block away from where, five days earlier, I witnessed 194 people arrested by a police "kettling"—a tactic used by law enforcement to surround groups of people with only one controlled exit: arrest. Police patrolled intersections, but protests remained peaceful through the night.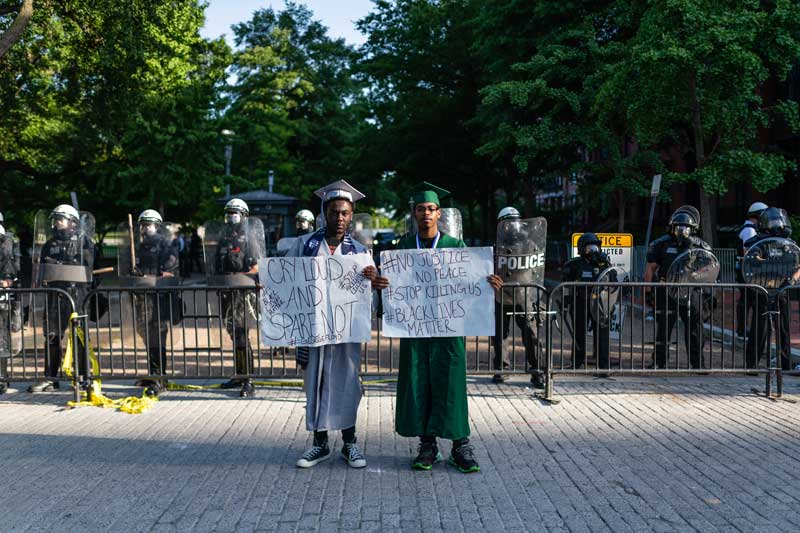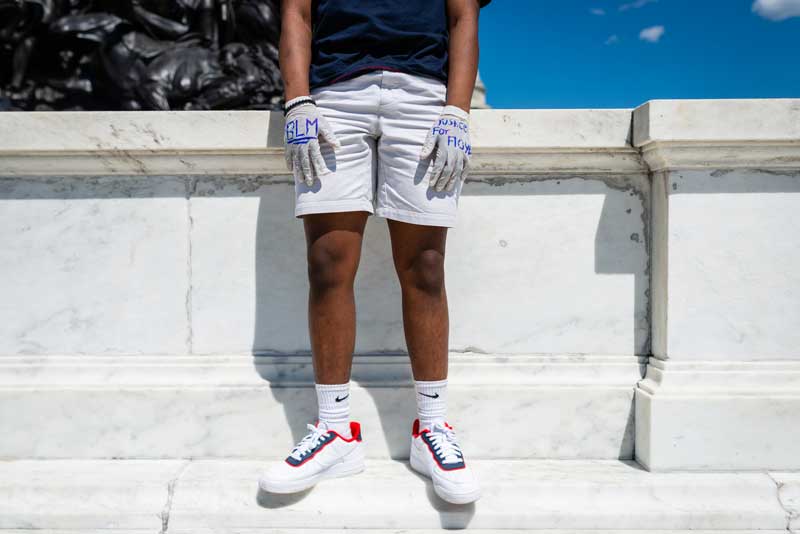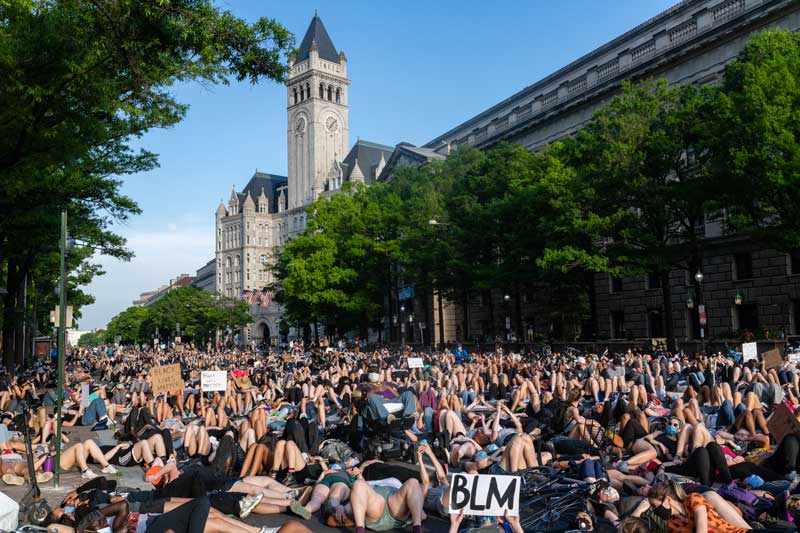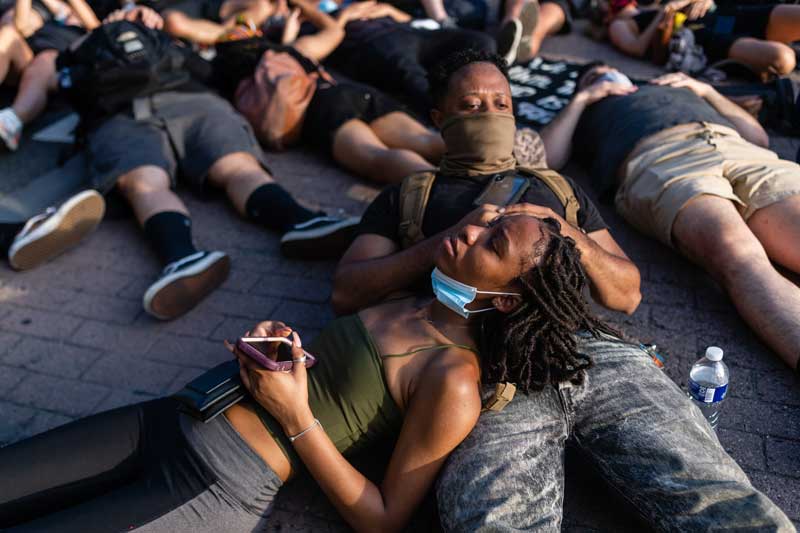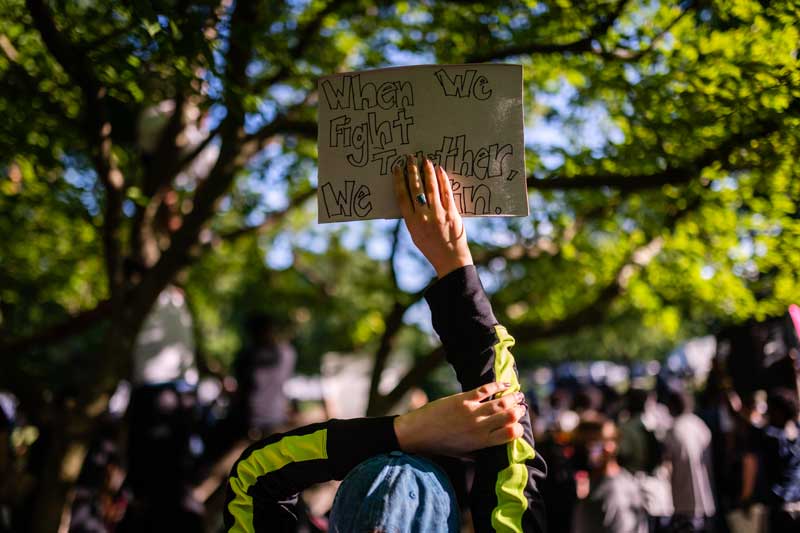 One chant in particular has stayed with Lee. One night, while walking through D.C.'s NoMa neighborhood, he heard voices ring out: "Don't cheer for us; march with us"—a reminder that we have to be challenged to create change.
"In order to have true equality," says Lee, "allies must hold each other accountable—something I am witnessing more and more each day"
June 7-10
Protests in the District began winding down as demonstrations had been going for nearly two weeks. Artists painted murals on the boarded-up storefronts and sidewalks. Protest signs that were hung on the fence around Lafayette Square are being taken down by curators from local museums to be preserved. Each night, less and less people are out in the plaza. On June 10, workers began dismantling the fence, allowing people to roam freely. While movement slows, organizers are already preparing for the next gathering: the Second March on Washington.
For Lee, the experience has underscored his own privilege, and amplified the tremendous sense of responsibility he feels as a photojournalist.
"There are not that many professional storytellers who are people of color, and those voices are often muted or limited in the media," he says. "As someone who has spent a lot of time reflecting on my own identity and race in America, I feel responsible to help show what is happening. I am learning how I can use my camera's lens to uplift people of color."
Learn more about Gettysburg's Cinema and Media Studies program.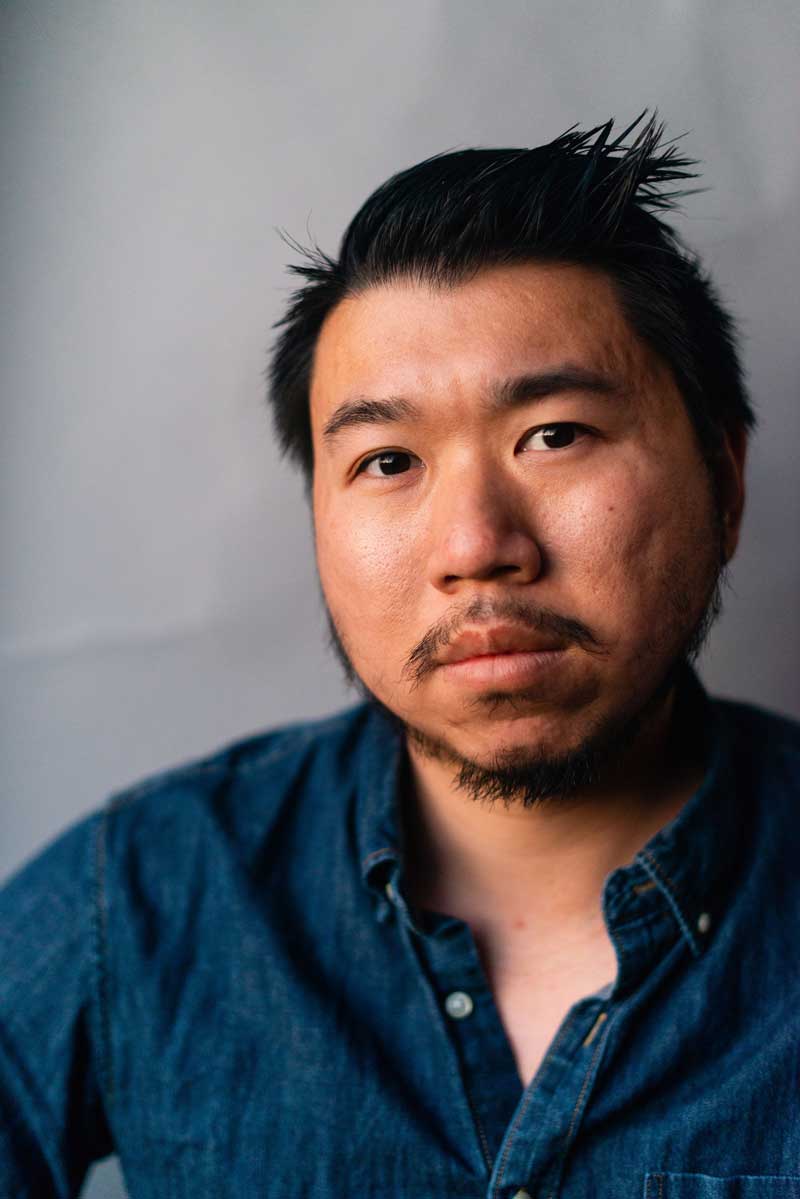 By Anya Hanna
Photos by Eric Lee '15
Posted: 06/12/20