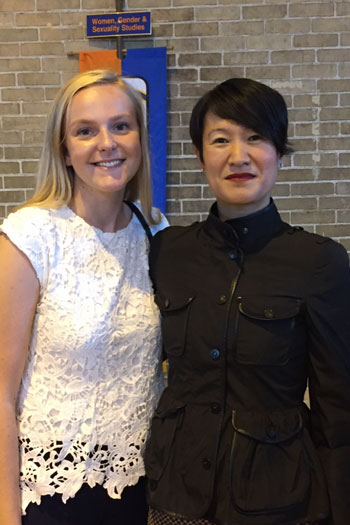 At Gettysburg College, students are encouraged to collaborate with faculty on undergraduate research projects.
In fall 2016, Italian Studies Professor Lidia Anchisi was teaching a course entitled "Women and Italian Film." During that semester, Anchisi began to notice the insightful written work by her student, Jenny Enos '18. After Enos completed a paper focusing on Liliana Cavani's film Interno Berlinese (The Berlin Affair), Anchisi invited her to collaborate on an essay to submit for publication in an Italian Studies journal.
The paper contributes not only to the scholarly debate about Cavani's film, but also critically examines the ways in which race is portrayed in media productions. In particular, Anchisi and Enos concentrated on the complicated intersection of race, gender, and sexuality for Asian American women and the imperial dynamic that occurs when producing media from the perspective of a white woman, as reflected in Interno Berlinese.
Anchisi, who noted that scholars in the Humanities do not typically co-author projects, saw a unique opportunity to work with Enos because of her strong writing and analytic skills. "It was really encouraging and inspiring to see how seamless the process was for Jenny," said Anchisi.
Collaborating on this project helped Enos transition her undergraduate-level writing abilities into academic journal-level writing. "I gained so much valuable experience—from theorizing to conducting visual analyses of the film and writing—that has been beyond useful to me during my first year of graduate school," said Enos.
The essay was accepted for publication and will be available in Italian Quarterly Review this month. "I hope that this will encourage faculty in the Humanities to collaborate with their students and for students to be encouraged to approach their professor with ideas," said Anchisi.