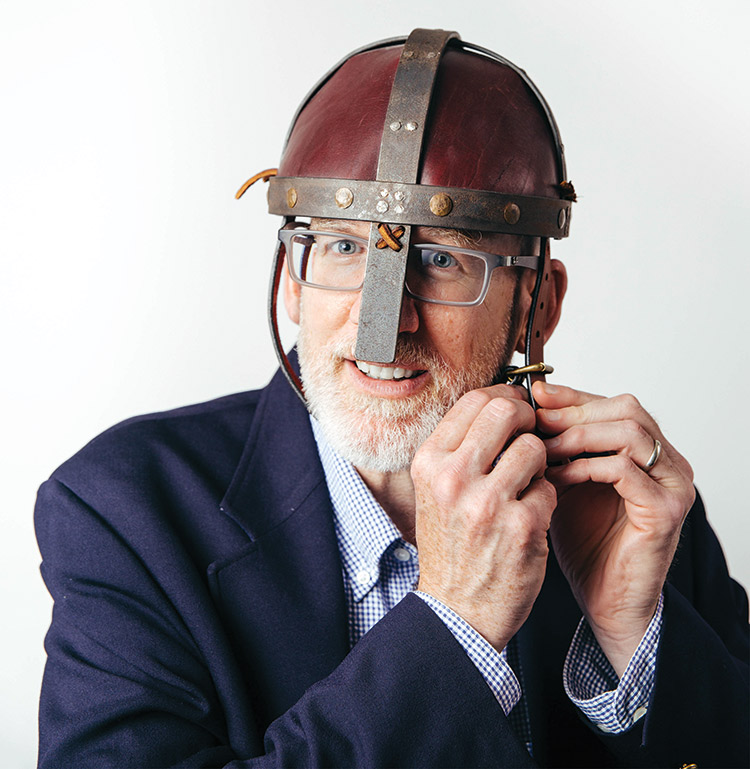 Stories
I read Bulfinch's Mythology when I was seven or eight; I read Dante at age 11. So, I'm that guy. I love literature. I love literature from all ages. I like a good story with some action. One of the beauties of mythology is that the stories are fun to read. Students will enjoy them, and then you can get them into the heavy lifting, like examining archetypes and making comparisons across traditions.
Teaching and research
For me, the focus is twofold: what I am working on that will make sense to my students in the classroom and how I can structure a project so that I can engage students as collaborators. In every one of my book projects are acknowledgments of students, some by name and some by class.
I am very proud of that.
Teaching and theater
I was also a theater minor in college, and that can be very useful in the classroom. My Viking helmet (pictured) was forged for me by Will Baylor '09. He gave his final presentation on the Danelaw in my History of English course, completely outfitted in authentic Viking garb that he had made himself. He used his spear as a pointer during his slide presentation. It was, truly, a different age.
Mentoring
I was always drawn to great teachers, and I sought great teachers as my mentors. Prof. Graham Caie at the University of Glasgow was an important influence on me. Graham, or "Dad" as my cohort of graduate students called him, had a way of having an intensive mentoring relationship with someone that was almost always supportive. Even when he had something critical to say, he could frame it in a way that was a sort of revelation. To be able to do that and treat someone as an adult, an equal, even in a hierarchical relationship, is a real gift.
Prof. Chris Fee is a specialist in Old English language and literature. His recent published works include The Goddess: Myths of the Great Mother and the Encyclopedia of American Folklore. His two forthcoming publications are a book on King Arthur and the Encyclopedia of Conspiracies