Six years ago, and well into the final weeks of April, Lampeter-Strasburg High School senior Ben Pontz '20 was weighing his options between Gettysburg College and the University of Pennsylvania. Ultimately, the Pennsylvania native knew Gettysburg's liberal arts and sciences education would provide him with the greatest breadth and depth of opportunity. Despite the last-minute decision, he has no regrets, as it led him to Harvard Law School this year.
"You know if I had to do it over again, I think I'd pick Gettysburg 100 times out of 100," said Pontz. "The reason that you go to a place like Gettysburg is that you can do all the things, do it all at a high level, and have access to the mentors that matter."
A political science and public policy double major, Pontz was involved in numerous activities at Gettysburg. Upon arriving on campus, he joined the staff of The Gettysburgian, the campus newspaper, and eventually rose to editor-in-chief. He was news director of the campus radio station and an Eisenhower Institute (EI) Fielding Fellow. A music minor, Pontz was also a member of the Bullets Marching Band, serving as a drum major during his junior and senior years, and a member of the Wind Symphony through the Sunderman Conservatory of Music.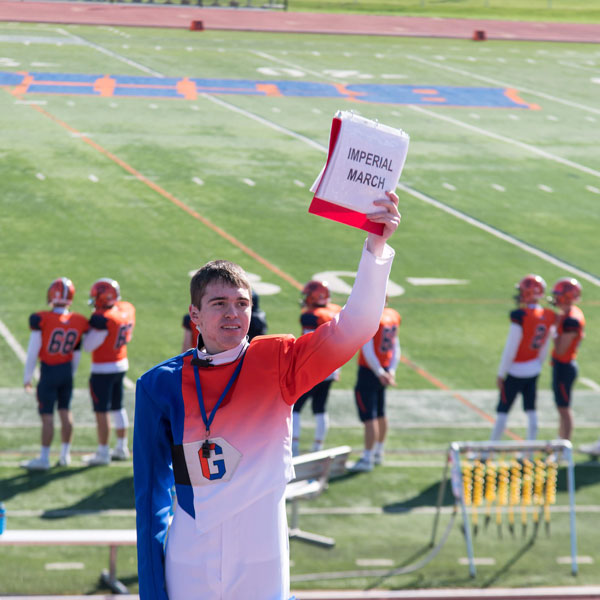 His range of activities led to interactions with administrators and faculty across campus, engaging game-day experiences with the band, a trip to the Middle East with EI, and in-depth conversations with prominent alumni and supporters of the College.
"I can't think of another school where the same person could realistically be the editor of the newspaper, drum major the marching band, involved in all the public policy initiatives, and just had that breadth and the depth of experiences," said Pontz. "I tried never to do anything because it would look good. It was always because it was something I cared about, something I wanted to do well, and something I could do with people and enjoy."
"You know if I had to do it over again, I think I'd pick Gettysburg 100 times out of 100."
– Ben Pontz '20
While Pontz was drawn to Gettysburg because of those potential opportunities outside of the classroom, the broad-based academic curriculum helped him develop a path to law school, one many Gettysburgians have taken after receiving their undergraduate degrees. Over the last year three years alone, 110 Gettysburg grads have matriculated into law schools across the country.
Every day, Gettysburg's faculty and staff remain committed to helping students navigate the challenges of preparing for and applying to law school. Various courses and co-curricular activities provide the necessary skill-building for the practice of law, including research, critical thinking, writing, and public speaking. Pontz took advantage of those opportunities, as well as the openness and availability of those in our community.
"The political science curriculum that I took at Gettysburg was excellent preparation," said Pontz. "I took four classes with [Prof.] Scott [Boddery], one in legal analysis that was very similar to the legal writing and research course that I've been taking all year. I took two constitutional law classes that have been great background, and I took a class in constitutional police procedure with Scott, which was great preparation for criminal law.
"More than any pre-professional advising and a formalized program, it was general conversations with my political science professors that steered me in that direction and led to having those opportunities—and put me in a good position to do well in the admission cycle for law school."
Pontz was accepted to Harvard during his senior year, but he opted to defer his acceptance one year to attend the University of Manchester in England as a Fulbright Scholar. His dissertation, "A Political Devolution: Institutional Capacity and the Case of Greater Manchester," won the inaugural Billy Nuttall Prize for Social Justice. The experience in England helped Pontz hone in on a passion for civic engagement, one that manifested to a great extent through his involvement in so many community activities at Gettysburg.
Since then, the transition to law school has been seamless, thanks to his immersive and holistic experience at Gettysburg, and his desire to show how communities can flourish within the context of legal systems and public policy.
"What's true about law school pedagogy, and what Gettysburg prepared me for well, is to have read the material, to have thought about the material, and to be prepared to talk about the material when called upon," he said.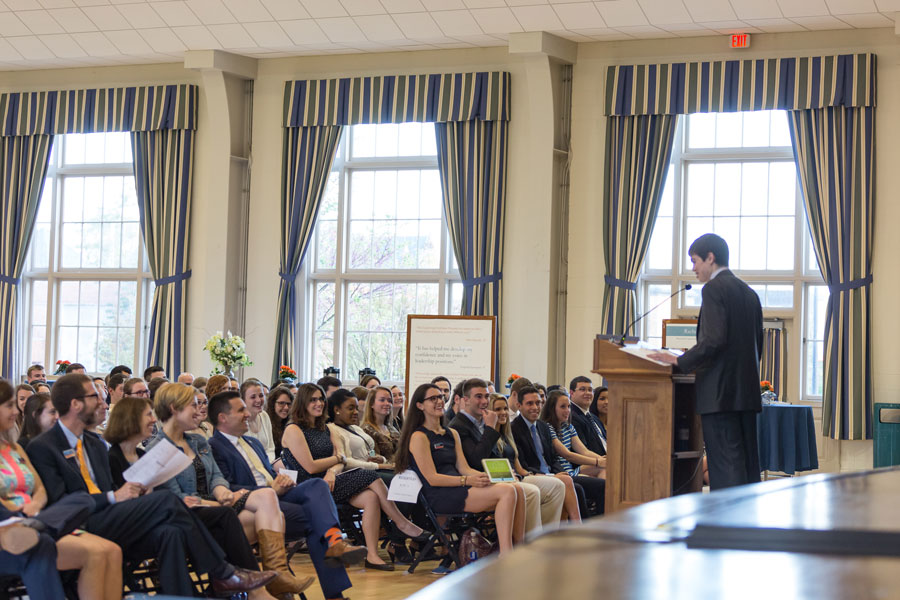 Continuing to build upon the knowledge he gained at Gettysburg and his drive to Do Great Work within the vibrant communities he resides within, he envisions a career that engages these issues daily, whether in the state or federal government, a non-profit organization, or a law firm.
"Certainly, between the Fulbright and everything that I had at Gettysburg, I do feel a sense of motivation and a sense of desire to be in public service," Pontz said. "To be a part of shaping these types of communities that I've spent the last several years thinking about, and working on developing a framework to understand how they matter [is what propels me forward]."
Learn more about how Gettysburg's liberal arts and sciences education prepares you for an abundance of graduate opportunities, like Harvard Law School.