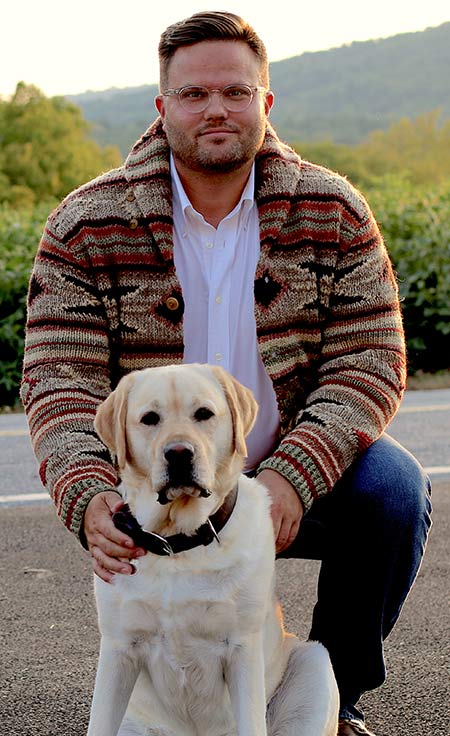 Prof. Scott Boddery has been appointed director of the Eisenhower Institute's Fielding Center for Presidential Leadership Study.
Boddery is an assistant professor of political science and public law at Gettysburg College. An expert in public law and judicial politics, he writes extensively for both academic and popular audiences. Boddery is the recipient of multiple teaching awards and is an advocate for liberal arts education and pre-law students. He received his PhD from Binghamton University and his JD from Florida State University College of Law.
Established in 2015 under the leadership and guidance of Fred F. Fielding '61, former White House Counsel to Presidents Ronald Reagan and George W. Bush, the Fielding Center promotes the study and analysis of presidential leadership for undergraduates and emphasizes the value of governmental service and civic engagement.
As director, Boddery will lead the center's Fielding Fellows program, an immersive experience for Gettysburg College seniors centered on the executive branch of the United States. Under his mentorship, the fellows will study timely issues including separation of powers dynamics, constitutional law, and diplomacy.
"The Fielding Center is poised to continue to engage complex policy questions with an eye toward ethical leadership and diplomacy thanks to the framework built by Dr. Warshaw," said Boddery. "This coming academic year, our global public policy work continues with a State Department-backed grant that will bring the Fielding Fellows to the U.S. Embassy in Finland to present the findings of their research."
Boddery succeeds Shirley Anne Warshaw, founding director of the Fielding Center, after her retirement in May.
"Dr. Warshaw is one of the preeminent scholars in executive politics research and public policy, and, personally, her presence on campus was a selling point to me in 2016 when deciding to come to Gettysburg," said Boddery. "She's impacted so many students through her admirable work at the Eisenhower Institute, the Fielding Center, and the Political Science department, and her departure will leave behind a void that won't be filled any time soon.
"I'm so proud to have worked with Dr. Warshaw, and I'm sad to see her go, but I look forward to our future conversations and telling her about all the great things the Fielding Center continues to accomplish and about her legacy, which will surely impact future Gettysburgians for years to come."
Boddery previously oversaw the Fielding Fellows on an interim basis in fall 2018. His former students recall his dedication to their success and his integrated approach to teaching and mentoring.
"Little did we know we were gaining an advisor with such great direction and commitment to his students, their projects, and their careers," said Gabriella Bucci '19. "His passion for teaching and for politics shows in all that he does."
"Working with him as a student and a Fielding Fellow was truly a blessing during my undergraduate career at Gettysburg," said Nick Arbaugh '20. "Not only does he have the know-how necessary for the job, he really cares and that goes a long way in tight-knit organizations like the Fielding Center."
Ben Pontz '20 highlighted Boddery's unwavering support for his students' academic and professional growth. He credits Boddery's confidence in him as a "shot in the arm" for his professional aspirations. Pontz will be starting at Harvard Law School this fall.
"It is impossible to know where Scott's teaching ends and his mentoring begins," Pontz said. "They are intertwined, complementary endeavors that result in deep, lasting relationships with students that pave the way for postgraduate success. I have no doubt he will integrate his pedagogy, his research, and his advising to make the Fielding Fellowship a launch pad for students from all backgrounds to aim high and land higher in the pursuit of justice and civic impact, a fitting tribute to the vision and groundwork that Dr. Warshaw and Mr. Fielding have laid."
Learn more about the Fielding Center's mission to promote the study and analysis of presidential leadership for undergraduates and emphasizes the value of governmental service and civic engagement.