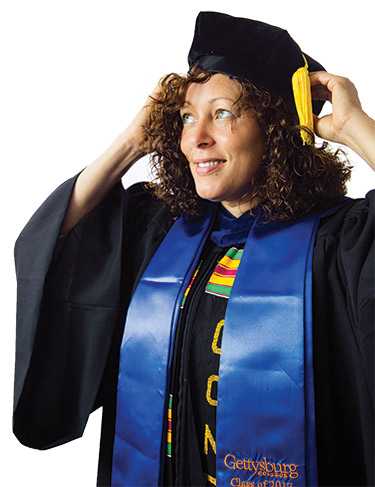 Paths and pivots I majored in English literature at Clarion University, and I was required to take two courses in linguistics. I found dialects to be really interesting and liked the idea of looking at different dialects as a way of understanding what language can tell us about society. I completed my master's and PhD degrees in linguistics at the University at Buffalo, where my research was in semantics, language acquisition, and category theory. The program there is well-known for grammar and syntax. In 2002, I was hired by Gettysburg College to teach Introduction to College Writing in the English department. I later taught in and became chair of Africana Studies.
Research I became interested in studying and mapping the regional dialect of urban and African-American speakers in the Lower Susquehanna Valley. Through a grant from the National Science Foundation (NSF) and fieldwork with students, I was able to study and map patterns in the regional dialect. We collected more than 300 hours of interviews. Now I am working on a book for Oxford University Press called From Dumbo to Donkey, looking at minstrelsy in children's animated films and how race is constructed through voicing.
Impact I am very proud of the Stoles of Gratitude [pictured] that I have received from students. Mine are from students who were my advisees and attended graduate schools for linguistics. Although we don't have a linguistics program here, students can build an individual major around language and culture. They have been accepted at very competitive graduate schools, such as Georgetown University, the University of Texas– Austin, the University of Hawaii, and the University of Indiana.
Prof. Jennifer Collins Bloomquist served as chair of the Africana Studies program as it marked its 30th anniversary in 2017. She was co-chair of the Linguistic Society of America's Committee on Ethnic Diversity in Linguistics, and her work has been published in First Language, Journal of Pragmatics, Multilingua, Southern Journal of Linguistics, and American Speech.