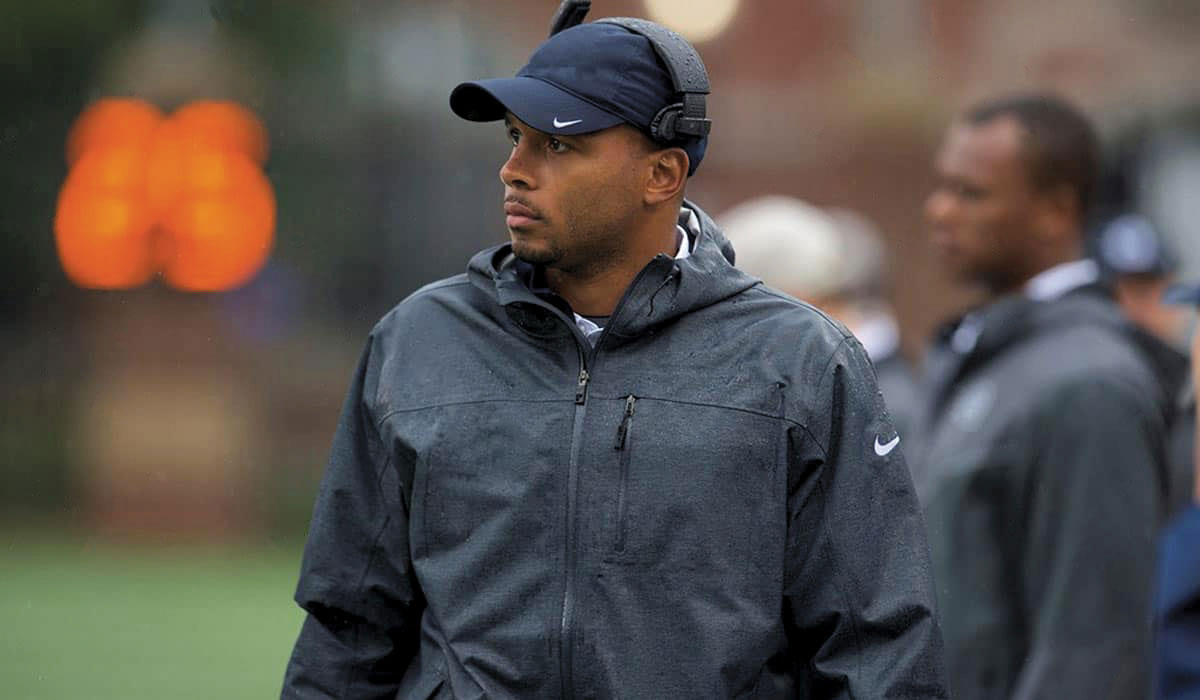 Maurice Banks, an assistant coach at the University of Pennsylvania, has been named the new head coach of the Gettysburg College football team according to an announcement by Executive Director for Intercollegiate Athletics and Campus Recreation Mike Mattia.
After spending the last six seasons coaching at the Division I level, Banks becomes the 26th head coach in the 130-year history of Bullets football. He is just the ninth individual to take the helm of the Orange and Blue since 1919.
"Moe stood out in a very talented pool of candidates," said Mattia. "He is an extremely competitive person with a strong sense of values and principles. His experience coaching in the Patriot and Ivy Leagues provides him the understanding of the high academic and high athletic achievement we are looking for in our prospective student athletes."
"I am extremely excited to have the opportunity to begin my career as a head football coach here at Gettysburg," said Banks. "Gettysburg is committed to excellence both on the field and in the classroom, which is something that I believe is fundamental to the development of our student-athletes. I feel tremendously blessed to be able to begin my career at a place that shares my same values and is supportive of our mission to help in the formation of good young men."
At Penn, Banks assisted with the development and implementation of defensive and special teams schemes. He coached a pair of All-Ivy League selections at linebacker and was also the play-caller for the kickoff unit, which finished third in the Ivy League in net kickoff average.
"This is a great day for Maurice but also for the Gettysburg football program," said Penn's head coach, Ray Priore. "Even though he was only with us for one year, 'Moe' left an indelible imprint on the young men that he coached and he helped them become better players and better men. It's always a tremendous opportunity to oversee a program as a head coach, and after watching him this past year I have no doubt that Moe will do an outstanding job at Gettysburg. Those players should be excited for the future of their program."
Banks spent the prior five seasons at his alma mater, Georgetown University, where he coached defensive backs and was special teams coordinator in his final two campaigns. He oversaw a secondary that ranked third in the FCS in team passing efficiency defense (97.2 percent) and fourth in interceptions (20) in 2018. The Hoyas also ranked among the league leaders in special teams statistics in his final two seasons. Banks began his collegiate coaching career as the defensive backs coach in 2010 and he coached a total of seven All-Patriot League players on defense and special teams between his two stints with the Hoyas.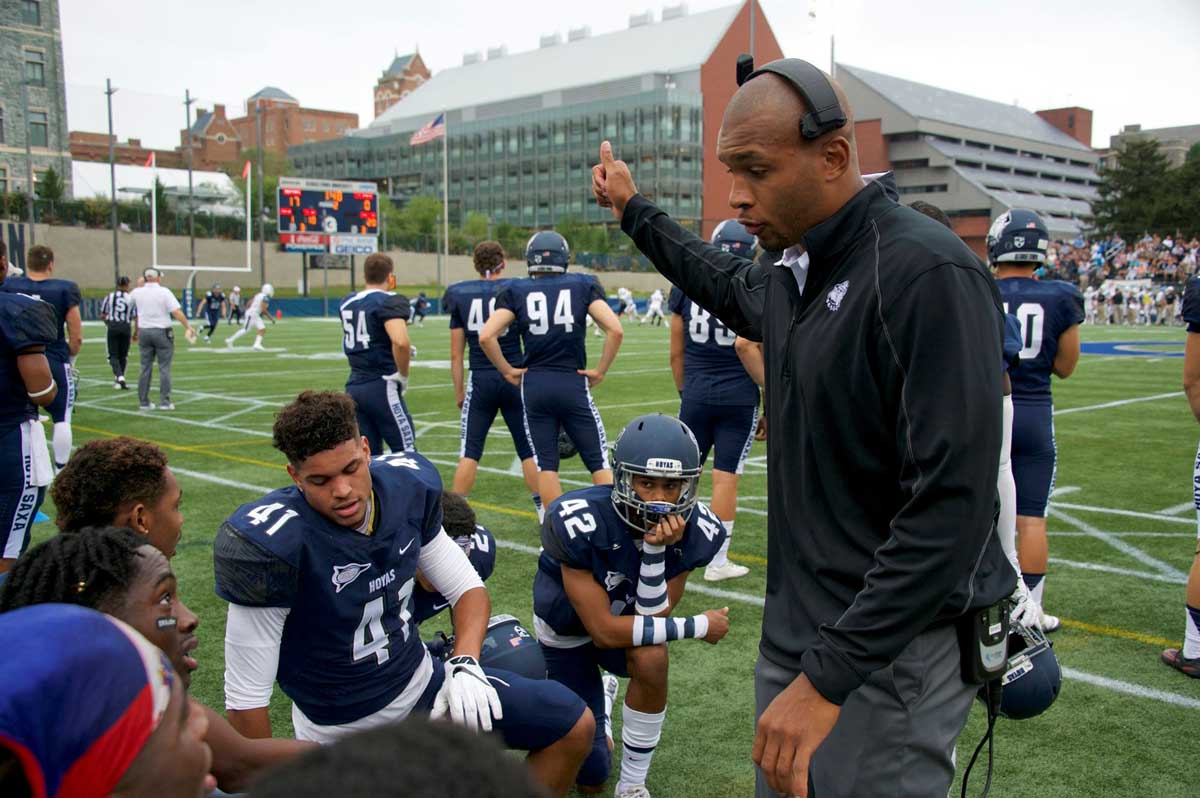 Banks takes over a Bullets football program that went 1–9 last season and is looking for its first winning season since 2015.
"My immediate goal is to start working towards building a culture that values success with character," said the 2006 graduate of Georgetown. "We want to give our student-athletes a great experience during their time at Gettysburg, and part of that experience is winning. But we also want to build great young men who will go on to be great husbands, fathers, co-workers, and leaders while representing Gettysburg College well when they graduate."
Banks brings a wide and varied background as a player and coach beyond the collegiate atmosphere. Following his first coaching stint at Georgetown, he served as a player/coach with the Corinthian Black Lions in Austria. From 2012–14, he coached in Brazil, serving as defensive coordinator with the Joinville Gladiators, head coach with Rio Atlantico, and assistant head coach/defensive coordinator with the Vasco Da Gama Patriotas. Banks also served as a football ambassador in Brazil to in effort to grow and nurture the development of the sport.
After graduating from Georgetown with a degree in sociology, Banks spent time as a defensive back and quarterback with the Marburg Mercenaries in Germany. He also coached the secondary. In 2008, he was player/coach with the Bergamo Lions in Italy and he also spent time in the Arena Football League 2 with the Boise Burn. As an undergraduate, Banks served as team captain and earned a pair of All-Patriot League honors in the secondary.
"His professional playing experience abroad gives him a unique outlook, which certainly aids in his desire to provide our football players with personal development and life skills," noted Mattia. "I am thrilled to have Moe join our athletic department, and add his skill set to an already successful group of coaches. He certainly set himself apart as a coach who will be able to set a high standard, and will motivate our players to achieve success through all aspects of the football program."
Banks is the first person of color named as head coach of the Bullets football program and the second African-American to head a Centennial Conference football team since the league's creation in 1983.
"It is an honor to become the first minority head coach of the Bullets football program and something that I do not take lightly," said Banks. "Understanding the history of Gettysburg, the historical events that took place here, and the role they played in allowing me to be an African-American man coaching the sport that I love in a place so significant in our country's history is something certainly not lost and is an added inspiration to be successful here at Gettysburg."

Posted: 02/03/20