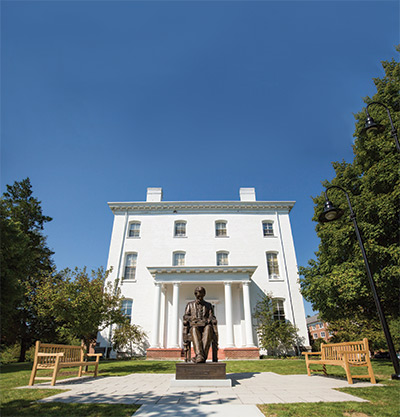 The photo accompanying the College strategic plan in the spring issue prompted a recollection from music education major Rachel Carl Cooper '58: "I loved the picture of Stevens Hall on page 14. My room was second from the right on the second floor, my freshman year in 1954. When fraternities serenaded us, my roommate and I climbed out onto the porch roof to listen. When the Phi Delts came one evening, I heard this wonderful baritone voice singa solo part, and at the end I yelled down, 'Who sang that?' Of course, he was teased unmercifully! Four years later I married that voice! Now 581/2 years, four children, and eight grandchildren later, Hal Cooper '56 and I are still singing in our church choir, and he still has that wonderful baritone voice. I want to save this issue with a note for future generations of my family. Thanks!
Our call for your thoughts on the value of a liberal arts education brought reflective comments— most affirming, some debating—by email, social media, and a most- welcome handwritten note from Michael Sleppin '53. We're still taking your stories if you have them to share.
On social media
"Success! $1.09 million raised in only 36 hours" read the post at the conclusion of the third annual Gettysburgives Challenge. Gifts from 2,781 donors totaling $615,933 achieved the $475,000 match, all for the good of Gettysburg College students. Thank you! And thank you to all the Gettysburg couples who shared their love stories for Valentine's Day. Their photos and stories are in an album online.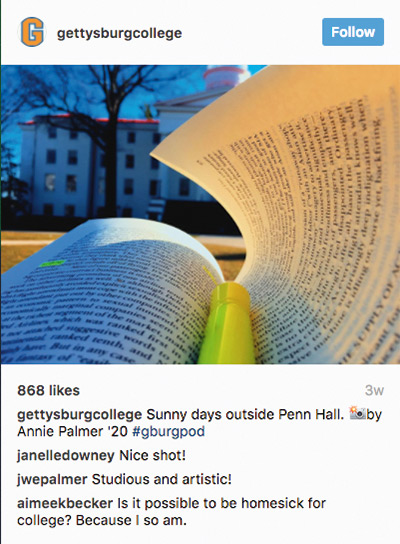 Annie Palmer '20 captured the Photo of the Day that is sure to awaken fond memory of those unexpectedly warm and sunny days of winter. Anyone is welcome to submit an image for consideration as a Photo of the Day. Photos must be closely connected to Gettysburg College, but the potential subject matter is as wide as your imagination.
And in the news
Prof. Shirley Anne Warshaw, Harold G. Evans Chair of Eisenhower Leadership Studies, contributed to a piece in the BloombergView, "Nope, the Oval Office Won't Change Trump." Her opinion piece, "The rise of Breitbart," appeared in the Pittsburgh Post-Gazette. "Trump should listen to his Cabinet," wrote Eisenhower Institute Expert-in-Residence Kasey Pipes in a column for USA Today. The Wall Street Journal's editor Joseph Rago consulted Prof. Allen Guelzo, Henry R. Luce Professor of the Civil War Era and director of Civil War Era Studies, for a look at how historians view the 2016 presidential race. The College was mentioned on C-SPAN's BookTV when Eisenhower Institute Chairman Emeritus Susan Eisenhower interviewed FOX anchor Bret Baier about Three Days in January: Dwight Eisenhower's Final Mission. President Janet Morgan Riggs '77 wrote of "Lincoln's legacy and a new generation of leadership" for President's Day, in The Huffington Post. Prof. Dave Powell, education department chair, touched on the March 1 campus Solidarity Rally and teach-in for his blog entry, "Some Things You Can Do to Support Public Education Now," which appeared in Education Week. Biology Prof. Kay Etheridge has been studying the history of 17th-Century scientist Maria Sibylla Merian and commented on her significance for an article in The New York Times. A paper by Prof. Andrew Wilson, environmental studies, Janine Barr '15, and Megan Zagorski '16 appeared in The Auk, a journal of the American Ornithological Society, and in the Science Daily research news update. Their study involved the use of aerial drones for counting songbirds. Biology Profs. Ryan Kerney and Zakiya Whatley authored a critical review describing symbiotically modified organisms (SMOs) and their practical applications in a cover story for American Scientist. That great-great-great nephew of Rutherford B. Hayes on The Late Show with Stephen Colbert was none other than environmental studies Prof. Rutherford (Rud) Platt. Platt was caught vying for his ancestor's wax likeness at the Hall of Presidents auction in January. Kat Gordon '87, founder of the 3% Conference, Championing Creative Female Talent and Leadership, was included on Business Insider's list of the 30 best people in advertising to follow on Twitter.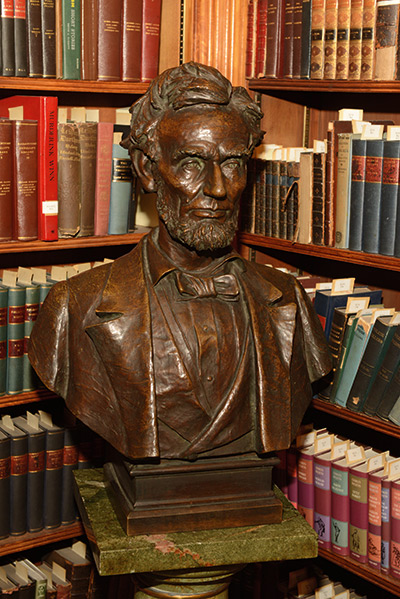 The 2017 Gilder Lehrman Lincoln Prize was presented to two recipients this year: James B. Conroy, author of Lincoln's White House: The People's House in Wartime and Douglas R. Egerton, author of Thunder at the Gates: The Black Civil War Regiments That Redeemed America. The authors were recognized at an event hosted by Gettysburg College and the Gilder Lehrman Institute of American History in April, at the Union League Club in New York City.
The Gilder Lehrman Lincoln Prize is awarded annually for the finest scholarly work in English on Abraham Lincoln, the American Civil War soldier, or the American Civil War era.
Keep reading, keep liking, keep sharing, and keep the Conversationsgoing on social media or by sending alumnimagazine@gettysburg.edu your thoughts.