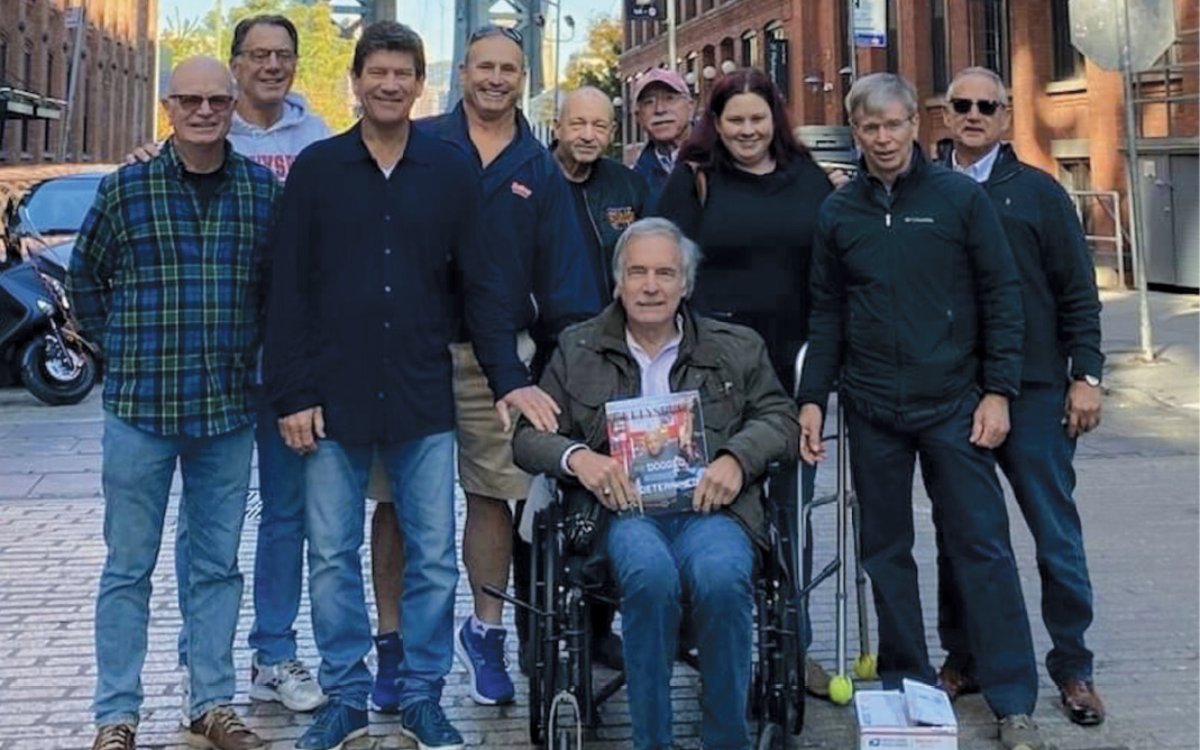 On Aug. 18, 2022, Mike Malewicki '75 invited Paul Seale '75, P'06, Jim Burke '74, Vic Kalman '77, and me to the Atria Park in Lynbrook, New York, to surprise our good friend and fraternity brother Bob Isaacson '75. Bob has been fighting Parkinson's disease for more than 10 years, and it was wonderful for us all to get together with him—he was thrilled to see us. Not to any great surprise, we ended up telling the same old stories we have told many times, regaling our days at Gettysburg College and our times at the Phi Delta Theta house, where Mike and Bob roomed together.
Before the conversation went very far, Bob pushed across the table—in my direction—a copy of the summer 2021 issue of GETTYSBURG College Magazine. On the cover stood Bruce Silverglade '68 with the headline "Resilience In The Ring: The Dogged & Determined." The cover story addressed all that Bruce has done at the iconic Gleason's Gym to contribute to the Dumbo neighborhood in Brooklyn, the world of boxing, and even his efforts to help Parkinson's patients, as boxing encourages upper body movement. I know very little about this, but Bob understood what boxing means as a physical therapy tool for those with Parkinson's. He mentioned he wanted to go to Gleason's Gym to see its connection to Gettysburg College and the fight many have with this disease.
That moment sparked an idea. I called Betsy Duncan Diehl '84, P'14, associate vice president and campaign director at Gettysburg College, who introduced me to Bruce. After I shared Bob's story, Bruce kindly invited us to visit the gym, but unbeknownst to Bob, we gathered a significant group of his friends and fraternity brothers to meet us there on Oct. 22, including Gary Karkuff '76, Scott Kintzing '74, Mike Madden '75, P'03, Chris Re '78, Craig Sabatino '78, and Paul. The most important member of our group was Bob's oldest daughter Kristen, who serves as an aide and helped us all better understand the challenges Bob has faced over the past decade. It is hard for me to describe just how emotional it was for Bob to get out of his daughter's car in front of the gym and see his band of brothers whom he has known for more than 50 years. The day was magical, and Bob has not stopped thanking us.
Bruce talked glowingly about his time at Gettysburg, the role our College has played in his life, and all that had happened at the gym since he took it over 40 years ago, including boxers who have trained there, like Muhammad Ali, Floyd Mayweather Jr., Mike Tyson, and more. Bruce was humble, and he could not have been more thrilled to show his iconic gym to other members of the Gettysburg College community.
There were many heightened feelings—mostly, it was an emotional and giving day. We all now want to link this moment and these feelings to the College in some way, perhaps giving back to the Psychology Department for students to study neuroscience. It was clear that there is a strong Gettysburg connection—let's pay it forward.
by Bill Heyman '74, P'13
Posted: 02/20/23